Major in Computer Engineering
Computer engineering is an interdisciplinary major program that focuses on the development and design of software and hardware systems. It is offered in collaboration with the Department of Engineering and Physics, and is accredited by the Engineering Accreditation Commission of ABET, http://www.abet.org. A major in Computer Engineering in Pennsylvania practically guarantees you a job after graduation. Our Department of Computer Science has nearly 100% job placement of our students after graduation.
You may even have your pick when it comes to the job search. Our graduates find themselves in distinguished careers and/or postgraduate study relating to digital system design, embedded systems, computer architecture, software design and development, robotics and automation, intelligent systems, sustainable technologies, project management, and/or leadership in shaping related public or industry policy.
Designed to Embrace Challenges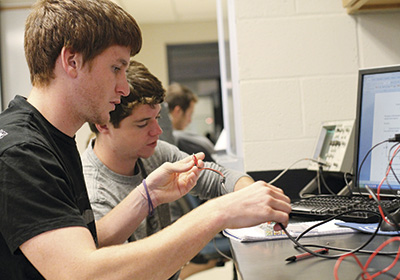 As a liberal arts college, we believe that our students benefit from taking a variety of courses that can be used to benefit and complement their major field of study. Our Computer Engineering major includes courses in physics, chemistry, math, and the humanities, as well as all the required computer science and engineering courses needed for an accredited degree. It is difficult to find a major in Computer Engineering in Pennsylvania that combines a strong liberal arts core curriculum with the rigorous requirements of an accredited computer engineering curriculum. However, our program does exactly that, helping our students form a holistic view of the world including moral and ethical responsibility regarding computers and engineering. These qualities give our students an advantage over their peers during the job hunt.
Our alumni provide us with invaluable feedback that helps us continually improve our curriculum and cover emerging trends while staying true to engineering fundamentals. Employers are looking for students that have strong creative problem solving skills, so we designed a program to prepare our students to not only demonstrate a working knowledge of the theory and application of mathematics, physics, engineering, computer science, and sustainable technologies, but also to apply problem-solving skills and critical thinking to a broad range of projects.
Microcomputer Architecture, Computer Organization and Design, Digital Design and Interfacing and Advanced Computer Engineering are four Computer Engineering courses that require semester projects. Many of these projects have been highlighted at Elizabethtown College's Annual Scholarship and Creative Arts Day and have led to student publications, which have been presented in Japan, Italy, Jamaica, and throughout the U.S.
Our program combines studies of engineering and computer technology, including both hardware and software, with insights about how those fields impact the larger society. Our students enhance local communities and the world by applying their skills and independent thinking to a broad range of projects that aimed at satisfying the future needs of society. They help develop technologies that have a long-term benefit for humanity and even help limit technologies when necessary for the common good.
Post-graduate Success
Our Computer Engineering students have many opportunities for internships and full-time employment with large international companies such as Intel, Google, HP, IBM, Lockheed Martin, Boeing and Raytheon. There are also opportunities at companies headquartered in close proximity to Elizabethtown, such as the Hershey Company, GEA and Phoenix Contact.
Computer Engineers may find a career in:
Designing processors
Embedded systems
Drivers and firmware
Next generation architecture
| Academic Year | Total Declared Majors | Number of Degrees Awarded |
| --- | --- | --- |
| 2016-17 | 13 students | 6 graduates |
| 2015-16 | 13 students | 2 graduates |
| 2014-15 | 17 students | 9 graduates |
| 2013-14 | 14 students | 2 graduates |
| 2012-13 | 14 students | 4 graduates |
| 2011-12 | 10 students | 2 graduates |
| 2010-11 | 11 students | 4 graduates |