Dr. Kopko on C-SPAN and The New York Times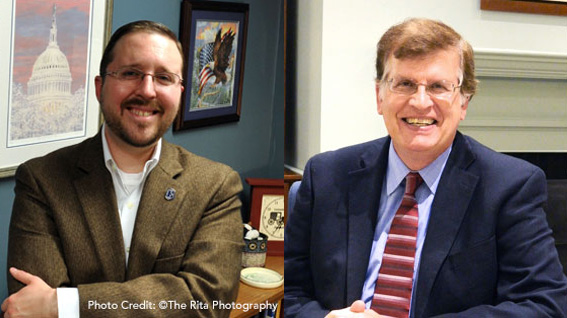 "The Politics of the Presidential Medal of Freedom: A Fifty-Year Analysis, 1963-2013."
Collaborative Research-Students Make a Difference:
The opportunities for learning and engagement are endless in the Department of Politics, Philosophy and Legal Studies (PPLS). And collaborative research is central to the experience and an essential element to the respect that develops between our faculty and students.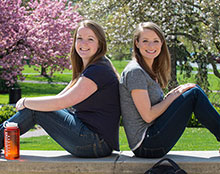 The recently published work of Dr. Kyle Kopko wouldn't have been possible without the collaborative student research that supported Dr. Kopko's and Dr. E. Fletcher McClellan's work. Two former Elizabethtown College students, Jill Casey '13 and Julia Ward '13 co-authors in this project and graduates of the Honors Program, are currently enrolled in the Georgetown University Law. Both were instrumental in the research outcomes that are now being recognized nationally. They gathered data on Presidential Medal of Freedom recipients, wrote about the history of the Medal, and conducted a variety of statistical analyses to determine if there were any differences in the accomplishment that Democratic versus Republican presidents tend to recognize, and whether awarding Presidential Medals of Freedom influences presidential approval ratings.
Jill, Julia, and Dr. Kopko co-presented their initial findings in the winter of 2013 at the Southern Political Science Association annual meeting.  The study is now scheduled to be published in the New England Journal of Political Science in Spring 2016.
The Research Outcome:
The Presidential Medal of Freedom was founded by President Kennedy, who sought to establish a medal that rewarded exceptional civilian accomplishments. While a president may accept nominations for the award, ultimately the decision is up to him or her. According to Executive Order 11085, the award can be given to "any person who has made an especially meritorious contribution to the security or national interests of the United States, world peace, or cultural or other significant public or private endeavors". Dr. Kopko's research focuses on not only the medal, but also the specific use of unilateral executive power, including the ways that presidents with different political beliefs have decided to award the medal. Kopko also explores what differentiates the power to give this civilian honor from the other unilateral executive powers, such as executive order.
The research found that not only has President Obama awarded more medals than any past president, but that there is a distinctive difference between the honorees of Democratic and Republican presidents. While Republican presidents disproportionately award the medal to military figures, Democratic presidents often prefer those involved in the labor movement—often honoring racial minorities as well.
About Dr. Kopko:
Dr. Kyle Kopko has been an Assistant Professor of Political Science since 2010, and received his Ph.D. in Political Science from Ohio State University in 2007. His teaching and research interests include American Politics, Judicial Politics, Law, and Political Psychology. He has been featured in many publications including The Encyclopedia of American Law and Criminal Justice, Justice System Journal, and his own forthcoming publication, "The VP Advantage: How Running Mates Influence Home State Voting in Presidential Elections".