The Power of One: 1 Day Left!
Our Annual Fund Campaign ends today! There are many reasons to give; here's one:
ONE major. MANY talents.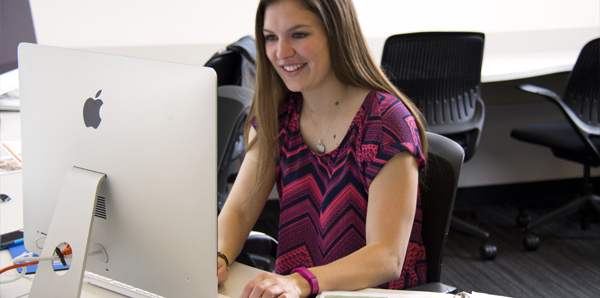 Missy Cameron '15 has one major—communications—but she graduated with a variety of skills and experiences. This diversification well prepared her for three internships—one with a Philadelphia-based print/online sports magazine, another with USA Field Hockey and a third on the public affairs team at CBS News Philly.

"I love to write, but I can also shoot a film, edit a video, use Photoshop…" she said, adding that she's been able to stand out from other interns. "I felt more prepared than the students at more well-known schools. They didn't have as wide a range of skills as I did."
Missy has one main goal after college: to work in sports. And, with her background in writing, public speaking, publicity and production, she's one communicator with many options.
Your one gift can help write success stories like Missy's.
Be part of the story. The Annual Fund supports essential needs of our students and faculty, such as up-to-date equipment for the computer labs and video-editing suites where Missy writes and creates her stories. Today, June 30, is the last day to help us reach our campaign goal; please make your contribution, of any size, by this evening—before the Annual Fund campaign says "THE END" to the fiscal year.
With just 24 hours remaining in our Annual Fund campaign, we ask for your support by 11:59pm, tonight ​. Thank you for being 'one!'
Three ways to give: secure online form, by phone at 1-800-877-9658 or mailing a check to:
          Elizabethtown College
          Development Office
          1 Alpha Drive
          Elizabethtown, PA 17022