Tag the 'Town
As you walked through campus the week of April 22nd, you might have noticed blue and white tags on equipment, walls, buildings or even people...
From April 22 through April 24 students, once again, "Tagged the 'Town" by adorning campus with tags of all shapes and sizes to mark hundreds of items made possible by the generosity of Etown donors.
Tag the 'Town offers a meaningful opportunity for students to thank our contributors for their dedication, and to demonstrate the many ways that our campus, students, faculty and staff benefit from donor support.
In its second year, the campus was glittered with more tags than last year, topping the scale at 250. As well, students, faculty and staff showed their gratitude by wearing pins designed as mini-tags.
Tags remained on display throughout the week as a reminder of the generosity of donors. You can check out the list of featured items below, and learn first-hand how donor support directly impacts our students by reading student stories.
Meet the Taggers
Elizabethtown students contribute to the world in immeasurable ways during their years on campus, and future endeavors. Yet they can't do it on ambition, intellect and creativity alone. Donor contributions play a significant role in supporting our students – from providing grants and scholarships, to funding research projects and fulfilling unexpected needs such as building enhancements and more. It's your support that makes their dreams a reality.
Below you will learn more about these students who directly benefit from your gifts. If you've yet to view the video featuring these students, you can watch it now.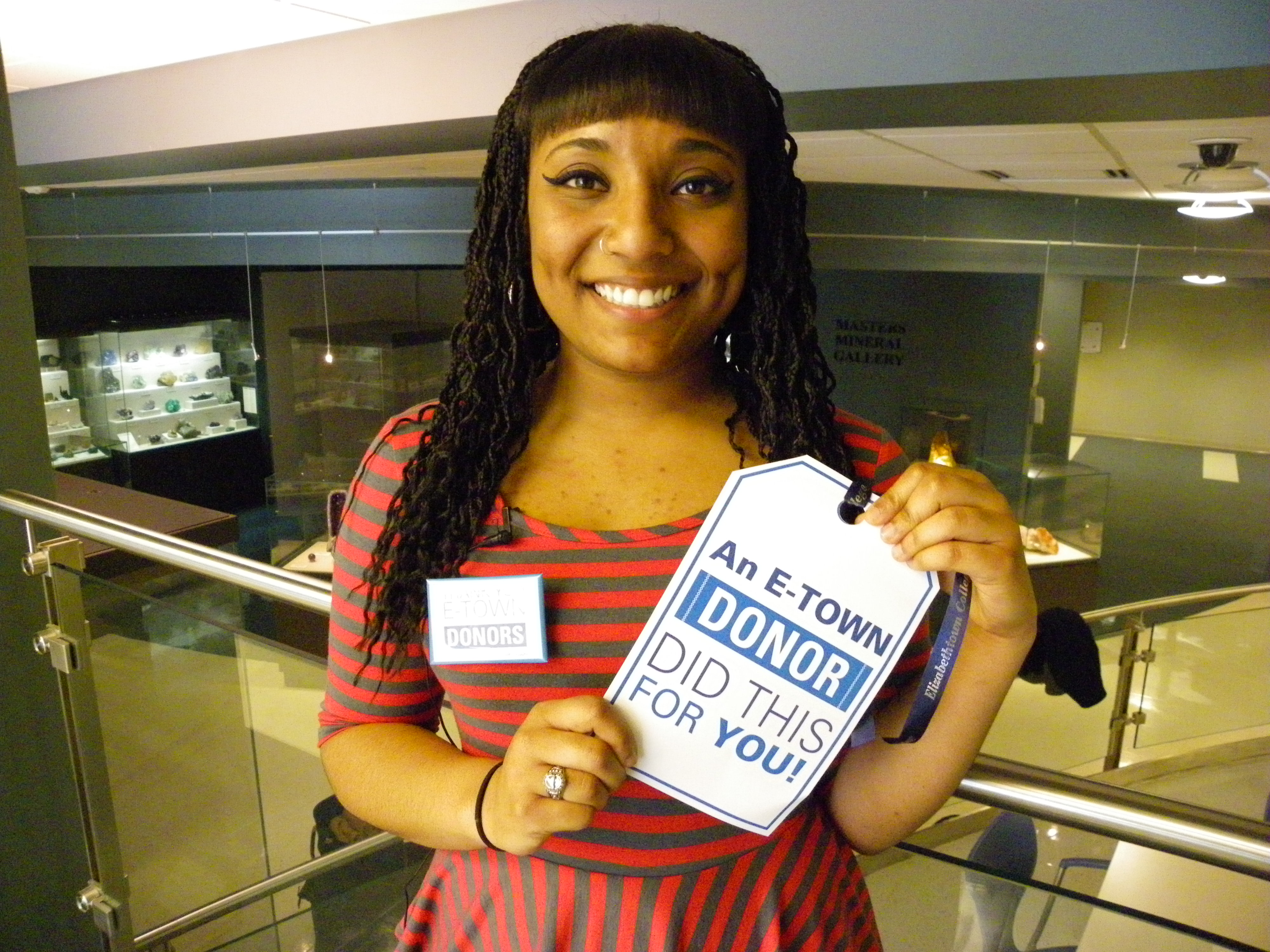 Adriana Milanian '14
Criminal justice major
Enjoys giving tours to prospective students to help them plan for their futures
How Etown helped her grow:
Etown has helped me grow in many ways. I was always somewhat shy and, being here, basically on my own away from what I was used to, helped me step out of my shell. I have become my own person and have become quite responsible. Working two jobs on campus, attending multiple classes a day and spending time with friends is not as easy as it may seem. I've always had a very tight schedule, but I've been able to learn how to prioritize. Here, I've learned how to balance work and play—and how to build lasting friendships.
Her proudest College moments:
I'm proud of myself for meeting new people and creating close relationships with faculty members that have helped me through many things during my four years at Etown. Dr. Newell, Dr. Shah, Dr. Wheelersburg and Dr. Kanagy are among the faculty that I have grown quite close to. No matter what issue I have, they always help me through it, even if it's them sitting with me as I work on an assignment to make sure it was my best work. They also gave me more confidence and taught me to be proud of my work and my accomplishments. Their doors are always open.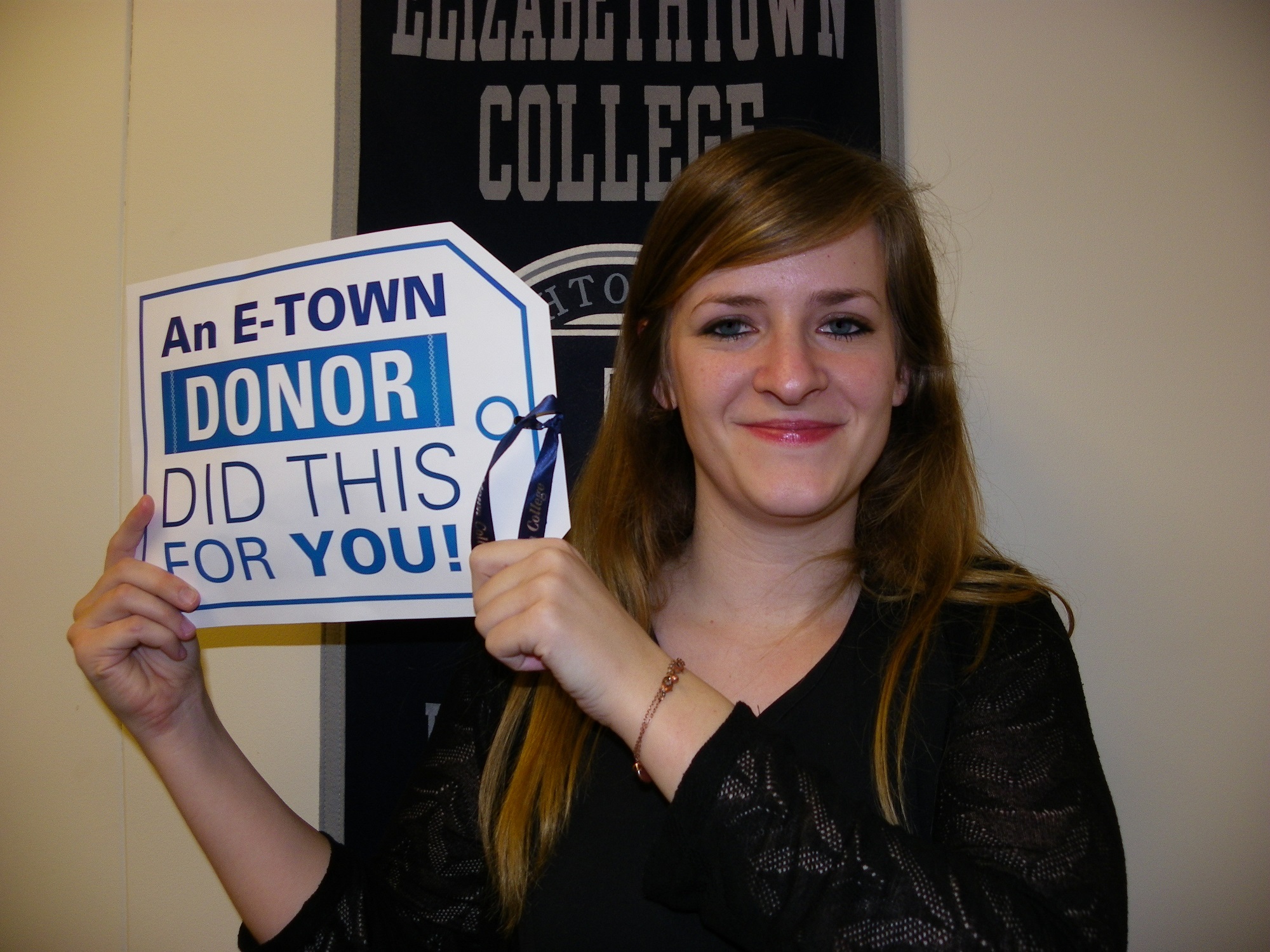 Andrea-Victoria Eckert '16
Psychology major
Enjoys sharing her international experiences with others on campus
What she loves about Etown:
I love the close-knitted campus. Everyone knows everyone and somehow the whole campus is connected. Since it is such a small campus, the professors are more personal with the students than in bigger universities. If you had one class with a professor, this professor will greet you for the next years on campus. Because it is such a small campus, students have the possibility to be more involved. You can even start your own club if you can't find that right one for you.
Why she chose Etown:
For an international student like me, the location is such a bonus point. Being so close to New York City, Boston, Harrisburg and Washington, D.C makes the whole studying abroad experience even better. I've always wanted to visit the United Nations headquarters in New York City, and I was lucky enough to go there with the College during the semester on a nearly fully-funded trip.
Tiana Bogino '14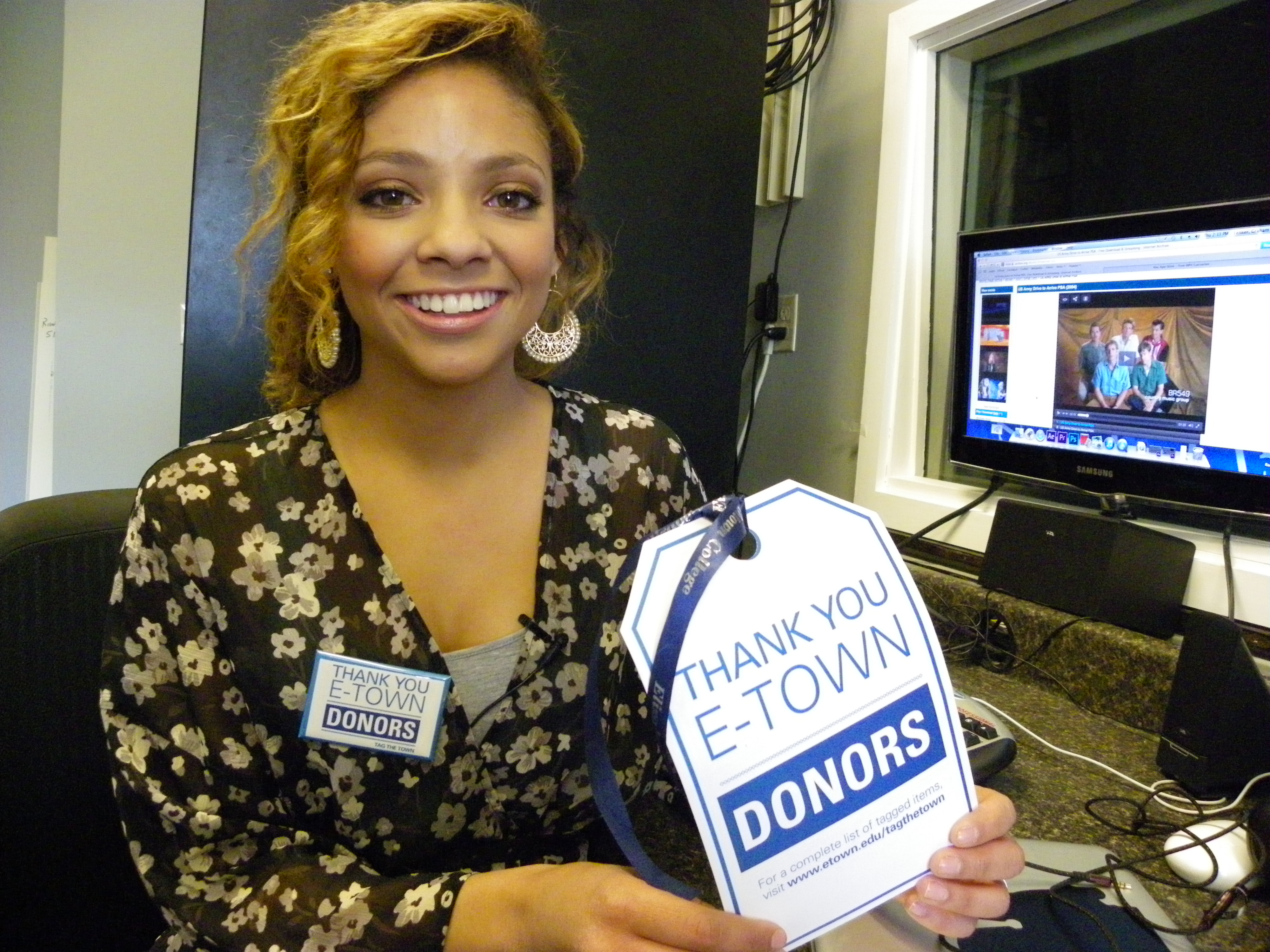 Senior Communications major, sociology minor
Recipient of the Benjamin and Hannah Cantor Scholarship
Future intern at the Disney Company
What she loves about Etown:
I love that Etown has a close-knit family feeling. We all know each other really well and have grown and matured together. I know that I've made life-long friends during my time here and I couldn't be happier. I really love the small class sizes and the relationships you form with professors. I know that if I ever need anything from help to advice, my professors are always there. 
How Etown has helped her grow:
Etown helped me to grow and mature. Through experiences inside of the classroom and out, I was able to realize the type of person I want to be and what I want to do with my life.
Her proudest Etown Moment:
I would have to say my proudest Etown moment was my first year; I was chosen to co-host an entertainment news show for ECTV. I've hosted every semester since then and I love it!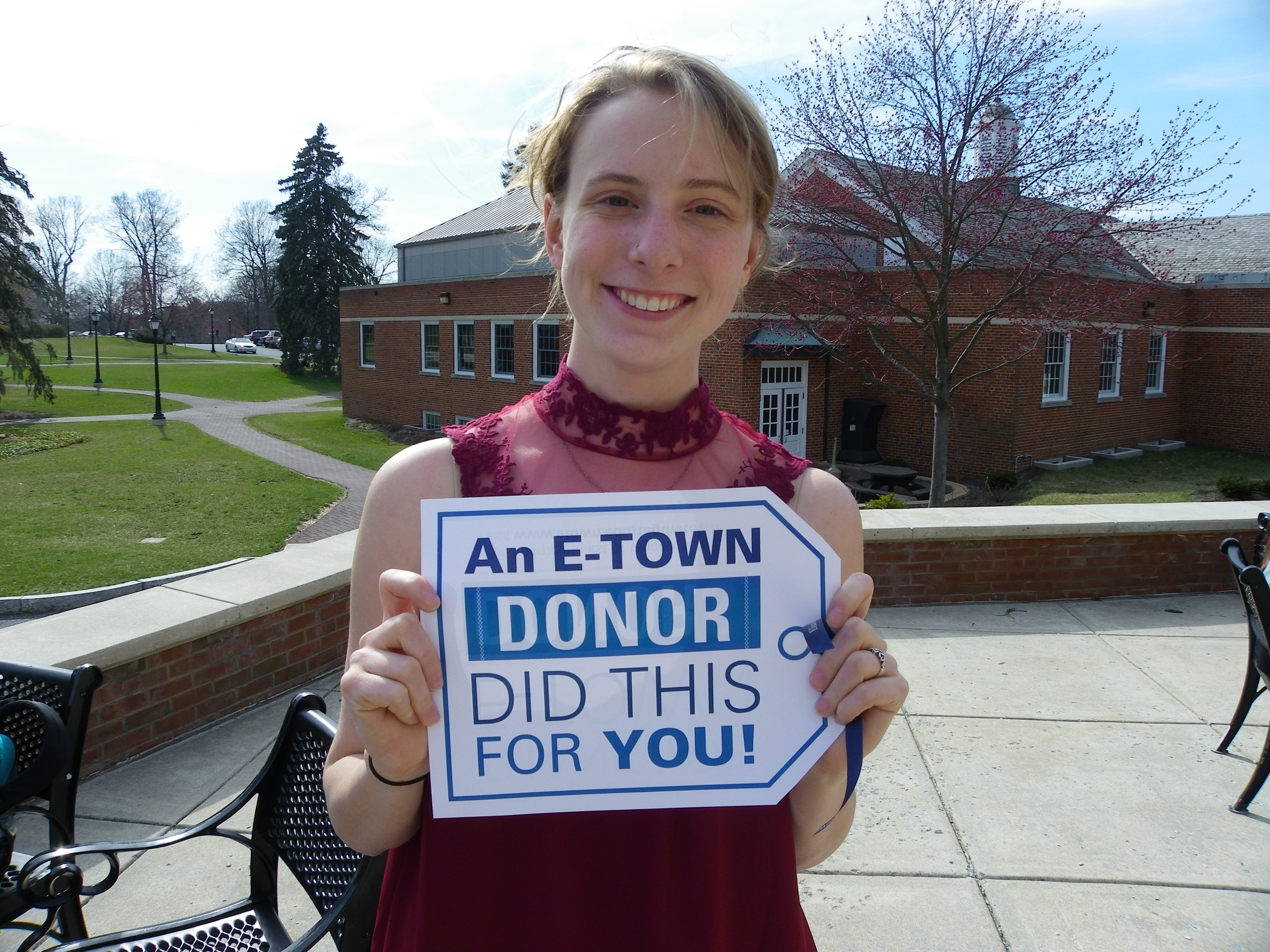 Taylor Luckenbill '15
Religious studies and theatre double major
·Recipient of the Michael Severeid Scholarship
What she loves about Etown academics:
I love that I have the opportunity to build relationships with peers and professors. I also love all the opportunities that the college offers such as keynote speakers, special performance guests, and social justice programs to broaden our minds and to challenge our current way of thinking. It's a very enriching place to study, learn, and grow.
How Etown has helped her grow:
Elizabethtown gives a wide variety of opportunities to its students, no matter what major they are in. As a Religious Studies major, I love that Etown has a diverse culture of religious life so that I have the opportunity to grow in my own faith as well as learn about and appreciate the religious practices of others. Through friendly dialogue, study, and personal relationships, my spiritual life has grown exponentially thanks to religious life. As far as my theatrical growth, having the opportunity to participate in most of the main stage shows has enhanced my abilities as an actor. The classes offered here as a theatre major are difficult but fun and informative! The theatre family I have formed at Elizabethtown has impacted my life, and for that I am forever grateful.
Her proudest Etown moment:Receiving the Michael Severeid Scholarship was a very proud moment for me. I received the scholarship because all of the theatre professors felt that I had outstanding merit in theatre that year, and I was very honored to receive such a scholarship.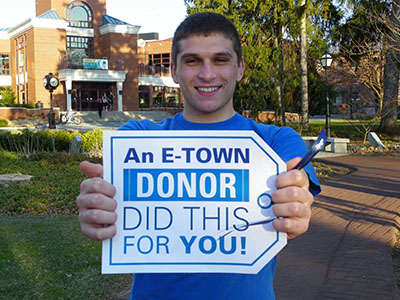 Raphael Sayada '16
Psychology major
Enjoys

wrestling on Etown's team and wearing his Blue Jays uniform
How Etown helped him grow:
Etown has given me the opportunity to succeed later in my life and has focused my attention on how to achieve my goals for the future. In high school, I never went to my teachers or peers for help, and when I needed help from someone with any expertise in a subject, I would have to pay for tutoring with money I didn't have. At Etown, tutoring is free, and I didn't feel any shame going to these tutors because the people tutoring me were fellow Etown students.
His thoughts on Etown's academics
I believe the professors at Etown strive for nothing less than their best and give students as much attention as they need. They always let me know when they will be in their offices for any questions or concerns I may have. When I was a first-year student, they especially helped me learn how to write college-level papers with APA citations and recommended private help for me at Etown's writing center.
n.
Featured Tagged Items
Scroll through the list below to see all of the tagged items, or you also may search by keyword!
ASSET "FilteredTableScript" CANNOT BE SHOWN IN WYSIWYG
| Item | Area |
| --- | --- |
| Leffler House | Admissions |
| J.G. Francis Statue | Alpha |
| Raffensperger Alumni House | Alumni House |
| Light Posts | Around Campus |
| Soccer Ball | Athletics |
| Wolf Field | Athletics |
| Boyd Stadium | Athletics |
| Wrestling Coach | Athletics |
| Basketball Net | Athletics |
| Jay Walk | Athletics |
| Athletics Hall of Fame | Athletics |
| Coaches Offices | Athletics |
| Wrestling Room/Mats | Athletics |
| Volleyball | Athletics |
| Alumni Pool | Athletics |
| The Blue Jay Mascot | Athletics |
| Tennis Courts | Athletics |
| Softball Field | Athletics |
| Track | Athletics |
| Athletics Classroom | Athletics |
| Athletics AV Room | Athletics |
| Locker Rooms | Athletics |
| Brinser Lounge | Brinser |
| Brinser Residential Room | Brinser |
| Dance Studio | Brossman |
| Marketplace | Brossman |
| Blue Bean Café lounge area | Brossman |
| Brezovec Conference Room | Brossman |
| Brossman Commons | Brossman |
| 24-hour Computer Lab | Brossman |
| 2005 Clock | Brossman |
| The Body Shop | Brossman |
| Student Activities | Brossman |
| Koons Activity Venue | Brossman |
| The Bird Cage game area | Brossman |
| Bike Rack in front of Student Center | Brossman |
| Outdoor tables and chairs near student center | Brossman |
| Learning Zone | Brossman |
| Disability Services | Brossman |
| Career Development Center | Brossman |
| Student Mailbox | Brossman |
| Mail Services | Brossman |
| Tempest Theater | Brossman |
| Chaplain's Office | Brossman |
| Called to Lead | Brossman |
| Center for Student Involvement | Brossman |
| Campus Safety Office | Campus Safety |
| Campus Safety Vehicle | Campus Safety |
| Campus Safety Officer | Campus Safety |
| Digital cameras/projector - Esbenshade Classroom | Esbenshade |
| Founders Lounge | Founders |
| Founders Residential Room (A) | Founders |
| Founders Residential Room (B) | Founders |
| Founders Residential Room (C) | Founders |
| Founders Residential Room (D) | Founders |
| Hackman Apartments - North | Hackman |
| Hackman Apartments - South | Hackman |
| Computers in computer lab | High Library |
| Library Books | High Library |
| Westminster chimes | High Library |
| High Library | High Library |
| Large Globe | High Library |
| Fireplace Alcove | High Library |
| Study area on main floor | High Library |
| McCormick Lab | High Library |
| Brethren Heritage Room | High Library |
| Printers - Library | High Library |
| DVD/Books sponsored by Senate/Gibble endowed funds | High Library |
| School of Graduate and Professional Studies (sgps) | Hoover |
| Center for Family Business | Hoover |
| Hoover Center | Hoover |
| Elevator | Hoover |
| Digital cameras/projector - Hoover Classroom | Hoover |
| Bitting Case Study Room | Hoover |
| Business Department Mural | Hoover |
| VITA Room | Hoover |
| Room 110 | Hoover |
| Stock Ticker | Hoover |
| Newcomb/Murphy Endowed Scholarship | Hoover |
| Family Business Library | Hoover |
| Steinway Piano | Leffler |
| The Dam on Lake Placida | Leffler |
| Ware Lecture Series | Leffler |
| Leffler Chapel | Leffler |
| Brick entrance to the Chapel | Leffler |
| Lake Placida | Leffler |
| Gazebo near Lake Placida | Leffler |
| Biology Lab | Masters |
| Biology 2nd-Floor Lounge | Masters |
| OT Kids Zone | Masters |
| Chemistry Lab | Masters |
| Engineering Area | Masters |
| Masters Center | Masters |
| Masters Mineral Galley | Masters |
| Gibble Auditorium | Masters |
| Benches on Academic Quad | Masters |
| Esbenshade Classroom 1st Floor | Masters |
| Esbenshade Classroom 2nd Floor | Masters |
| Esbenshade Classroom 3rd Floor | Masters |
| Chemistry Research Students | Masters |
| Spectrofulroimeter | Masters |
| High-Performance Liquid Chromatograph | Masters |
| Summer Student Research Students | Masters |
| Musser Classroom | Musser |
| Susquehanna Room | Myer |
| Myer Lounge | Myer |
| Myer Residential Room | Myer |
| ITS | Nicarry |
| Express Printing Lab | Nicarry |
| Center for Global Understanding | Nicarry |
| Study Abroad | Nicarry |
| Nicarry 1st Floor Classroom Room #127 | Nicarry |
| Nicarry 2nd Floor Classroom Room #201 | Nicarry |
| Center for Community and Civic Engagement | Nicarry |
| Science in Motion | Nicarry |
| Moving Forward Together w/ Milton Hershey | Nicarry |
| Education classroom | Nicarry |
| Education workroom | Nicarry |
| Social Work Classroom | Nicarry |
| Brittany's Hope Endowment | Nicarry |
| Science/Math Education Lab | Nicarry |
| Special Education Lab | Nicarry |
| Education Conference/Seminar Room | Nicarry |
| Mock/Model Classroom for Elementary Education | Nicarry |
| Lend a Hand Trip Participants/Fogelsanger Award | Nicarry |
| Social Work student conference | Nicarry |
| Ober Lounge | Ober |
| Ober Residential Room | Ober |
| Community Living House | Community Living |
| Royer Lounge | Royer |
| Royer Residential Room | Royer |
| Schlosser Lounge | Schlosser |
| Schlosser Residential Room | Schlosser |
| SDLC | SDLC |
| TV Station | Steinman |
| Mac Lab  | Steinman |
| Mobile Production van | Steinman |
| Radio Station | Steinman |
| Steinman - Big Columns | Steinman |
| Brinser Lecture Room | Steinman |
| Art Studios | Steinman |
| Stamps Scholarship | Students |
| Scholarship Recipients | Students |
| The Dell Gazebo | The Dell |
| Honors Center | Wenger |
| Honors Center Classroom | Wenger |
| History Department | Wenger |
| R. W. Schlosser Professor of English | Wenger |
| Fetzer Lounge | Wenger |
| Asian Studies Minor | Wenger |
| Modern Languages Department | Wenger |
| Wenger 3rd Floor Classroom | Wenger |
| Wenger 4th Floor Classroom | Wenger |
| Peace and Conflict Studies Minor | Wenger |
| Writers House | Writers House |
| Young Center | Young Center |
| Young Center Classroom | Young Center |
| Young Center Historical Documents | Young Center |
| Zug Recital Hall | Zug |
| Hess Art Gallery | Zug |
| Practice Rooms on first floor | Zug |
| Zug Performance Room | Zug |
| Financial Aid Office | Zug |
| Class of 2009/2012 outdoor classroom | Zug |