International Education Week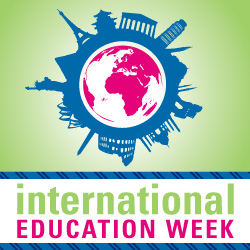 International Education Week is an opportunity to celebrate the benefits of international education and exchange worldwide. The project stemmed from a joint initiative of the U.S. Department of State and the U.S. Department of Education as part of a nationwide effort to promote programs that prepare Americans for a global environment and attract future leaders from abroad to study, learn, and exchange experiences in the United States.
The Office of International Students and Scholars is proud to sponsor a wide variety of programming throughout International Education Week each November to encourage out students to become globally competent and globally successful through international education, awareness and engagement.
Contact Amy Berra, Assistant to the VP of Student Life for more information.
International Education Week will be taking place the week of November 11th for 2019! See the corresponding week on the Google Calendar for a listing of events and times.