Office 2013

College Owned Computers:
The latest version of Microsoft Office, Office 2013, has replaced Office 2010 on new college computers, in computer labs and print stations. Don't have the new Microsoft Office 2013 on your college owned computer? Install it yourself - instructions.
Student Computers:
Currently enrolled students working toward a degree may install the free student version of Microsoft Office. Visit the ITS Knowledgebase article "Student Microsoft Office" for instructions.
Faculty & Staff Home Computers:
Current faculty and staff, for as little as $9.95, can install the Word at Home version of Office 2013 for their personal computers by visiting this Journey Ed site.
---
Office 2013 Getting Started Workshops & Video

---
New Subtle Metro Look & New Features
New Office Ribbon & New Features - Printable PDF file

---
Quick Start Guides from Microsoft
Understandable but thorough Quick Start Guides from Microsoft describe the program window, how to access help, explore the ribbon (some changes there), point out common tools and commands, new features and more. View online or, for a desk side reference, print.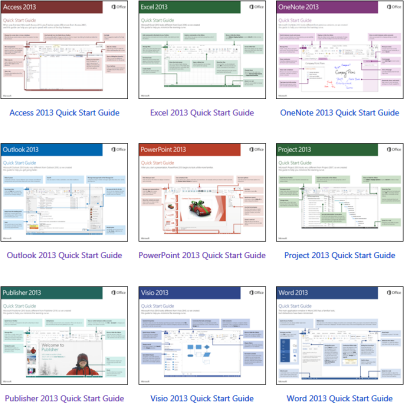 ---
Videos and Tutorials
The links to Microsoft's "Make the Switch" videos and tutorials which appear below give you the option of watching online or downloading and watching them off line from your computer. Another option for Excel, PowerPoint, Publisher and Word is to take a tour from within each application.
Next to the links below, note comments by early adopters about a favorite new feature for each app.