Elizabethtown Magazine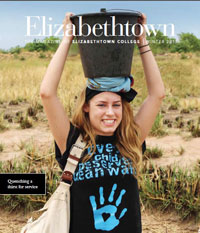 Elizabethtown Magazine is published three times per year by Elizabethtown College and is distributed to College alumni, parents and friends.
Inside the pages of each issue you will find inspiring and touching feature stories about how our students and alumni are carrying out the mission of Elizabethtown College, as well a letter from the president, faculty and staff accomplishments, Class Notes and news from around campus. 
In January 2012 an online edition was launched to supplement the print magazine. Elizabethtown Magazine online features additional content, multimedia elements and offers readers the ability to comment on stories and share them with friends and family on social media.
Have an idea or suggestion for the magazine? Email magazine@etown.edu.