 Presidential Inauguration
Cecilia M. McCormick, J.D.
15th president of Elizabethtown College
OCTOBER 24-26, 2019
---
Biography
Cecilia M. McCormick, J.D.
Elizabethtown College President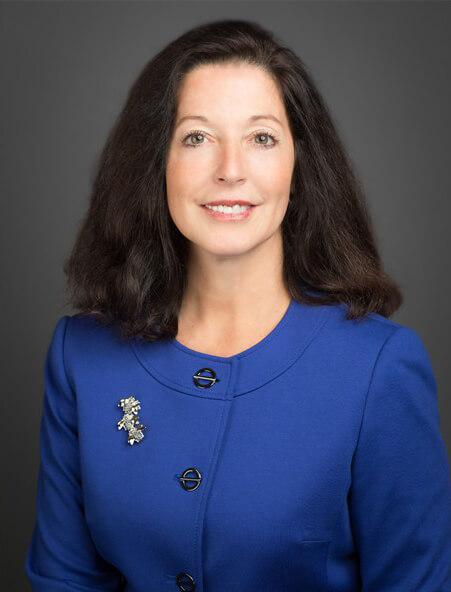 Cecilia M. McCormick, J.D. became the 15th president of Elizabethtown College on July 1, 2019.
She has served at an executive level in academic affairs, financial management, advancement, legal affairs, facilities management, and community and economic development throughout her career.
Most recently, she held the position of Vice Provost for Academic Strategy and Special Programs at Thomas Jefferson University (TJU) where she successfully developed numerous strategic initiatives and led the academic merger of TJU and Philadelphia University.
Previously at TJU, she served as the Chief of Staff for the Office of Academic Affairs and the Associate Provost for Strategic and Academic Initiatives. At Johns Hopkins University, she was the Chief of Staff to the Senior Vice President for Finance and Administration and Chief Operating Officer.
She has also held myriad positions at Widener University, including Executive Director in the Office of the President, functioning as a member of a six-person executive team that transformed the mission and vision of the University as well as Dean and Director of the Legal Education Institute at Widener University School of Law, Associate Director of Admissions for the School of Law, and Associate Dean and Dean of Academic Affairs for the School of Business Administration.
Cecilia received her Bachelor's Degree in Management/Marketing from St. Joseph's University, her Paralegal Certificate from Widener University, her Juris Doctorate from Delaware Law School: Widener University and a Post-Doctoral Certificate from the Institute of Educational Management at Harvard University, Graduate School of Education.
McCormick, a graduate of a liberal arts and professional education, has spent the majority of her career focusing on education, advocacy, and service to the community. She has successfully developed a longstanding career in higher education, focusing on both management operations and strategic direction to grow and improve higher education institutions. She has been fervent in advancing institutional missions and creating environments that foster holistic student learning, support, and development.
Most notably, McCormick served as the academic lead for the merger between Thomas Jefferson University and Philadelphia University in July 2017. She was a member of the Integration Steering Committee and Lead of the Academic Affairs, Program and Curricula Sub-Committee.
Also at TJU, McCormick served as the lead for the College's Time Series initiatives which include curricular redesign, operational improvements to academic services, educational partnerships, and research initiatives. She also created accountability with tracking measures to ensure progress, established priorities for resource allocation, and identified opportunities for collaboration across the colleges and outside of the institution.
McCormick also is the champion of the Health Sciences Pipeline Programs. She led efforts on building school partnerships and the launching of various enrichment programs for students in the Philadelphia region to create an interest in STEM Education with a focus on workforce development and underserved populations.
McCormick is an Associate Professor for Business & Law and has taught at both the undergraduate and graduate levels, and has been celebrated as a champion for her students' growth and development.
McCormick maintains her license to practice law in the State of Pennsylvania. Her legal experience includes serving as an attorney for more than 10 years with two private law firms in the Philadelphia region. Thereafter, she held the positions of Assistant General Counsel for PECO Energy and special project manager for The Vanguard Group's Retirement Resource Center.
Cecilia resides in Elizabethtown with her husband, John. She is the proud mother of three sons, Timothy, Daniel, and John as well as a grandmother of two, Archer and June.