Emergent Scholars
Selection criteria for Emergent Scholars are as follows: Emergent Scholars have attained at least a 3.75 cumulative grade point average at the end of their first three semesters. Qualified students are full-time students who have not previously attended another college or university for full-time study and have earned at least forty-two credits in three consecutive semesters as a student at Elizabethtown College or one of its affiliated programs.
The SVPAA hosts an annual luncheon to recognize Emergent Scholars and their invited mentors.  The most recent luncheon was held in the KAV on March 12, 2017.
Luncheon for the 2017-18 class of Emergent Scholars will be held Sunday, March 11, 2018 at 12:noon.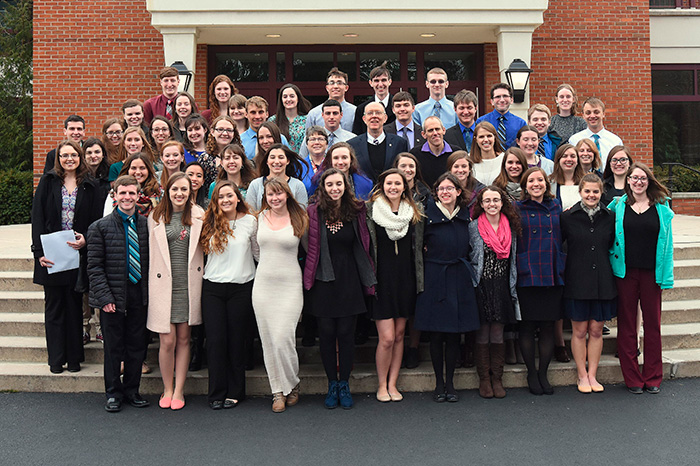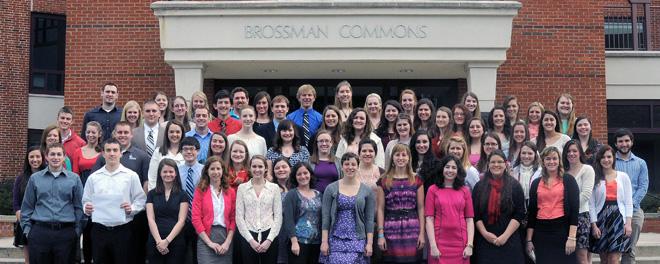 2017 Emergent Scholars and their Mentors are:
      Scholars                Mentors
| | |
| --- | --- |
| Joshua Baker | Terri Riportella |
| Kelly Barnett | Johnanna Gardiner |
| Deanna Bertone | Judy Ericksen |
| Amy Blum | Judy Ericksen |
| Amber Burd | Anya Goldina |
| Renee Ciardullo | Pat Ricci |
| Ann Cosgrove | Brian Newsome |
| Kristen DeRosa | David Bowne |
| Andrew DeWalt | Jodi Yorty |
| Elizabeth DiBiase | David Bowne |
| Shaye Lynn DiPasquale | Jean Pretz |
| Margo Donlin | Kurt DeGoede |
| KCameron Dorr | Gabe Ricci |
| Rebecca Easton | Louis Martin |
| Victoria Edwards | Nobuakia Takahashi |
| Emily Egolf | Ed Chung |
| Allison Eveler | Kerri Hample |
| Joshua Fishman | Kurt DeGoede |
| Mackenzie Garner | Gabriella Sanchez |
| Melissa Germano | Montsi Linares-Farras |
| Tyler Goldberg | Terri Riportella |
| Cassie Gordon | Kirsten Johnson |
| Amanda Hafler | Kyle Kopko |
| Jenna Hansell | Elizabeth Coyle |
| Stephanie Hanus | Montsi Linares-Farras |
| Abigail Harvey | Elizabeth Coyle |
| Allison Hauser | Matt Telleen |
| Aileen Ida | Amy Shorner Johnson |
| Eliana Jaroch | Jim Haines |
| John Kampmeyer | Bobette Thorsen |
| Megan Kane | Matt Skillen |
| Hannah Keeports | Jeffrey Gabriel |
| Zachary Klinedinst | Kirsten Johnson |
| Anthony Knight | Randy Trostle |
| Rebekah Kroll | Linda Hinson |
| Darren Labenberg | Brenda Read Daily |
| Rachel Lee | Montsi Linares-Farras |
| Amy Lieberman | Evan Smith |
| Jessica Loving | Nobuakia Takahashi |
| Derek Manning | Brenda Read Daily |
| Sean McCubbin | Brian Newsome |
| Stephanie Miller | David Downing |
| Katelyn Mowery | Michele Kozimor-King |
| Steven Muscio | James MacKay |
| Jeri Lynn Oscovitch | Susan Mapp |
| Austin Reth | Brenda Read Daily |
| Angel Richard | David Downing |
| Anastassiya Sayenko | Hossein Varamini |
| Emily Seratch | Hossein Varamini |
| Anna Simpson | Wendy Bellew |
| Rebekah Smith | Amy Shorner Johnson |
| Melissa Spencer | Richard Fellinger |
| Josephine Stommel | Montsi Linares-Farras |
| Mika Thomas | Kyle Kopko |
| Julia Tielman | Juan Toro |
| Kristen Wade | Rachel Vandernick |
| Claire Weckerly | Tom Hagan |
| Angela Wesneski | Steve Soltys |
| Timothy White | James Hughes |
| Emily Wieder | Brian Newsome |
| Nicholas Winch | Jean Pretz |
| Bryn Woodling | Tim McDevitt |
| Rebecca Young | Wendy Bellew |
| Haley Young | James MacKay |