Staff Council Calendar
Health Care Presentation by Bryan Greenberg
October 19, 2022 12:00pm - M&M Mars Leffler Chapel
This year's benefit election period will take place in November. To assist with your decision-making, and complementing the material and presentations that will be offered by Human Resources, Bryan Greenberg from Personnel Council will be discussing some of the details about our healthcare plan.  Topics covered include an overview of our self-funded healthcare model, cost components of that model and how they have changed, how being self-funded (and our individual engagement with healthcare decisions) impacts premiums, a review of premium and plan changes for 2023, and an overview of additional benefit changes for the coming year.
If you would like to see the presentation, please email Amy Berra berraa@etown.edu for the link.
Open Staff Council Meetings 2022-23
August 29, 2022 11am - Hoover 213
September 27, 2022 9 am - Nicarry 210
October 26, 2022 1pm - Esbenshade 184
Let's Talk: Reflections About Belonging
Message from:
Dr.

Kesha Morant Williams, Senior Advisor for College Diversity Equity and Belonging
It's hard to believe it's just been three months since I joined the Etown flock. I've enjoyed a period of listening and learning. I am excited to join efforts as the College continues to expand in Inclusive Excellence. I'd love to share some of my reflections and plans, and I ask those of you who are willing to do the same by  sharing with me in advance on this form .   If you would like to contact the Office of DEB directly, please email us at  DEB@etown.edu . 
December 1, 2022 1 pm - Hoover 110
January 24, 2023 9 am - Hoover 110
February 27, 2023 2pm - Hoover 215
March 29, 2023 11 am - Hoover 110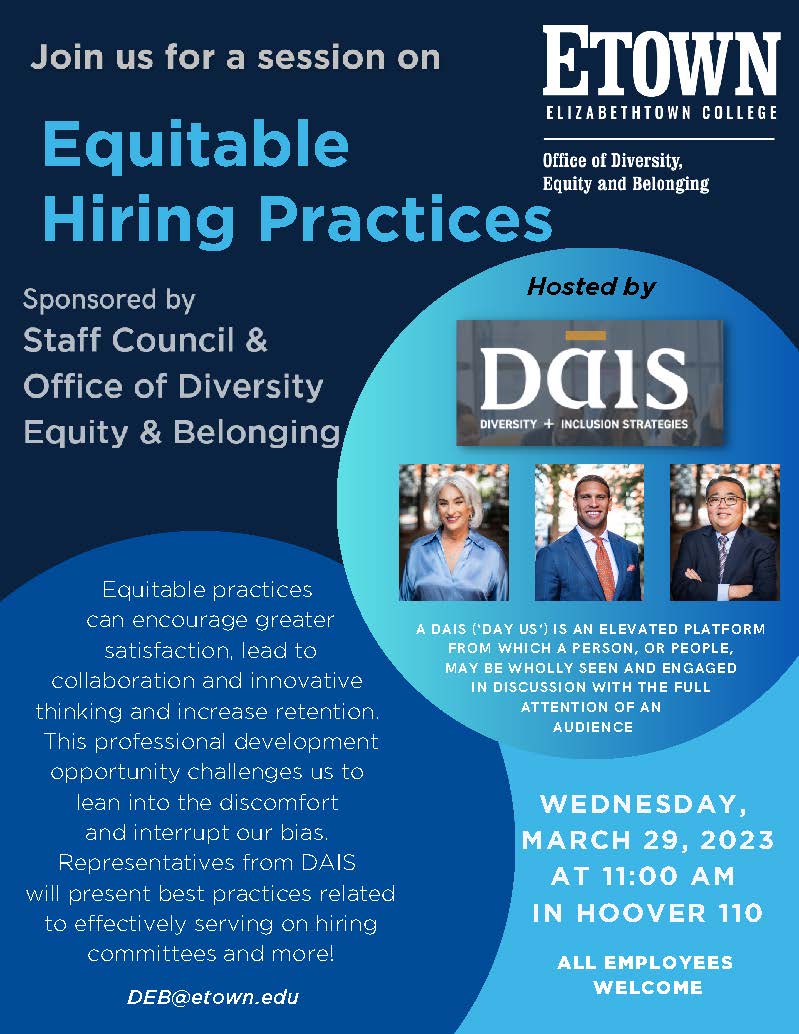 April 27, 2023 2:30 pm - Nicarry 228
May 23, 2023 3pm - Hoover 212