Excel Program 
Your Experience. Your Advancement. 
The EXCEL Program
Your Experience Matters Here
The EXCEL Program is a non-traditional, bachelor's degree-completion program administered through Elizabethtown College School of Continuing and Professional Studies (SCPS). Provided as an alternative to the 5-week accelerated bachelor's degree program, EXCEL is designed specifically for adults who have significant work-related experience in the field in which they plan to finish their degree. It also requires at least 50 college credits completed, a clear sense of career goals, and strong academic ability. An abundance of Prior Learning Assessment (PLA) is used to complete course requirements in addition to the availability of 5-week accelerated classes.
EXCEL is a highly individualized program that provides the flexibility that many adults desire in order to accelerate degree completion. It requires self-discipline and structure to complete the program. With the guidance of an academic advisor and faculty expert, students will work through their remaining requirements to earn a Bachelor of Professional Studies degree in the majors offered through the SCPS. Students can begin the program anytime throughout the year. In addition to supplying college transcripts, references, a written goal statement, and online application, prospective students must meet with the EXCEL Coordinator for a complete explanation of the program. Please be advised that there is no financial aid available for this program at this time.
Bachelor of Professional Studies offered:
Degree Requirements
The EXCEL Program employs the assessment of experiential learning and is a significant element in fulfilling degree requirements of 125 credits for a Bachelor of Professional Studies degree including:
CLEP (College Level Examination Program) examinations
Independent Study
Transfer credits from accredited institutions of higher education are used to fulfill course requirements including classes in the major, Core general education requirements and general electives.
Through Course Equivalency Proposals (CEPs), the student employs prior learning assessment to argue and document that learning outcomes for specific Elizabethtown courses were achieved. A CEP can be used to satisfy specific credit for a course.
Students are required to take a one-credit EXCEL Essentials course to review various components required of all aspects of the EXCEL program including writing a research paper, plagiarism, paraphrasing, and writing Course Equivalency Proposals.
Are you ready to accelerate your career? Get started now with a bachelor's degree through the EXCEL Program at Elizabethtown College.
Admissions Process
To be considered for the EXCEL Program students must meet with an admissions counselor for a personal interview and explanation of the program.
Complete the undergraduate application. Applications are accepted year-round; therefore, candidates can enter the program at any time.
Request official transcripts from all colleges previously attended.
Submit a current resume, outlining work experience.
Submit two standard letters of recommendation.
Submit a 2-3 page essay discussing the following:

The EXCEL Program demands extensive self-direction and time management. How do you envision incorporating the time necessary to meet the program's demands while juggling employment and family responsibilities?
Please elaborate on your background. Noting the stated criteria of prior education and experience to enter the EXCEL Program, why are you a good fit for this type of degree completion program?
How will completing your degree benefit you? The E-town EXCEL program was THE reason I was able to finish my degree as I juggled my responsibilities as a husband, father, career professional and college student. I researched several adult learning programs before I selected E-town's EXCEL program. I needed a program that would support my busy schedule, recognize my career experience, and conduct an equitable assessment of my previously earned college credits. I was impressed with E-town's reputation, reasonable fees/costs, scheduling, and advisory support. At 45 years of age, my daily life never slowed to an acceptable speed, but the EXCEL program provided the opportunity to dedicate time to my family and my career as I earned a degree.
When I decided to go back to earn my bachelor's degree, E-town offered me the ability to work at my pace. The program was very accommodating and the instructors were flexible and understanding of my needs working full-time as a single mother.
Each facilitator excels your knowledge and skills. The professors teach relevant material that you can apply in your current job immediately.
I wanted to make a difference and make an impact in my career. I built my foundation through the Elizabethtown College program. I also wanted to give my kids an example of a role model to give them the motivation to pursue their goals. Meet Your
Advisor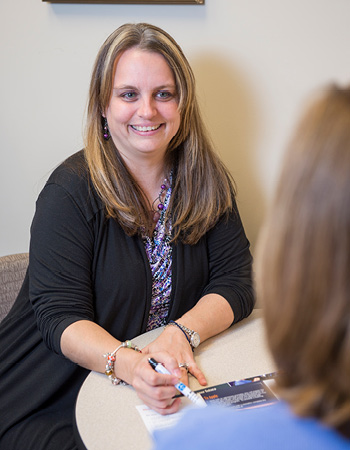 Julie Walton
The Excel program is highly customizable.  As such, it is strongly recommended that you meet with the Excel advisor prior to applying to the program.  During the meeting, you will work closely with the advisor to develop a degree completion plan that is takes your experience,  previous academic coursework, and professional development into consideration. 
Upon admission to the program, Julie will work with you to ensure your academic requirements are met.  You will also be assigned a faculty advisor to help guide you throughout your program and assess your prior learning as an industry expert. 
We're here to help. Tell us more about yourself and what you are looking for. We'll get you the information you need right away.
Request Information