Master of Divinity 
A Partnership with Lancaster Theological Seminary 
Master of Divinity Program
ACCELERATED BACHELOR'S TO MASTER'S PROGRAM: A partnership supporting those who hear a higher calling.
Elizabethtown College's School of Continuing and Professional Studies (SCPS) has partnered with Lancaster Theological Seminary (LTS) to offer students an exciting bachelor's-to-master's accelerated-admission opportunity. Interested students begin their journey at Elizabethtown College, completing an accelerated bachelor's degree prior to beginning their coursework in the Master of Divinity (MDiv) program at Lancaster Theological Seminary.
Both Elizabethtown College SCPS and Lancaster Theological Seminary have extensive experience providing quality education to adult learners. We understand your unique needs and challenges and have designed our programs to position you for academic, personal and professional growth and success.
Program Formats:

Online

In Person
Participating students may pursue any accelerated bachelor's degree program offered by Elizabethtown College SCPS. All students in the Accelerated Admissions program must complete the following courses:
English Composition
English Composition II
Principles of Philosophy
Ethical Issues in Human Services
Developmental Psychology
These courses can be completed at Elizabethtown College or can be transferred into Elizabethtown College from a previous institution. See Accelerated Admissions agreement for additional requirements students must follow to remain on track for admission to LTS.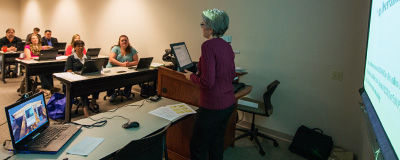 Course Locations:
To provide maximum flexibility, students may take courses at any of Elizabethtown College School of Continuing and Professional Studies' three locations or online. Select courses will be held at Lancaster Theological Seminary each semester.
We offer classes in:
Lancaster
Harrisburg
Elizabethtown
Online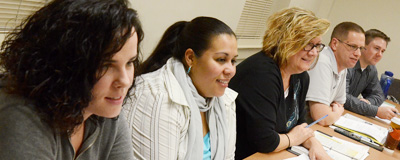 What "Accelerated" Means for You:
Five-week classes meet one or two times a week and can easily fit into your busy life.
Taking one course at a time helps you stay focused on school, work and family
Online and blended courses allow you to learn in the comfort and convenience of home.
Real-world instructors bring relevant, current work experience to enhance classroom teaching.
Credits transferred from prior college work help you to finish your degree faster.
Step In/Step Out option lets you take time out for personal or professional reasons without missing a beat.
SCPS Admissions
Requirements
Have a minimum of three years of full-time work experience.
Have graduated from high school or earned a GED. Successful completion of some college coursework is strongly suggested prior to entering an accelerated program, but not required.
Have writing ability sufficient for success in an accelerated academic program. Writing is an essential component of this program. You will be asked to write an essay that demonstrates your ability to write clearly, use proper grammar and organize your writing into correct compositional expression.
Have the time to devote to your coursework. Course requirements in a five-week accelerated class can be as high as 15-20 hours per week.
LTS Admissions
Requirements
While the SCPS admission requirements apply to your School of Continuing and Professional Studies (SCPS) degree, Lancaster Theological Seminary (LTS) requires each prospective student to submit additional admission materials for consideration in the Master of Divinity (MDiv) program.
As a benefit of taking part in this partnership initiative, SCPS students wishing to pursue their MDiv will go through an abbreviated admission process with LTS and pay a discounted application fee
Are you ready to accelerate your career? Get started now with a bachelor's degree in Accounting from Elizabethtown College.
Career Outlook
Career Opportunities for Graduates:
Minister
Pastoral Counselor Elizabethtown College offers a quality education program for those who work. The instructors are helpful and the classes are relevant in today's work place.
Like a small child finding a shiny treasure in the sand, on an unexpected visit to Lancaster Seminary I discovered an immense treasure that I will enjoy for a lifetime. Though I don't know what the future holds, I am learning here what it means to walk in faith in new and challenging ways
Each facilitator excels your knowledge and skills. The professors teach relevant material that you can apply in your current job immediately.
I wanted to make a difference and make an impact in my career. I built my foundation through the Elizabethtown College program. I also wanted to give my kids an example of a role model to give them the motivation to pursue their goals. We're here to help. Tell us more about yourself and what you are looking for. We'll get you the information you need right away.
Request Information