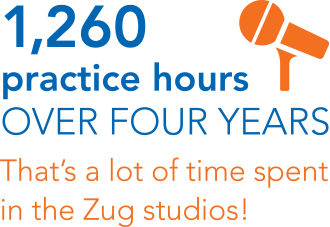 A Grand Finale
Student Musicians Demonstrate Professional Readiness
Each spring, Zug Recital Hall fills with music—and family members, friends, classmates and teachers—as graduating seniors bid Elizabethtown farewell by way of a senior recital. Behind each 30-minute program are four years of preparation.
Elizabethtown music students graduate with proficiency on several instruments, but all declare a principal instrument—and must practice at least 10.5 hours each week. Douglas Bomberger, chair of the Department of Fine and Performing Arts, explained that a senior recital summarizes the techniques from eight semesters of lessons and knowledge acquired from music history, theory and oral skills classes. 
Requirements vary based on instrument and faculty mentor. Bayla Cohen '14, for example, is a vocalist; she was required to include works from four languages into her program. Like all other soon-to-be music graduates, Cohen spent her entire senior year preparing for her half-hour on the Zug stage. With three weeks left to go, Cohen performed for a faculty committee at a recital hearing. Bomberger said the hearing ensures that students feel confident for their final performance: "so ready that nothing can rattle them."
Senior recitals are a degree requirement designed to showcase musicianship at a professional level but, Bomberger said, these performances also are exciting events for friends and family members.