Our Faculty and Staff
Conrad L. Kanagy, Ph.D.
Professor of Sociology
kanagycl@etown.edu |717-361-1301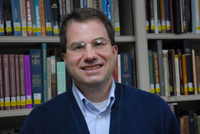 B.A. (1986), Sociology and Anthropology, Wheaton College (IL)
M.S. (1990), Rural Sociology, Penn State
Ph.D. (1993), Rural Sociology, Penn State
Dr. Kanagy came to Elizabethtown College in 1993. Since then he has taught a variety of courses ranging from Discovering Society for entry-level students to Sociological Theory for graduating seniors. His research focus is in the sociology of religion, an interest which has led him to publish articles and book chapters related to race and religion, the environment and religion, and more. He was co-author of an introductory-level textbook in sociology called the Riddles of Human Society. His dual interests in rural communities and religion led to a series of annual studies that examined land ownership patterns among the Old Order Amish, and he was the first to systematically document the rapid growth in farmland ownership of the Amish in Lancaster County, PA. In 2006 he directed a study of Mennonites in the U.S. and published a book entitled Road Signs for the Journey: A Profile of Mennonite Church USA. In that book he cited the decline of "mainstream" Mennonites in the U.S., paralleling the challenges facing the Mennonite Church with those of mainline denominations in North America.
Most recently, Dr. Kanagy directed a study of Anabaptists in 10 countries in Asia, Africa and Latin America. This project was one of the first of its kind among Christian denominations in the global south, and the findings of the Multi-Nation Anabaptist Profile have implications not only for Anabaptist churches but for other Christian groups. In general, Dr. Kanagy learned that the declines among Mennonites in North America are matched by even greater increases in the global south. Should these trends in both hemispheres continue, Anabaptism will be increasingly defined by its members in Asia, Africa, and Latin America--rather than in North America and Europe.
Courses: Discovering Society, Sociology of Religion, Introduction to Rural Communities, Sociological Research Methods, Social Statistics, Race and Ethnic Relations, Ethnography of Africa, Sociological Theory.
Michele Lee Kozimor-King, Ph.D.
Associate Professor of Sociology
kozimor-kim@etown.edu | 717-361-1571
B.A., Elizabethtown College
M.A., Ph.D., The Pennsylvania State University
Courses: FYS-Simple Living, Discovering Society, Population and Global Issues, Marriage and Family, Urban Sociology, Methods of Social Research, and Social Statistics
Michele Lee Kozimor-King was a 2008-2009 Sloan Early Career Work and Family Scholar. She is currently a sponsoring member of the Work and Family Research Network.  Her research interests include the scholarship of teaching and learning (including mentorship) and the effects of control and self-efficacy on work-family outcomes. Kozimor-King's past work has addressed public perceptions of the work-family roles of women and the impact of career interruption on occupational attainment and career mobility of women. Her current research examines the impact of family structure on retirement expectations of women, the impact of owners' characteristics, work, and family issues on equine body condition, and teaching research methodology using service-learning. Her research has appeared in the Journal of Sociology and Social Welfare and Research in the Sociology of Work. Kozimor-King has led numerous workshops on balancing work and family. She is the current president of the Mid-Atlantic Council on Family Relations and the Region III Representative for Alpha Kappa Delta the International Sociology Honor Society. Kozimor-King teaches undergraduate courses in research methodology, social statistics, population issues, race and ethnic relations, sex and gender, marriage and family, social media, urban sociology and in the first-year seminar program.  She has received numerous awards for her teaching. Kozimor-King was recognized as the 2012 Excellence in Teaching the First-Year Seminar Award recipient which is co-sponsored by McGraw Hill and The National Resource Center for the First-Year Experience and Students in Transition.
Elizabeth A. Newell, Ph.D.
Associate Professor of Anthropology
Department Chair
newellea@etown.edu | 717-361-1309
B.A. (1985), Miami University
M.A. (1994), Ph.D. (1998), Temple University


Elizabeth A. Newell joined the Elizabethtown College faculty in 1998. She is currently an Associate Professor of Anthropology and Chair of the Department of Sociology and Anthropology. Dr. Newell earned her B.A. in Zoology and History from Miami University and her M.A. and Ph.D. in Anthropology from Temple University. Dr. Newell's research interests include dental anthropology, with a focus on enamel defects in primates, and osteology. She has worked as an osteological consultant for several archaeology firms in the area and the State Museum of Pennsylvania. Prior to coming to Elizabethtown College, Dr. Newell taught at Temple University and the Universidad de Antioquia in Medellin, Colombia.

Courses: Principles of Biological Anthropology, Ethnography of Latin America, Forensic Anthropology, and Primates
Rita Shah, Ph.D.
Assistant Professor of Sociology
shahr@etown.edu | 717-361-1351 | Website
B.A. (2003), American University
M.A. (2007), and Ph.D. (2011), University of California-Irvine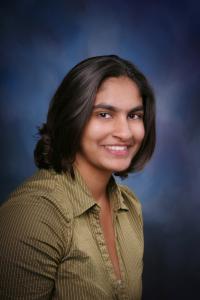 Dr. Shah is a criminologist with research interests on the relationship between parole and post-release supervision and the reentry process of former prisoners. Specifically, she focuses on understanding whether and how a state-imposed reentry program helps or hinders those under its jurisdiction. She also studies how rehabilitation is interpreted by different penal regimes. Dr. Shah received her Ph.D. from the University of California, Irvine in 2011. While there, she worked with Dr. Justin Richland and Dr. Mona Lynch on her dissertation, There and back again: The role of rehabilitation within California's correctional system and its impact on parole, which looked at the meaning of rehabilitation as a legislative goal of the California parole system, how rehabilitation is embedded in the purpose and work of parole, and how legislative shifts impact the role of rehabilitation in the work of parole. Currently, she is a fellow with the University of Denver Institute for Digital Humanities through which she and her co-principal investigators are developing a digital archive designed to foster conversation between prisoners, former prisoners, scholars, activists, students and members of the general public. She is also working on a project that uses photographic and ethnographic data to explore the relationships between location, mobility, and communal dynamics as they shape the practices of parole. Dr. Shah is also an avid photographer and Lindy Hopper.
Courses: Introduction to the American Criminal Justice System, Criminology, Law and Social Change.
Robert P. Wheelersburg, Ph.D.
Professor of Anthropology
College Professor of International Studies
wheelersburg@etown.edu | 717-361-1188
B.A. (1980), Ohio State University
M.A. (1985), Ph.D. (1988), Brown University
Dr. Robert Wheelersburg received a Ph.D. in anthropology and Arctic Studies from Brown University. Two Fulbright Fellowships, grants from the US National Science Foundation Arctic Social Science Program, the Arctic Institute of North America, and the American Scandinavian Foundation allow him to travel to Scandinavia nearly every year from 1990 through 2011 to conduct field or archival research on Saami (Lapp) reindeer herding in Sweden and Russia. Since 2006 he has conducted an archaeology field school at the Washington Boro Susquehannock Indian village, which was inhabited from 1600 until 1630.

Courses: FYS- Human Societies in Fiction and Fantasy, Understanding Human Cultures, Principles of Biological Anthropology, Indians of North America, Archaeology and Geography, Archaeology Field School, and People and Cultures of Scandinavia,