Major in Information Systems
The Information Systems major is focused on the application of software, hardware, and management of information. To obtain a degree in Information Systems from Elizabethtown College, you'll study the state-of-the-art processes to collect, store, and manipulate data; how hardware can be leveraged when creating solutions for clients; and the essential components of data analysis.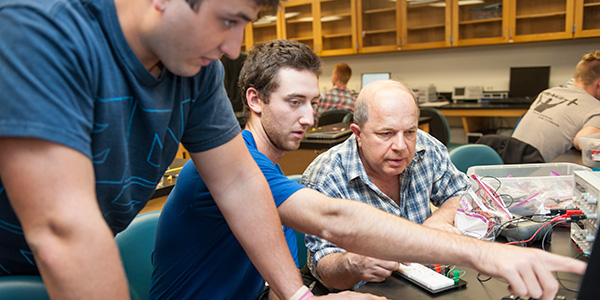 The Information Systems major prepares students for jobs in highly valued professions such as systems managers, project managers, system analysts, software engineers, database managers and a whole host of others. After years of graduating top ranking students, the Department of Computer Science has nearly 100% job placement rate for our Information Systems students immediately after graduation. Many of our students also continue on for graduate level study in information management or security.
Practical Experiences, Innovative Curriculum
Much like our other majors within the Department of Computer Science, the Information Systems program takes a hands-on approach. Students work together with professors in a collaborative atmosphere in state-of-the-art labs and workspaces. This methodology allows our students to secure internships with booming development companies nearby and leads to successful careers after graduation. Our department graduates are well-rounded students with a deep knowledge of how to apply technical training to the business world, speaking the languages of data as well as management.
Information Systems requires an understanding of how software impacts businesses and how businesses can benefit from utilizing software in new ways. We believe that students should be well rounded, so Information Systems students also take several business administration and economics courses. You won't practice your profession in a vacuum, so we provide the necessary academic and extracurricular opportunities to give application to your classroom knowledge.
You'll design databases from scratch, develop the entire backend for a web application, and learn how to set up LANs and WANs, and even try to hack into your classmates' systems while they're trying to hack yours.
Classes for an Information Systems major include:
Algorithms and Data Structures
Classes for an Information Systems major include Algorithms and Data Structures, Database Systems, Web Development and Computer Security. Information Systems majors are also required to take business administration courses covering management and the legal issues in business. Our courses are taught by Information Systems professors that spent time working in the computer science field. They returned to teach out of a love for the field and a desire to help prepare future professionals.
A Leader in Inclusive Excellence
Etown's School of Engineering, Math, and Computer Science has been honored by the  American Society for Engineering Education's (ASEE) Diversity Recognition Program , earning Bronze Level recognition. ASEE's  bronze category  is the highest level issued to institutions during the 2021-22 submission cycle and recognizes the School among the nation's leaders in inclusive excellence. Etown was one of just nine institutions in the nation to receive the recognition. The Diversity Recognition Program was created by the ASEE to publicly recognize those engineering and engineering technology units that make significant, measurable progress in increasing diversity, inclusion, and degree attainment outcomes of their programs.