Fine Arts Major
Elizabethtown College offers a Bachelor of Arts in Fine Arts with concentrations in three areas: Studio Art, Art History, or Art Education with pre-K to12 teaching certification. Minors are also available in Art History and Studio Art for those who are interested in combining art with other majors such as Communications or Business.
Opportunities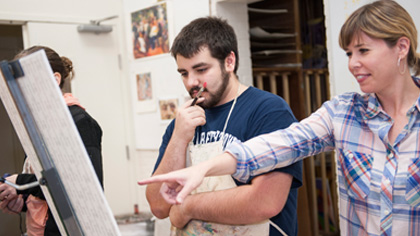 Three scholarships are awarded annually for artistic excellence: the Joan Prentice Charlton Scholarship, Roy Ream Scholarship, and the Inspiration Fund for Art History. Students also have the opportunity to work as department studio assistants by preparing class studio demonstrations, designing exhibition postcards and catalogues, and installing art exhibitions on campus. A variety of internships are also available in local galleries, museums and art centers, as well as on campus in the Office of Marketing and Communications and Print Services. Learn more about fine arts scholarships.
Art Club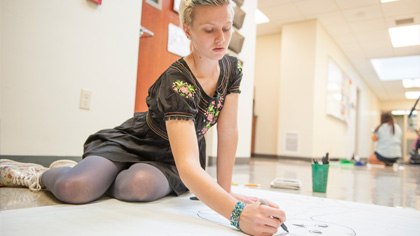 Fine Arts majors and minors, as well as non-majors, take part in activities outside of the classroom through the Elizabethtown College Art Club. The mission of the Art Club is to spread awareness of the value of the visual arts throughout the campus community. Activities include community murals, trips to galleries, performance art nights, critique gatherings, seasonal events, documentary showings, paint night events and other art-related projects. For more information about the Art Club please contact Dr. Kristi Arnold at  arnoldkl@etown.edu. 
Studio Art Concentration
A concentration in Studio Art prepares students for a career in the field of visual arts. Our students work closely with faculty to further develop their artistic skills and ideas in a variety of disciplines such as drawing, painting, ceramics, sculpture, color theory and design, graphic design and the history of art. These courses equip students with the foundational skills needed to produce professional portfolios. During their senior year, students design personal websites to promote their artwork and focus on perfecting their resumes, artist statements and public speaking skills. In preparation for their senior exhibition, students work in their preferred media to create a cohesive body of work, which they install in the College art gallery during the spring semester.
Fine Arts majors also study the history of art to develop visual literacy while becoming more knowledgeable about the correlation between major art movements and historical events. This skill translates to nearly all aspects of life, but also permits students to develop an understanding of how diverse cultures through time have viewed and expressed their beliefs.
E-town fine arts majors are talented, ambitious and vibrant students who graduate with the skills needed to pursue careers in the art world and beyond. Careers range from freelance art production, assisting or managing an artist studio, gallery assistant, museum or gallery preparators, etc. Fine Arts majors can also study Graphic Design and pursue careers in web design or web coding. They can choose to pursue a graduate degree in studio art, graphic design, art history or art therapy.
Art History Concentration
Art history increases our understanding of cultural diversity by demonstrating how people have used the visual arts to express religious and political beliefs, and to promote social values. The Art History program is designed for students who choose to pursue a career at a professional gallery and museum, or to prepare them for graduate degrees in Museum Studies or Art History. A range of courses covers the art of the ancient and medieval worlds, the Renaissance, the Neoclassical and Romantic eras, the Modern period, as well as the art of the United States and Japan. We also offer students the opportunity to broaden their experience of art history and cultural diversity by spending a semester abroad in Italy, Japan, New Zealand or to travel to Japan, Ireland or China during the three-week May term. Students may also pursue an internship at one of the area museums, galleries or art centers.
The curriculum combines the study of the history art and architecture with the practice of art. While exploring the art and architecture made in different eras by world cultures, students have hands-on experience learning to use artists' materials and techniques in their studio courses. Students who select the Art History concentration may also participate in the Annual Juried Exhibition and the senior group show.