Scholarships and Awards
Recognition of talent and hard work encourages all of our students to strive for excellence and to explore new forms of expression. Each year, the Fine Arts Division awards tuition scholarships for artistic achievement to Fine Arts majors in any concentration.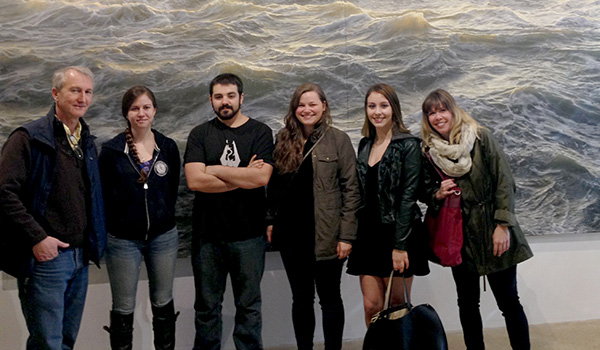 The Inspiration Fund for Art History
The Inspiration Fund for Art History was established by an Elizabethtown College Alumni to promote and support the study of art history. Grants are given to students to pursue exceptional projects in the History of Art for Honors theses, conferences or publications. The Inspiration Fund also subsidizes internships at art museums and galleries and provides funds for travel.
Projects funded by the Inspiration Fund include:
2016: Graduating Seniors Class Trip to New York City: The Whitney Museum of American Art and Chelsea galleries.
2015: Architectural Studies Class Trip to Fallingwater, designed by Frank Lloyd Wright in 1935
2014: Modernism Class Trip to Philadelphia Museum: the Barnes Foundation, Rodin Museum and Philadelphia Museum of Art
2012-13: Alyssa Vasaturo, research grant: Pennsylvania Modernists: Charles Demuth (1883-1935) and Andy Warhol (1928-1987)
2011-12 Samantha Hugg: research grant: The Precisionist, short story based on the life of Charles Demuth (1883-1935).
Joan Prentice Charlton Scholarship
Roy Ream Scholarship