According to the Bureau of Labor Statistics, the need for social workers is expected to grow twice as fast as other occupations, especially in gerontology, health care, and substance abuse.
Department Mission Statement and Goals:
Building upon the Elizabethtown College motto, "Educate for Service," the Social Work Department uses relationship-centered learning to provide a strong generalist social work education based upon a liberal arts foundation integrated with extensive field experience, to achieve the established competencies of social work.
Goal One:
To prepare dedicated social workers who have integrated professional knowledge, values, and skills with an understanding of the intersection of cultural identities to promote social change and work for human rights worldwide.
Goal Two:
To develop ethical social workers who can engage with multi-level systems to address structural inequalities and life challenges through an integration of the liberal arts and professional knowledge.
Student Learning Outcomes:
Our students can expect these outcomes upon completion of their Social Work degree: 
Demonstrate ethical and professional behavior
Engage diversity and difference in practice
Advance human rights and social, economic, and environmental justice
Engage in practice-informed research and research-informed practice
Engage in policy practice
Engage with individuals, families, groups, organizations, and communities
Assess individuals, families, groups, organizations, and communities
Intervene with individuals, families, groups, organizations, and communities
Evaluate practice with individuals, families, groups, organizations, and communities
From the Department of Social Work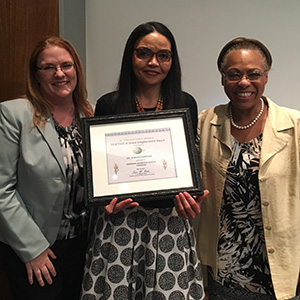 E-town social work professor honored as exceptional educator
Receives Torch of Enlightenment Award
Each year, the World Affairs Council of Harrisburg honors those who have promoted global understanding and who have demonstrated ideals of tolerance and an appreciation of diverse cultures. Born and raised in South Africa, Badiah Haffejee, assistant professor of social work, brings a global perspective on oppression, racism and discrimination into the classroom. Using a social justice framework, Haffejee aims to create a learning environment where students can safely and bravely take chances, come undone, be rebuilt and establish a cohesive sense of self in relation to social work. This spring, Betty Rider, senior vice president for academic affairs and dean of faculty, and April Kelly-Woessner, professor of political science and department chair, nominated Haffejee for the award, which focuses on education and efforts to enlighten our community about world affairs and appreciation of diverse cultures. Previous Elizabethtown College Torch Award winners are Oya Dursun-Ozkanca, associate professor of political science and director of the international studies minor program, and Wayne Selcher, professor of international studies emeritus.
"I teach students to be authentic when being in service to others, walk alongside those they serve and treat clients with dignity and acknowledge their self-worth."  
From the Department of Social Work
Haylee Kirschner harnesses job experience in equine therapy
Horse farm intern helps special needs children
Haylee Kirschner spent a semester in the company of people and horses, alike. At Leg Up Farm, a non-profit equine therapy center in York County, Pennsylvania, the junior social work intern, sat in on counseling sessions and saddled up horses for special needs children to ride. The experience, Kirschner said, reminded her of the ranches in her hometown, as well as why she went into social work in the first place.
"I saw [social work] as a way to help children and people in society who don't have a voice."
In the Department of Social Work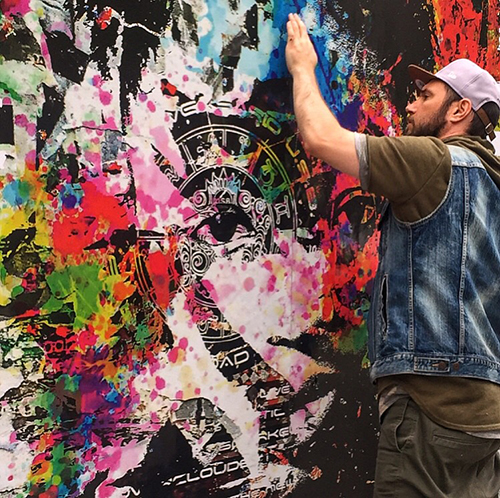 J.T. Liss '05
An Educator in one of the poorest congressional districts in the country, J.T. LIss spreads a passion for helping others through art.
J.T. Liss applies skills learned in social work at Elizabethtown College to positively impact the public through art and culture. From his recent New York City exhibits on equality and representation to group shows in Barcelona, Spain, Liss spreads passion for helping others and for sharing art across the ocean. As an educator in NYC's Hunts Point, the poorest congressional district in the country, Liss teaches his students by using social-emotional and strengths-based methods associated with his social work degree. His art work can be found on Instagram @JTLissPhotoArt. "My art is created to challenge commentary of our current social construct and tell stories of history never taught in conventional textbooks. … What I learned in the Social Work department at E-town carried over seamlessly into my art and education careers."
In the Department of Social Work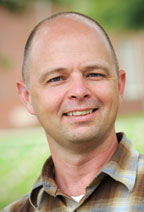 Andy Dunlap
Associate Professor of Social Work
Andy Dunlap, who has explored concepts of the LGBTQ experience in various publications, recently published "Coming Out Processes for LGBTQ Youth" in "The SAGE Encyclopedia of Psychology and Gender." In his entry, Dunlap defines ways in which a person can reveal gender expression and sexual orientation to family, friends and peers. Dunlap, who completed his doctorate dissertation, "Changes in the Coming Out Process Over Time," also is published in "Journal of Gay and Lesbian Social Services."
"Coming out is an incredibly diverse process.  Everyone has their own path."
Assessment of Student Learning Outcomes
COMPETENCY
COMPETENCY BENCHMARK
PERCENTAGE OF STUDENTS ACHIEVING BENCHMARK
 
 
Program Option #1 (on campus)
Program Option #2 (identify campus/delivery method)
Program Option #3 (identify campus/delivery method)
Aggregate of All Program Options
Competency 1: Demonstrate Ethical and Professional Behavior
90% meeting competency
100%
n/a
n/a
100%
Competency 2: Engage Diversity and Difference in Practice
90% meeting competency
100%
n/a
n/a
100%
Competency 3: Advance Human Rights and Social, Economic, and Environmental Justice
90% meeting competency
100%
n/a
n/a
100%
Competency 4: Engage In Practice-informed Research and Research-informed Practice
90% meeting competency
100%
n/a
n/a
100%
Competency 5: Engage in Policy Practice
90% meeting competency
100%
n/a
n/a
100%
Competency 6: Engage with Individuals, Families, Groups, Organizations, and Communities
90% meeting competency
100%
n/a
n/a
100%
Competency 7: Assess Individuals, Families, Groups, Organizations, and Communities
90% meeting competency
100%
n/a
n/a
100%
Competency 8: Intervene with Individuals, Families, Groups, Organizations, and Communities
90% meeting competency
96%
n/a
n/a
96%
Competency 9: Evaluate Practice with Individuals, Families, Groups, Organizations, and Communities
90% meeting competency
96%
n/a
n/a
96%
LAST COMPLETED ON May 17, 2019
Learn More About Our Department:
Request Information About Social Work at E-Town