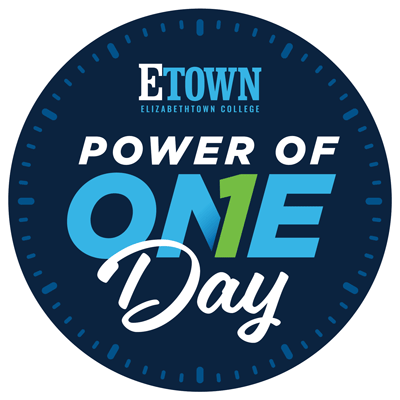 Power of

One

Day
Power of One Day Frequently Asked Questions
Below you will find answers to many common questions about the Elizabethtown College Power of One Day.
The Power of One Day is a day dedicated to supporting Etown students. On Tuesday, March 21, 2023, all Elizabethtown College alumni, faculty, staff, students, parents and friends are encouraged to visit etown.edu/oneday to support Etown students, as well as promote this event on social media channels using the hashtag #OneEtown.
On Tuesday, March 21, 2023, visit etown.edu/oneday, click the "Make Your Gift Now" button and fill out the brief giving form.
You decide! Gifts to The Elizabethtown College Fund support the College's areas of greatest need, and the departments, organizations, and sports teams are also available for support. Whatever you choose, your gift will have an impact on today's students, faculty, staff, and coaches, as well as future generations of Blue Jays.
Scholarship and financial aid is the top fundraising priority at Etown. You can learn more about why scholarships are important and how to create your own current-use or endowed scholarship fund on our scholarship webpage.
Yes! Each and every year, all of the small gifts really add up in the end! Even a gift of $10 will make a difference. Likewise, every gift improves Etown's donor participation rate which, in turn, raises Etown's profile in national rankings and increases the value of an Elizabethtown College degree. You can also choose to set up a recurring monthly gift to support Etown in a budget-friendly way.
Yes! Mailed gifts can be sent to Elizabethtown College, Office of Development, 1 Alpha Drive, Elizabethtown, PA 17022 with a note for "Power of One Day Gift." Phone gifts can be made by calling 800-877-9658. All mailed and phone gifts must be received by 11:59 p,m. EDT March 21, 2023, to count toward fundraising and donor totals.
Yes! On the gift form, you will have the option to make multiple gifts to impact as many areas of campus that you would like.
We greatly appreciate your support and don't want you to feel obligated to make a second gift this year. However, we encourage you to think of the Power of One Day as the passing of a second collection basket. You could even select a different area of campus to support with your additional gift.
Yes! All gifts to the Power of One Day are considered a donation to Elizabethtown College. Your gift will be acknowledged with an appropriate receipt for your tax records and be tax-deductible to the fullest extent allowed by law. For more details, consult with your tax advisor or accountant.
A great way to make a major impact during the Power of One Day is to help spread the word via social media, e-mail, text, and word of mouth! Use the hashtag #OneEtown and encourage friends to visit etown.edu/oneday.
Each gift is reviewed by our team and updates are published based on confirmed gifts received on a regular basis throughout the day. Rest assured, your gift will be counted and we are grateful for your support!
Contact the Office of Development at ia@etown.edu or 800-877-9658.