Durnbaugh Legacy Endowment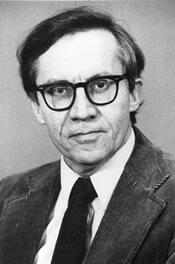 Dr. Donald F. Durnbaugh is considered the preeminent scholar of the Brethren experience in Europe and America. His narrative history "Fruit of the Vine, A History of the Brethren, 1708-1997" is the standard in the field of study. Durnbaugh also authored "The Believers' Church: The History and Character of Radical Protestantism," which is a landmark study for the Free Church tradition, and edited the multivolume Brethren Encyclopedia. As a scholar, Durnbaugh is well known for his successful collaborations with scholars and leaders of Brethren, Mennonite, Quaker, and other Believers' churches.
Durnbaugh was a long-time supporter and friend of Elizabethtown College's Young Center for Anabaptist and Pietist Studies. In 1987, he earned the distinction of delivering the first public lecture at what would become the Young Center. Two years later, Durnbaugh was appointed as the first Carl W. Zeigler Professor of Religion and History at the College, a position he held until 1993. That same year, he was named as the first Young Center Fellow. During his tenure at the Young Center, Durnbaugh furthered the study of Anabaptist and Pietist faiths by presenting papers at academic conferences, writing scholarly articles, and preparing book reviews. Durnbaugh also played a major role in planning the 1991 meeting of the International Communal Studies Association and the first Brethren World Assembly in 1992, both held at the Young Center. From 1998 to 2004, he served as a member of the Young Center Advisory Committee, advocating for the Center's programs.
The Durnbaugh Legacy Endowment provides programming at the Young Center, including the annual Durnbaugh Lecture.