Year-End Information
Elizabethtown College will be closed for the holidays from
December 23, 2020 - January 3, 2021.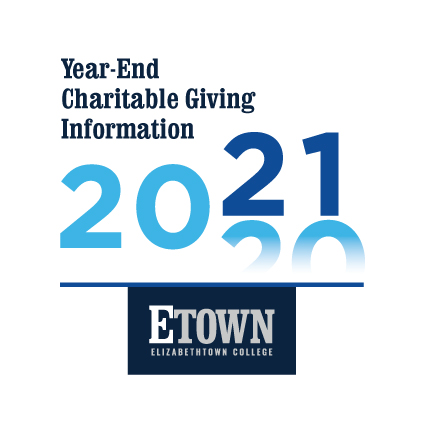 The Office of Development recognizes that many choose this time of year to make their philanthropic contributions. Gifts to the College are most welcome during these weeks!
ONLINE:
Visit etown.edu/give
IRS guidelines require online credit card transactions to be completed by 11:59 p.m. on December 31, 2020 (based on the time zone in which the gift is made) in order for those gifts to count toward 2020 tax deductibility including the provisions from the CARES Act.
BY MAIL:
Make checks payable to "Elizabethtown College"
(Envelopes must be postmarked by December 31 for 2020 tax deductions)
Mail to:
Elizabethtown College
Office of Development
1 Alpha Drive
Elizabethtown, PA 17022
GIVE THROUGH YOUR IRA:
If you are 70 ½ years of age or older, this may be a beneficial way to give.  Learn more.
OTHER WAYS:
Always consultant your tax advisor, accountant, or IRA administrator.

Thank you for your support of Elizabethtown College and best wishes for a happy, healthy and prosperous 2021!