About Elizabethtown College
Our commitment is to Educate for Service. We believe that learning is most noble when used to benefit others, regardless of chosen career path. We prepare our students to lead rich lives of purpose and meaning, while advancing independent thought, personal integrity and social responsibility. These are the foundations for a life of learning. We foster the values of peace, non-violence, human dignity and social justice.
Quick Facts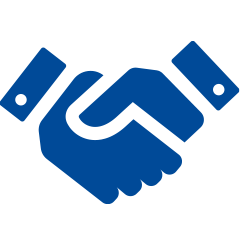 96%
of graduates are employed or enrolled in additional education within one year of graduation
15
Average Class Size
Ranked a
Top 50
College in Pennsylvania by Intelligent.com
24
NCAA DIII Athletic Teams
76
Clubs and Organizations
96.6%
of students receive Financial Aid
Traditions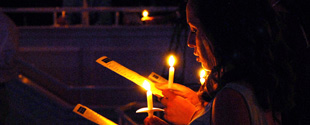 There are numerous official (and unofficial) traditions to help you connect to campus and your fellow students, alumni, staff and faculty. More about our Traditions
Educational Philosophy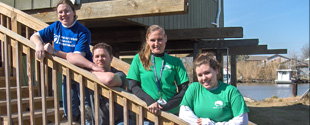 Elizabethtown College believes that students can perform no greater service than sharing knowledge and creativity with others. Our Educational Philosophy
History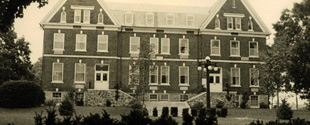 Explore the deep history of Elizabethtown College. Delve into our History
At a Glance
Elizabethtown College, with 1,691 undergraduates from 18 states and 13 foreign countries, is an independent, residential, coeducational college in south-central Lancaster County, Pennsylvania. The College, established by the Church of the Brethren in 1899, maintains 7 schools and offers a variety of programs at numerous award levels. The core curriculum emphasizes the arts, humanities and sciences.
History
Elizabethtown College was chartered in 1899 by members of the Church of the Brethren who were interested in establishing an institution of higher education for their denomination in eastern Pennsylvania. Read more
Location
Elizabethtown, Pennsylvania is located in western Lancaster County. The College is also a short drive from the state capital, Harrisburg, and popular entertainment destination, Hershey.
Campus
204-acre campus
Academic Buildings
Residential Halls
Performance Venues and Galleries
80,000 Sq. Ft. Fitness and Well-being Center
Academics
7 Schools
5 Undergraduate Certificates
4 Associate's Majors
63 Bachelor's Majors
9 Master's Majors
11 Post-Baccalaureate Certificates
1 Doctorate Major
12.1 FTE Student/Faculty ratio
15.3 (for 2021-22 school year) Average Class Size
73.1% 2016 Cohort 4-Year Graduation Rate
140,957 Volumes in Circulation in High Library
Faculty
104 full-time faculty (traditional college)
88.5% of full-time faculty hold a doctorate or terminal degree in their field
96 Part-time faculty (traditional college & School of Graduate and Professional Studies)
Student Life
1,742 traditional students
80.2% of traditional undergraduate students live on campus
76 clubs and organizations
185 Number of Service Projects per year (including academic service-learning, clubs, groups, into the streets, MLK, service trip)
950 students participate in service-related projects (many students do more than one type of service per year)
Athletics
24 NCAA Division III athletic teams
14 Intramural sports
Accreditation
Middle States Association of Colleges and Schools Commission on Higher Education
Accreditation Council for Occupational Therapy Education of the American Occupational Therapy Association (ACOTE)
Accreditation Board for Engineering and Technology (ABET)
National Council on Social Work Education (CSWE)
PA Department of Education
American Chemical Society Committee on Professional Training (ACS)
National Association of Schools of Music (NASM)
Accreditation Council for Business Schools and Programs (ACBSP)
Diversity at Etown
2021-22 Undergraduate / Degree-seeking
Full-time Students: 1,537 (26 international students)
White: 1,285 students (83.6%)
Asian: 34 students (2.2%)
Hispanic/Latino: 95 students (6.2%)
Black

/African-American

: 33 students (2.1%)
Two or more races: 34 students (2.2%)
American Indian or Alaska Native: 1 student (0.1%)
Native Hawaiian or Other Pacific Islander: 0 students (0%)
Race and Ethnicity Unknown: 29 students (1.9%)
Part-time Students: 13 (0 international students)
White: 11 students (84.6%)

Black/African-American: 0 students (0%)

Hispanic/Latino: 1 students (7.7%)
Asian: 0 students (0%)
Native Hawaiian / other Pacific Islander: 0 students (0%)
Two or more races: 0 students (0%)
American Indian or Alaska Native: 0 students (0%)
Race and Ethnicity Unknown: 1 student (7.7%)
Full-time Faculty
Full-time Faculty: 104
White: 85 (81.7%)
Asian: 4 (3.8%)
Hispanic: 5 (4.8%)
Black/African-American: 2 (1.9%)
International: 3 (2.9%)
Race and Ethnicity Uknown: 5 (4.8%)
Part-time Faculty
Part-time Faculty: 96
White: 82 (85.4%)
Asian: 4 (3.8%)
Hispanic: 5 (4.8%)
Black/African-American: 2 (2.1%)
International: 1 (1.0%)
Race and Ethnicity Unknown: 5 (5.2%)
Staff
Administration & Staff (full- and part-time): 317
White: 297 (93.7%)
Black or African American: 4 (1.3%)
Hispanic: 10 (3.2%)
Asian: 4 (1.3%)
Race and Ethnicity unknown: 4 (1.3%)