Occupational Therapy Program
Elizabethtown College offers a BS/MS and a BS/OTD degree program. The BS/MS degree requires five years of academic coursework and six months of clinical fieldwork, leading to an entry-level master's degree. The BS/OTD program requires six years of academic studies, six months of clinical fieldwork, and a 14-week doctoral capstone experience, leading to an entry level clinical doctorate degree.
Occupational Therapy is a profession that helps to improve the well-being and functions of people with developmental delay and physical and psychological challenges. The student in occupational therapy undertakes a program that integrates the humanities and the behavioral and physical sciences with professional study. The primary objective is to prepare the student as a generalist practitioner who is qualified for employment in hospitals, community agencies, schools, rehabilitation centers, extended-care facilities and related human services agencies. With this foundation, the beginning therapist can progress to specialized areas of clinical practice as well as research, administration and academia.
Graduates of the program who earn a Master of Science or the entry level doctorate (OTD) in Occupational Therapy will be eligible to sit for the national certification examination for the occupational therapist, administered by the National Board for Certification in Occupational Therapy (NBCOT). After successful completion of this exam, the graduate will be an occupational therapist, registered (OTR). In addition, all states require licensure to practice; however, state licenses are usually based on the results of the NBCOT certification examination. Note: A felony conviction may affect a graduate's ability to sit for the NBCOT examination or obtain state licensure.
Important Note: Students must complete the Bachelor of Science in Health Science at Elizabethtown College in order to enter the graduate portion of the programs. At this time, the Occupational Therapy Program is not able to accept transfer students.
From the Department of Occupational Therapy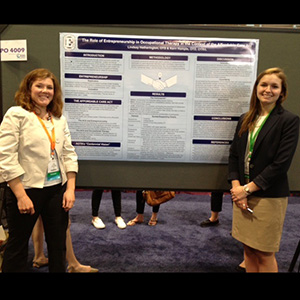 Occupational Therapy professor promotes public presentation
Face-to-face interaction expands student experience
Kerri Hample gets her students out in front of real people to present their research. Sometimes she takes the lead; sometimes she stays in the background as support. It's practice for what the students will face in the work world as they meet with parents, colleagues, school principals and teachers, said the assistant professor of OT. They've done the research and the writing behind the safety of their computers; the more expanded growth comes when they field questions from people who are living and breathing treatment scenarios every day. Therapists are hungry for information and will ask direct questions. This interaction helps students with their critical thinking and dialogue skills. They can build confidence with Hample as their backup.
"Students get real questions in the field, from those who are actually in the trenches, doing the work."
From the Department of Occupational Therapy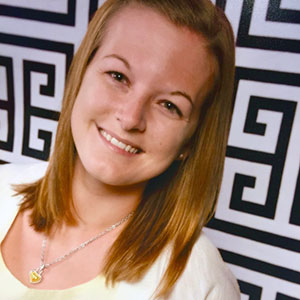 Penn State Health spinal cord injury program co-chair thankful for Etown experiences
College involvement presented Valuable opportunities
While attending Elizabethtown College, Kala Swope '15 was an involved student. She took part in Honors in the Discipline as well as the Occupational Therapy Graduate Research Symposium. It was through these programs that she was able to present research at state and national conferences. Thanks to her volunteerism and educational opportunities with the Student Occupational Therapy Association and Phi Theta Epsilon, Swope became more passionate toward the field of occupational therapy. Currently, she is the co-chair for Penn State Health Rehabilitation Hospital's spinal cord injury program.
"Elizabethtown College provided the foundation for my success, thus far in my career, by teaching me how to conduct research, provide evidence-based practice in treatment and how to professionally speak and advocate for my patients and the field of occupational therapy."
From the Department of Occupational Therapy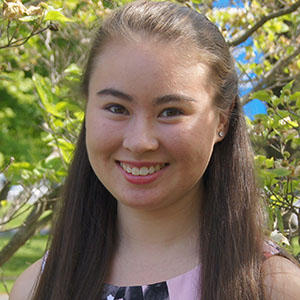 Etown opportunities led alum to deep love for OT
Jenna Nguyen is Taking her education to the next level
Jenna Nguyen '17 was deeply immersed in Elizabethtown College. She was involved with the College's International Club and E-motion dance group. She took part in the Student Occupational Therapy Association and Pi Theta Epsilon Honors Society. She was a student delegate at the American Occupational Therapy Association National Conference and the Pennsylvania Occupational Therapy Association Emerging Leaders program ... and she tutored refugee families. During her senior Honors in the Discipline project and while working as a lab assistant for an occupational therapy practice course, Nguyen became enthralled with OT research and education. This deeper love for the field has led her to pursue a doctoral degree. Currently, she works in acute care with St. Luke's University Health Network in Fountain Hill, Pennsylvania, while exploring the next step in her education.
"These experiences taught me a lot about other cultures, challenged my creativity and opened my eyes and heart to the diversity of people I encounter as an occupational therapist. … My education at Etown supported my passion for knowledge that will carry me through my career as an occupational therapist."
From the Department of Occupational Therapy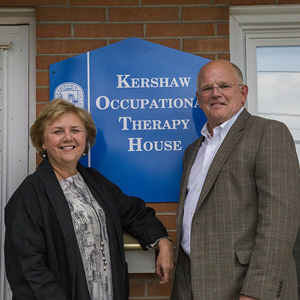 OT House named for inaugural occupational therapy student
Irene Kershaw honored at dedication
Irene Kershaw '75 and husband, Peter Kershaw '75, were honored this spring at the dedication of Elizabethtown College's Kershaw Occupational Therapy House. Located across from campus, at 855 E. College Ave., the Kershaw House is home to academic fieldwork offices and space for graduate students to rest, work and meet. After Kershaw's graduation, she continued assisting the program in a variety of capacities: lecturing, sharing guidance and insights and providing support to secure equipment for the College's Kid Zone space—an instructional lab for teaching the important occupations of children: play, school, self-care and independence. Kershaw also was awarded a lifetime membership to the Pi Theta Epsilon Honor Society this spring.
"Irene's dedication to the OT profession, the College and to our students is recognized as an example of lifelong learning and on-going contributions and service to others." --Tam Humbert, OT department chair and program director .
Professional Accreditation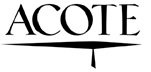 Elizabethtown College's Occuptaional Therapy Program is accredited by the Accreditation Council for Occupational Therapy Education (ACOTE) of the American Occupational Therapy Association (AOTA), located at 6116 Executive Boulevard, Suite 200, North Bethesda, MD 20852-4929. ACOTE's telephone number, c/o AOTA, is 301-652-AOTA.
Current Accreditation Status
BS/MS degree: Accreditation
BS/OTD degree: candidacy status with anticipated accreditation during spring of 2024
https://acoteonline.org/
Graduation Rate
The total number of graduates from the Elizabethtown College Master of Occupational Therapy program during the academic years of 2017-18, 2019-2020 and 2020-21 was 149, with an overall graduation rate of 99.3%.
| Academic Year | Students Entering/Graduating | Graduation Rate |
| --- | --- | --- |
| 2018-19 | 42/42 | 100% |
| 2019-20 | 48/48 | 100% |
| 2020-21 | 60/59 | 98% |
NBCOT RESULTS

Request Information About Occupational Therapy
at Etown