Occupational Therapy Program Application Process
Our Occupational Therapy Department values students who are informed and passionate about the OT field. If you're looking to apply to our Occupational Therapy program, you must be aware of the differences between our traditional application process and the OT application process. It's important that you research our program and its requirements, so that you don't miss any deadlines. Upon being accepted into our program, your coursework and hands on practice in the industry will prepare you for a career in a variety of areas of OT.
FAQs For Occupational Therapy Admissions at Elizabethtown College
Learn about our program and the industry, so that you're fully prepared for our Occupational Therapy Program admissions process.
What Are The Differences Between the OT Application Process & The Traditional Application Process?
The admissions process for our OT program is slightly more extensive than admission into our other programs. Because of the high number of applicants, the program is more selective and deadlines are sooner for admission to this program. Those seeking Occupational Therapy admissions must be aware of these differences:
An Occupational Therapy interview (with the Office of Admissions) must be completed before December 15.
Your application must be submitted before December 15.
No transfer students are accepted into this program.
Our OT program is a 5 year program. Those who complete our program will receive a Master's and a Bachelor's degree.
What Factors Are Considered In The OT Admissions Decision?
Candidates for our OT program must meet a variety of standards. Several aspects of your application are taken into consideration including the following:
High School Class Rank and GPA
High School science grades
SAT or ACT scores
Knowledge and Understanding of Occupational Therapy (including field experience)
How Can I Prepare For My OT Admissions Interview?
Relax, be confident and be yourself! Your interview is meant to determine if you will be a good fit in our program and the OT industry. Prospective Occupational Therapy majors are encouraged to explore the field of occupational therapy prior to applying to the program and before participating in the required Occupational Therapy admissions interview.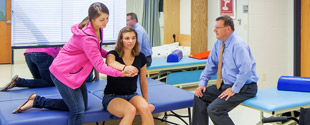 What Types Of Areas Can I Work In As An Occupational Therapist?
Occupational Therapists have the flexibility of working in many different types of facilities. Occupational Therapy practitioners can be found in six broad areas of practice:
Children and Youth
Health and Wellness
Mental Health
Productive Aging
Rehabilitation, Disability, and Participation
Work and Industry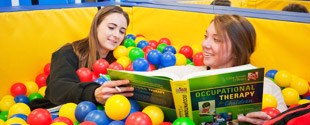 How Can I Learn More About The Occupational Therapy Program And The Industry?
Exploring the OT industry will help you determine whether or not this is a good career path for you. It will also better prepare you for our program. You can learn more about the OT industry can learn about this area through a variety of methods including:
Seeking opportunities offered on the American Occupational Therapy Association's website.
Shadowing practitioners in different settings (hospitals, schools, private practice, hospice, community mental health facilities, nursing homes, veteran's services, etc.)
Conducting research, either on-line or through a career specialist or guidance counselor
Reading about occupational therapists and/or their clients
Exploring careers in allied health fields
For more information, please contact Paula Orenstein, coordinator of Occupational Therapy admission at orensteinp@etown.edu or (717) 361-1376.