Occupational Therapy Major
Elizabethtown College offers a combined Bachelor of Science in Health and Occupation/Master of Science in Occupational Therapy program that requires five years of academic study and six months of clinical fieldwork. This 4+1 bachelor/master program is exclusively offered to current E-town College students.
Five Years, Two Degrees, One Successful Career
Our Occupational Therapy (OT) program, the second oldest accredited program in Pennsylvania, offers a five-year academic program in occupational therapy, which blends a liberal arts education with professional studies. Our personal and friendly atmosphere and small student to faculty ratio (14:1) promotes individualized attention, and ensures you'll build your foundational base as well as mentoring relationships while at E-town College!
You will begin course work in occupational therapy in your first year here. During the first two years of study, the curriculum covers the history and philosophy of occupational therapy, normal human development and engagement in occupation across the life span, normal biopsychosocial function with a heavy emphasis on the natural sciences and general core requirements.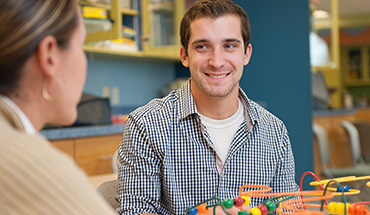 In the third and fourth years, the emphasis is on the OT process of evaluation and treatment related to occupational dysfunction and performance deficits. In the fifth year, your studies are focused on research, management, advanced professional skills, and the completion of an intensive master's project. You will also have the opportunity in the fifth year to take elective occupational therapy courses which enhance skills in specialty or interest areas.
Bachelor of Science in Health and Occupation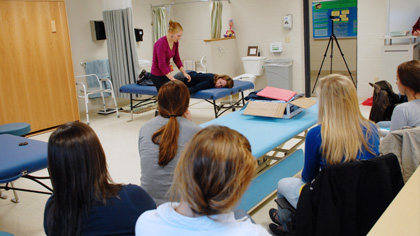 This degree serves as a prerequisite to our Master of Science in Occupational Therapy degree. By completing only the undergraduate course of study, you are not eligible to become a registered occupational therapist. You will have academic credentials that will qualify you to be employed in health care and community settings.
However, over 95% of our students who finish the BS degree go on to complete the graduate year at E-town and earn their master's degree in occupational therapy!
Master of Science in Occupational Therapy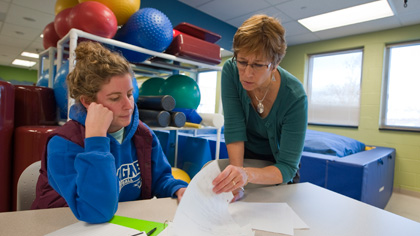 To begin the master's program in occupational therapy, you must have successfully completed the bachelor's degree in Health and Occupation with a minimum GPA of 3.0 at Elizabethtown College.
Successful completion of the Master of Science in Occupational Therapy affords you the opportunity to take the National Board of Certification in Occupational Therapy (NBCOT) Exam and to become licensed to practice occupational therapy as individual states require.
Questions About The Entry-Level Doctoral Degree in Occupational Therapy (OTD)
Learn more about occupational therapy at one of the best occupational therapy schools in PA! Come visit us on campus to see what we're all about!