Occupational Therapy at Etown
Elizabethtown College offers a combined Bachelor of Science in Health Science with the Master of Science in Occupational Therapy program that requires five years of academic study and six months of clinical fieldwork. The college also offers a combined Bachelor of Science in Health Science degree with the entry-level Doctorate degree in Occupational Therapy that requires six years of academic study,  six months of clinical fieldwork, and a capstone experience.
One School - Two Degrees, One Successful Career
Our personal and friendly atmosphere and small student to faculty ratio promotes individualized attention, and ensures you'll build your foundational base as well as mentoring relationships while at Etown College!
You will begin course work related to occupational therapy   in your first three years. During the first two years of study, the curriculum covers foundations of health, healthcare systems, introduction to research principles, and engagement in occupations across the lifespan. These two years will also focus on health and the impact on occupations and includes a strong emphasis on natural sciences as well as general college core requirements.
14:1
 Etown College's Student to Faculty Ratio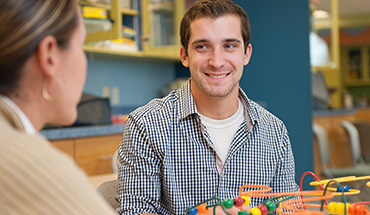 During the third and fourth years, students will continue to complete college core requirements, electives, and a minor (if desired), leading to completion of the Bachelor of Science degree. In addition, the third year will introduce students to concepts of occupation and engagement in therapeutic activities along with conditions that impair occupation and performance of daily activities. The fourth and fifth years incorporate occupational therapy history and philosophy, theories of practice and applied clinical skills during the occupational therapy process, research and scholarship, and management of occupational therapy services. The fifth year will culminate with six months of full-time clinical fieldwork. Students who pursue the entry-level OTD will also complete an additional year of advanced coursework including six months of full-time clinical fieldwork and a 14-week capstone experience.
"The combination of my coursework and my fieldwork placements and internships provided me excellent preparation for entering my first year as an OT clinician. My fieldwork experience at Johns Hopkins Hospital led me to a full time occupational therapist position immediately upon graduation."
-Angela Regensburg '09, MS, OTR/L - Johns Hopkins Hospital
Bachelor of Science in Health Science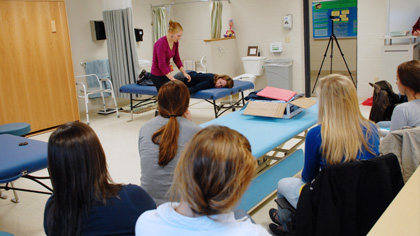 This degree serves as a prerequisite to our Master of Science in Occupational Therapy and the entry-level occupational therapy doctoral degree (OTD). By completing only the undergraduate course of study, you are not eligible to become a registered occupational therapist. You will have academic credentials that will qualify you to be employed in health care and community settings.
Learn more about the course requirements.
Master of Science (MS) in Occupational Therapy or Occupational Therapy Doctorate (OTD)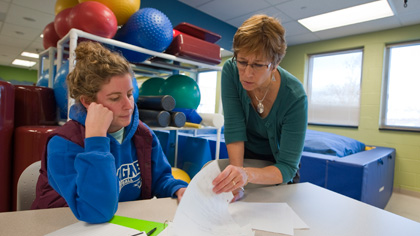 Students must be enrolled in the Health Science degree (Bachelor of Science) at Elizabethtown with a minimum GPA of 2.9 by the end of the third year to qualify for the graduate portion of the Occupational Therapy curriculum. Students must maintain a minimum GPA of 3.0 throughout the fourth year and graduate years in order to successfully graduate with the MS or OTD in occupational therapy.
Successful completion of the MS or the OTD affords you the opportunity to complete Level II fieldwork and take the National Board of Certification in Occupational Therapy (NBCOT) Exam and to become licensed to practice occupational therapy as individual states require. Note: A felony conviction may affect an individual's qualification to take the NBCOT certification examination and/or obtain professional credentials.
Learn more about the MS course requirements.
Learn more about the OTD course requirements.
Questions About The Entry-Level Doctoral Degree in Occupational Therapy (OTD)
Is the OTD required?
As of April 2019, The Accreditation Council for Occupational Therapy Education (ACOTE®) has affirmed that there are 2 points of entry-level practice. Graduates of either a master's degree or a doctorate degree in Occupational Therapy degree, who have also successfully completed 6 months of Level II Fieldwork, and for doctorate students completed 14 weeks of a capstone, will qualify to take the NBCOT Examination.
Does Elizabethtown College offer the OTD?
Yes. We have been granted candidacy status with ACOTE® and anticipate a full accreditation review by the spring of 2024. We will continue to admit students to either the entry-level BS/MS degree or the BS/OTD program.
If I enter the master's program, can I switch to the OTD at Elizabethtown before I graduate?
Students may enter into either program (BS/MS or BS/OTD program) but will confirm their choice at the conclusion of their senior year.
Learn more about occupational therapy at one of the best occupational therapy schools in PA! Come visit us on campus to see what we're all about!
Professional Accreditation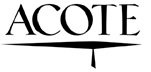 Elizabethtown College's Occupational Therapy Program is accredited by the Accreditation Council for Occupational Therapy Education (ACOTE) of the American Occupational Therapy Association (AOTA), located at 6116 Executive Boulevard, Suite 200, North Bethesda, MD 20852-4929. ACOTE's telephone number, c/o AOTA, is 301-652-AOTA.
Current Accreditation Status
BS/MS degree: Accreditation
BS/OTD degree: candidacy status with anticipated accreditation during spring of 2024
www.acoteonline.org