Prepared For The Field
Elizabethtown College's Occupational Therapy (OT) program is the second oldest accredited program in Pennsylvania, offers a combined undergraduate/graduate academic program in occupational therapy, which blends a liberal arts education with professional studies. By completing the program through Etown College, you'll graduate with a Bachelor of Science in Health Science, and either the Master of Science in Occupational Therapy or the entry-level doctoral (OTD) degree. At present, the 3+2 master's degree and 3+3 doctoral degree programs are exclusively available to Etown occupational therapy students, with over 95% of our senior students enrolling in and completing the master's degree, and 98% passing their certification exams!
What can I do with a degree in Occupational Therapy?
Occupational Therapy is a profession that helps to improve the well-being and functions of people with developmental delay and physical and psychological challenges. The student in occupational therapy undertakes a program that integrates the humanities and the behavioral and physical sciences with professional study. The primary objective is to prepare the student as a generalist practitioner who is qualified for employment in hospitals, community agencies, schools, rehabilitation centers, extended-care facilities and related human services agencies. With this foundation, the beginning therapist can progress to specialized areas of clinical practice as well as research, administration and academia.
Graduates of the program who earn a Master of Science or the entry level doctorate (OTD) in Occupational Therapy will be eligible to sit for the national certification examination for the occupational therapist, administered by the National Board for Certification in Occupational Therapy (NBCOT). After successful completion of this exam, the graduate will be an occupational therapist, registered (OTR). In addition, all states require licensure to practice; however, state licenses are usually based on the results of the NBCOT certification examination. Note: A felony conviction may affect a graduate's ability to sit for the NBCOT examination or obtain state licensure.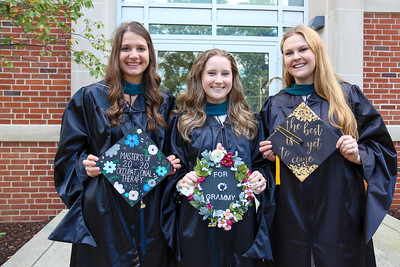 A Distinctive, Distinguished Program
Several factors distinguish our program from others:
You'll be educated in the college's core curriculum, which integrates and supports learning about occupational therapy.
Five-year, entry-level Master's degree or six-year entry level doctoral program. Unlike most other schools in which you apply to the OT program in your second or third year of college, with Etown, you apply and are accepted as an OT student for the first year of college with no reapplication for the graduate program.
You may study abroad during your junior year, or may participate in other international learning experiences during May terms or other breaks.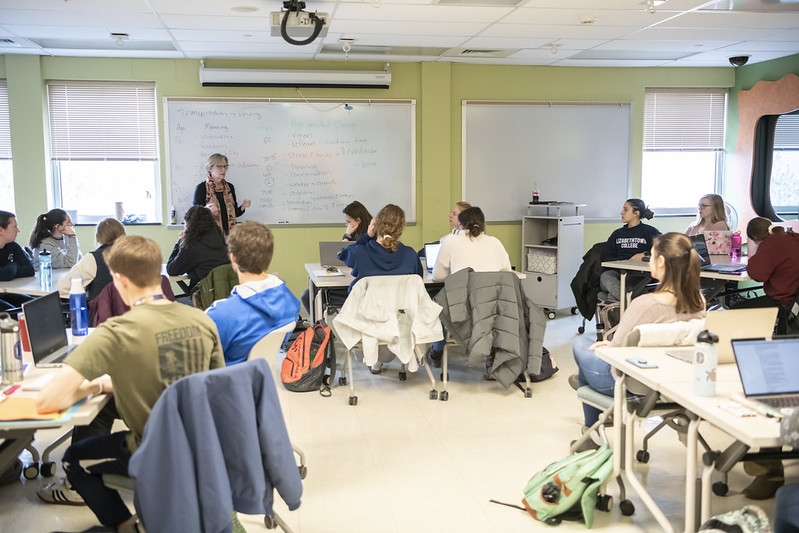 Faculty with Real-World Experience
Learn from professionals who have worked in a clinic. Our faculty members represent a wealth of specialty clinical practice across all ages – from newborns to the elderly – in various settings such as hospitals, inpatient and outpatient rehabilitation centers, psychiatric hospitals, schools, homes, community health programs, and international settings. They are experts in research, theory, clinical reasoning and clinical intervention.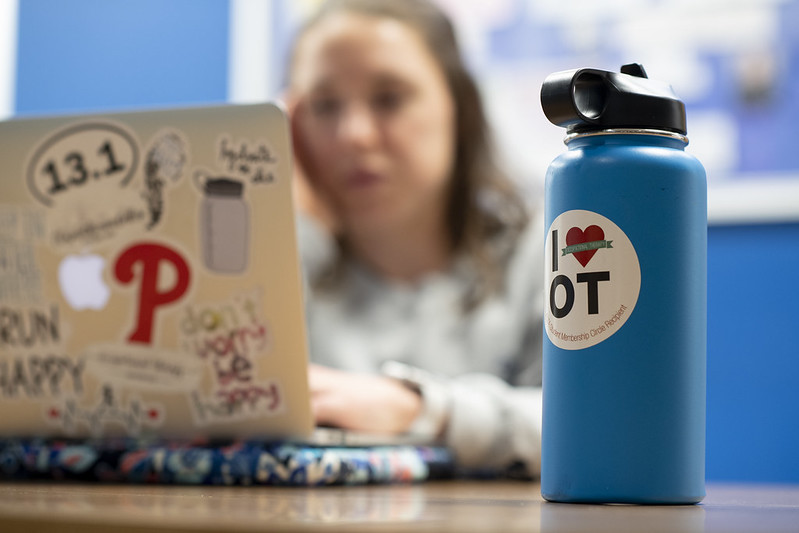 Serve and Learn
Our department is a prime example of the College's mission to "Educate for Service." As a student of occupational therapy, you are preparing for a career of serving others, all while being part of an intimate and caring learning environment. While at Etown, you will find many opportunities for serving others through the OT department but also outside of the classroom through the College's Center of Community and Civic Engagement.
Occupational Therapy Pathways
Start at Elizabethtown and  finish  at Elizabethtown. Our distinctive program gives you the opportunity to initiate study immediately, progress in the program without reapplying, and begin your practice with a Master's degree in five years or a doctoral degree in six years.
Bachelor of Science in Health Science
This degree serves as a prerequisite to our Master of Science in Occupational Therapy and the entry-level occupational therapy doctoral degree (OTD). By completing only the undergraduate course of study, you are not eligible to become a registered occupational therapist. You will have academic credentials that will qualify you to be employed in health care and community settings.
Master of Science (MS) in Occupational Therapy or Occupational Therapy Doctorate (OTD)
Students must be enrolled in the Health Science degree (Bachelor of Science) at Elizabethtown with a minimum GPA of 2.9 by the end of the third year to qualify for the graduate portion of the Occupational Therapy curriculum. Students must maintain a minimum GPA of 3.0 throughout the fourth year and graduate years in order to successfully graduate with the MS or OTD in occupational therapy.

Successful completion of the MS or the OTD affords you the opportunity to complete Level II fieldwork and take the National Board of Certification in Occupational Therapy (NBCOT) Exam and to become licensed to practice occupational therapy as individual states require.  Note: A felony conviction may affect an individual's qualification to take the NBCOT certification examination and/or obtain professional credentials.
Program Accreditation:
Elizabethtown College's Occupational Therapy Program is accredited by the Accreditation Council for Occupational Therapy Education (ACOTE) of the American Occupational Therapy Association (AOTA), located at 6116 Executive Boulevard, Suite 200, North Bethesda, MD 20852-4929. ACOTE's telephone number, c/o AOTA, is (301) 652-6611 and their email address is accred@aota.org.
Current Accreditation Status:
BS/MS degree: Accredited

BS/OTD degree: Candidacy status with anticipated accreditation during spring of 2024.
Graduation Rates:
The total number of graduates from the Elizabethtown College Master of Occupational Therapy program during the academic years of 2017-18, 2019-2020 and 2020-21 was 149, with an overall graduation rate of 99.3%.
| Academic Year | Students Entering/Graduating | Graduation Rate |
| --- | --- | --- |
| 2018-19 | 42/42 | 100% |
| 2019-20 | 48/48 | 100% |
| 2020-21 | 60/59 | 98% |
NBCOT Results:
Program results from the National Board for Certification in Occupational Therapy (NBCOT) can be found online.
Learning Labs & Spaces
As a student in the Occupational Therapy program, you will put theory into practice and get plenty of hands-on experience through simulation activities. Our department boasts several student occupational therapy labs and opportunities to put your skills to the test.
The Physical Rehabilitation Lab
The Physical Rehabilitation Lab is an instructional space designed to foster your understanding of how body movements relate to the tasks of daily life. In this room, the "science of our body" meets the "function" needed for living. You'll navigate concerns and practice practical applications like: How do you get into the bathtub or bed when you use a wheelchair? How do you facilitate movement of your arm in order to get your shirt on? How do you tie your shoes when you don't have the balance to lean over? These questions are answered in the simulated bed and bath corner and by gaining practice with occupational therapy mats and adaptive equipment.
The Occupations Lab
Occupations are the meaningful activities of our lives. The Occupations Lab is an instructional space that includes a full kitchen and laundry facilities. Our Occupational Therapy students learn the importance of engaging in the meaningful occupations of life and how to adapt to these when a person experiences a difference in the way that the mind, body, or spirit functions. These differences may be due to an illness, a medical condition, or an environmental barrier, and you will learn how to help your future patients navigate daily challenges that come with sudden life changes.
The Kid Zone
This is a place where kids can be kids! The Kid Zone at Etown College is an instructional lab designed to foster our Occupational Therapy students' learning about the important occupations of children: play, school, self-care and independence. The needs of children still in crucial developmental life stages differ greatly than the needs of adults. The space is flexible enough to accommodate both large and small motor skills activities.
Student Opportunities
Students in the Occupational Therapy Program have many opportunities to grow both personally and professionally. From studying in a foreign country, to presenting original research in the discipline, our students are on the forefront of culture, change, and academic excellence.
Occupational Therapy Honor Society
Pi Theta Epsilon (PTE) is the national honor society for occupational therapy students and alumni. The goal of PTE is to advance the occupational therapy profession. High-achieving students are invited to join the Upsilon Chapter of PTE at Elizabethtown College during the spring of their junior year, according to national PTE guidelines. PTE sponsors scholarly and influential speakers, organizes and staffs the Occupational Therapy Graduate Research Symposium and contributes to the local community through service activities such as hosting dances for children with disabilities and participating in the annual Rebuilding Together work day.
Student Occupational Therapy Association
The Student Occupational Therapy Association (SOTA) is a voluntary club for all undergraduate and graduate OT students. The purpose of SOTA is to bring those interested in occupational therapy together and to provide an opportunity for individuals to learn, become involved, and advocate for the profession. We promote occupational therapy on our campus, and represent Etown College at national events including AOTA Student Conclave and the annual AOTA National Conference. We also serve the community through engaging in many service events throughout the year.
Honors in the Discipline
The purpose of Honors in the Discipline is to recognize outstanding college seniors majoring in Occupational Therapy and to provide an advanced learning experience for highly motivated students. This learning experience allows you to explore an area of interest via a supervised independent project. Honors are recorded on your transcript and in the commencement program. Students who complete honors in the discipline present their work at the College's Scholarship & Creative Arts Day. Some students may also present their projects at state, national, and international occupational therapy conferences!
Graduate Projects
During the graduate curriculum, all OT students participate in faculty-led scholarly projects that serve as an opportunity to apply and integrate professional reasoning, critical thinking, and practical research skills around a topic of interest. You will present your project to colleagues, families, faculty, and clinical practitioners at the Graduate Research Symposium, which is a part of Elizabethtown College's Scholarship and Creative Arts Day (SCAD). Many of the completed projects are also presented at state, national, and international OT conferences.
Study Abroad Opportunities
The world is too big to not spend any time understanding it! While at Etown, you'll have the option to spend a semester abroad during your junior year, while majoring in occupational therapy, and still graduate on-time! We work with you to plan your academic coursework so that you can take advantage of a global opportunity. Additional short-term experiences are available during the college breaks.
READY TO BECOME A BLUE JAY?