Become a Physician Assistant Preceptor
The Elizabethtown College Physician Assistant (PA) program equips future health care providers with an education that is centered on service and integrates interdisciplinary learning. Students will gain in-depth experience in a range of primary care and specialized health care settings. Etown is actively looking for committed and dedicated preceptor partners to guide our students as they learn the skills and knowledge to become the next generation of committed Physician Assistants.
Prepare the Next Generation of Physician Assistants
As a leader in healthcare, you have the opportunity to offer your knowledge, talents, and experiences to the next generation of the PA workforce. Becoming a preceptor will not only provide an opportunity to shape the experiences of the next generation of physician assistants, but it will also amplify your own leadership skills abilities as you help to positively influence ambitious PA professionals through your unique and wide-ranging knowledge and experiences.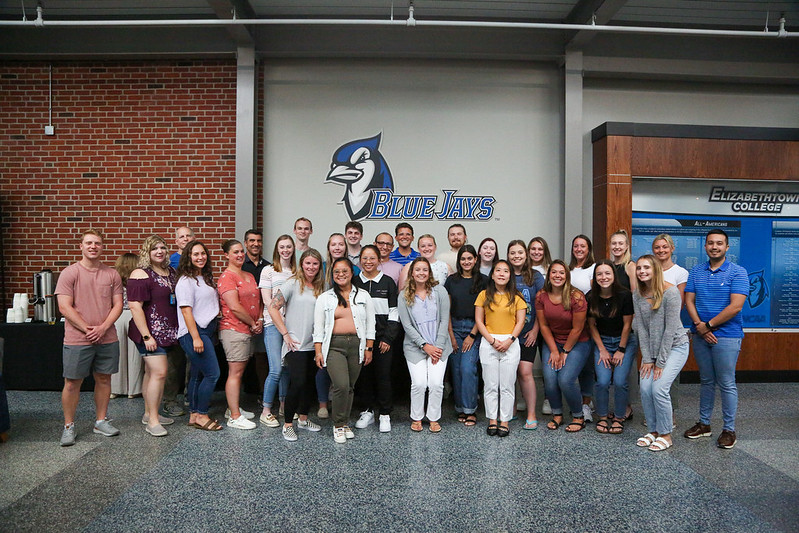 PA Preceptor Perks
Stipends & Advancement of Your Own Education:
Through your commitment, take advantage of Elizabethtown College's School of Graduate and Professional Studies (SGPS) with a paid stipend at fulfillment of the following preceptor commitments per academic year (as permitted by healthcare organization):
| | |
| --- | --- |
| Rotation Placements | Paid Stipend |
| Three (3) Student Placements | $100 |
| Four (4) Student Placements | $200 |
| Five (5) Student Placements | $350 |
| Six (6) Student Placements | $500 |
| Eight (8) Student Placements | $800 |
Discounted Continuing Education Tuition:
Preceptors also receive a 20% tuition discount on graduate certificates through Elizabethtown College's School of Graduate and Professional Studies (SGPS). Etown SGPS offers online graduate certificates, master's programs, and micro-credentials in a variety of PA-related areas including:
Health Care Administration
Trauma Informed Practice
Strategic Leadership
Become a PA Preceptor at Etown:
Instructional Faculty Appointment with Elizabethtown College's PA Program
Category I CME (applicable to PAs only - Earned at rate of 2 credits/40 hour week)
Preceptorship Requirements
Preceptorships are 5 weeks in duration with the possibility of a hybrid between sites as necessary
Family Practice, Pediatrics, Women's Health, Surgery, Internal Medicine, Emergency Medicine, Behavioral Health, and an elective
Preceptors must be a MD, DO, PA-C, CRNP or CNM
To help alleviate some of the responsibility associated with precepting, a student's rotation may be shared/divided among the providers within the unit/clinic/office
Preceptorship Responsibilities
Orient students with the practice/site policies, procedures, and expectations
Provide ongoing feedback regarding clinical performance, fund of knowledge, and critical thinking skills
Teach, demonstrate, and supervise clinical activities to enhance clinical skills and ensure quality patient care
Promote an appropriate level of responsibility for clinical assessment and management for student's level of experience and expertise
Engage in open dialogue with program faculty during site visits to enhance learning and evaluate student progress
Review clinical documentation to evaluate the student's ability to write concise progress notes, histories, physical examinations, assessments, and treatment plans
Complete and return evaluation forms provided by the program in a manner that accurately reflects student knowledge and skills, as well as areas of improvement throughout the preceptorship
Notify the program promptly if any circumstances arise that may interfere with the student's ability to complete the preceptorship
Preceptor Resources
Please accept our sincere gratitude for your hard work and dedication to the success of our Physician Assistant students at Elizabethtown College. You play an integral role in each student's education, and the clinical experience they will obtain in your office is crucial to their education. Through your supervision and guidance, the students will progressively develop the skills and clinical judgment necessary to fully integrate into clinical practice upon graduation. Thank you for your continued commitment to PA education.
PAEA Preceptor Tip Sheets:
Interested in becoming a preceptor?