Why Study Biology at E-town?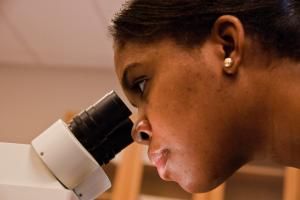 Find the Major that is Right for You
The Department of Biology offers three majors, several concentrations within those majors and specialized programs with other institutions that are designed to insure depth of knowledge while allowing the flexibility to meet your individual goals.
Learn in State-of-the-Art Labs
The Department of Biology, located in the Lyet Wing of the Masters Center for Science, Mathematics and Engineering, is home to nine teaching laboratories, ten research laboratories and other specialized facilities equipped with cutting-edge instrumentation.
Make Discoveries with One on One Research with Faculty
As a student in the Biology Department, you can take part in authentic research with one of your professors. Perhaps, you will even share your findings by co-authoring a paper or presenting at a regional or national conference.
Experiential Learning Opportunities
These outside-the-classroom experiences will make you an outstanding candidate for acceptance into our 4+1 partner programs, graduate or professional school and for immediate employment positions.
Professional Internships
Shadowing Experiences
Leadership Opportunities
Research
Study Abroad or at Sea
Field Work
Put Science into Service
Biology students at Elizabethtown College take the institution's motto, "Educate for Service" seriously. As part of your genetics coursework in your sophomore year, you will work with clinics, nonprofit agencies and other groups dedicated to helping people with genetic disorders. You might also volunteer your time at a hospital, teach elementary school children, monitor water quality in local streams, or assist with ecological restoration projects.
Give or Get Peer Tutoring
There are plenty of opportunities to become a peer tutor in a variety of subject areas within the Department of Biology. And, when you need help with a chapter or assignment, rest assured there is help available from a fellow biology major.