Why Study Biology at E-town?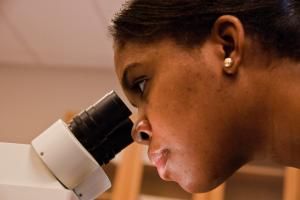 Find the Major that is Right for You
The Department of Biology at Elizabethtown College offers three majors, several concentrations within those majors, and specialized programs with other institutions for continued education. From a degree in Biology, Biotechnology, or Environmental Science, our graduates are prepared for both the workforce and graduate school upon graduation.
Learn in High-Tech Labs
Our Department is located in the Masters Center for Science, Mathematics and Engineering, and is home to nine teaching laboratories, ten research laboratories and other specialized facilities equipped with cutting-edge instrumentation. From genetics and biotechnology labs, to a human cadaver lab, our students expertly practice lab procedures, and graduate with superior theoretical knowledge with field experience to match it.
Make Discoveries with One-on-One Faculty-Supervised Research
As a student in the Department, you can take part in real-world research with one of your professors. You might even share your findings by co-authoring a paper, or presenting at a regional or national conference!
Experiential Learning Opportunities
Out-of-class experiences will make you an outstanding candidate for acceptance into our 4+1 master's program, graduate or professional schools, (MD, DO, PA, DPT) or for immediate employment positions! With the Department of Biology, you'll have the chance to participate in:
Shadowing Experiences
Leadership Opportunities
Research
Field Work
Put Science into Service
Biology students at E-town College take the motto "Educate for Service" seriously. As part of your genetics coursework in your sophomore year, you will work with clinics, non-profit agencies and other groups dedicated to helping people with genetic disorders. You'll also have the chance to volunteer your time at a hospital, monitor water quality in local streams, or assist with ecological restoration projects! Our students become ingrained into the fabric of our community by putting their education to use for organizations that need it most.
After Graduation
Graduates from the Department of Biology at E-town College see success both in their professional and personal lives. From placements into top medical school such as University of Pennsylvania and Penn State Hershey College of Medicine, to research at labs around the country, our former students consistently cite their experiences at E-town as the catalyst that launched their careers and introduced them to new passions.
Interested in Learning More?
Connect with current students, meet our faculty and tour our facilities at an open house, or experience campus life with an overnight visit!