Kyle Kopko '05
"I had a number of meaningful exchanges with professors and classmates that really changed me; I decided to become an academic." -- Kyle Kopko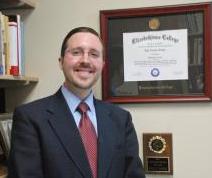 Dr. Kyle Kopko '05 wasn't always in front of the classroom at Elizabethtown College; he was once a student at E-town. Kyle earned his Ph.D. from Ohio State University in 2010 and is now an Assistant Professor of Political Science and Director of the Pre-Law Program at E-town. His original intent was to become a lawyer, but his undergraduate experience inspired him to take a different route.
"I had a number of meaningful exchanges with professors and classmates that really changed me; I decided to become a professor," he said, adding that now it's a bit surreal to be on a first-name basis with the professors who taught him.
Elizabethtown College opened up a new world for Kyle. Until he began college, his travels were very limited—the farthest north he'd even been was New York, and he had never been on an airplane. As part of the Elizabethtown College Honors Program, he attended a national conference in Salt Lake City, Utah. This opened Kyle's eyes to the world of academia.
"Going to all the panels and hearing papers sparked my interest," he said. "It was a great professional and cultural experience."
Kyle completed his bachelor's degree in three years. And, despite a rigorous academic schedule, he found time to serve as captain of the Mock Trial Team and president of the Pre-Law Club. In 2004, he was awarded the James A. Finnegan Fellowship, a prestigious state-wide honor. He also landed a paid internship with the Pennsylvania Department of State in the Bureau of Commissions, Elections and Legislation.
His honors program advisor and political science professors made such an impression on him that during graduate school, when Kyle was teaching classes, he strived to emulate his mentors.
"I would think, 'How would I teach this if I was at E-town?' My approach was very different than a lot of my peers at Ohio. I emphasized individual attention and engaged in more discussion," he said.
Of landing his job at E-town, Kyle simply said, "The stars aligned." Had he not graduated in three years, the timing would not have coincided. And, because he's teaching at the very school that prepared him for his career, he feels an incredible sense of responsibility.
"I have a sense of stewardship I don't think I'd have [if I were teaching] at another institution. It's not just enough to maintain the status quo," he said.
Another one of Kyle's goals—now that he's a jet setter: To visit all 50 state capitals.