Why study middle level education?
Becoming an educator is one of the most rewarding career paths you can take. As a elementary/middle level teacher, you'll have the chance to shape and impact the lives of your students, help them explore their curiosity, teach them healthy ways to interact with the world around them, and inspire them to be life-long learners. In Pennsylvania, the elementary/middle level certification encompasses grades 4-8, which allows for more flexibility in teaching at a wide grade and age range of elementary/middle school systems.
Our Teacher Preparation program has a unique focus supported by four pillars: Professionalism (as defined by Danielson's Domains), Social Justice, Undergraduate Research, and Theory into Practice. These pillars are explored through the curriculum, field experiences, research, and service-learning projects with faculty mentors. They expose future educators to the real issues and educational policies of the twenty-first century classroom. Elementary/Middle Level Education (B.S.) program requirements.
Inspired Educators
Students interested in certification in elementary/middle level education must select an emphasis in one of four academic content areas and be a generalist in each of the other three academic content areas. The academic emphasis requires completion of a minimum of 30 credit hours in one of the following four content areas, with 12 credit hours in the remaining three:
Mathematics
Science
English/Language Arts
Social Studies
By specializing in one content area, you are better equipped to answer topical content questions from your students as they begin to more deeply explore advanced concepts in academics. With a background in the other subject areas, you'll also be prepared to assist students who might be struggling to understand concepts in other core academic areas.
In addition to the academic emphasis, students will complete a variety of courses in child development, family and community partnerships, cognition and learning, pedagogy and assessment. Content requirements are based on national standards for elementary/middle level education, as well as Pennsylvania's curriculum standards.
In the Department of Education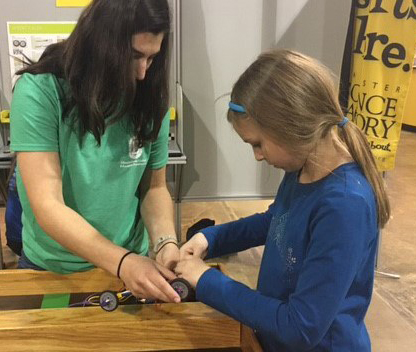 Ed Org
education Majors have their own student group offering one-on-one learning moments.
 Education Organization (Ed Org), a student group for education majors, is focused on community service and working with children of the community as a means of gaining real-world experience. Ed Org students organize weekly programs such as tutoring sessions and babysitting during local PTO meetings. They also participate in annual programs—Benefit for Ataxia-Telangiectasia, which raises money for children with a primary immunodeficiency disease, and Factory Friday at the Lancaster Science Factory, which gives students the opportunity to promote hands-on science learning with children in the community. "Ed Org focuses on motivating future educators to become successful teachers through their community service work with the children of surrounding communities." ~ Wendy Bellew, Faculty Advisor
Who makes a good middle level educator?
The elementary/middle level age bracket can be tricky to navigate, as so much changes for students academically, emotionally, mentally and physically in those years. Teachers who find the most success at the elementary/middle level are those who are passionate about their content area, have a desire to impress the power of education on students, have the ability to think quickly and plan spontaneously, and can tailor challenging concepts to younger learners.
Learn more about the Middle Level Education program