Elizabethtown College's Education majors obtain jobs teaching in public and private schools in the Susquehanna Valley, across the state, and throughout the nation. Recent graduates have secured positions in top local districts, including Manheim Township, Hempfield and Conestoga Valley, and in districts in neighboring states, such as Frederick County Maryland and Caesar Rodney in Delaware. Other graduates have taken positions with Teach for America, AmeriCorps, and CityYear.
If not participating in the 4+1 program, many graduates go on to earn their Master's degrees in their own or a new curricular area in fulfillment of their Level II certification requirements.
PAREAP.net
PAREAP.net is an affiliate of National School Applications Network. They offer applicants the power of a nationwide network of services. At the same time,they offer the personal touch of their services as Pennsylvania State Directors. Pennsylvania School Applications Network is Pennsylvania's premier national online recruitment and application service for educators.
PAREAP.net is dedicated to helping school districts and applicants save time, money, and energy by using PaSan's state-of-the-art online job application system.
With one simple online system, school districts instantly post vacancies across the United States and quickly search applications on customized criteria determined by each Pennsylvania district.
With one simple application for Pennsylvania, job applicants apply to as many participating school districts as they choose.
The REAP (Regional Education Applicant Program) Applicant Guide can be downloaded to your computer for viewing or can be printed at your site. The Applicant Guide is viewed using Adobe Acrobat Reader.To download the REAP applicant guide or for more information and instructions on how to complete an application through PAREAP.net please click here.
English and Political Science Education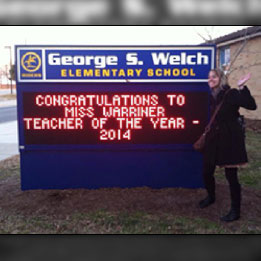 Kimberly Warriner '10
Current job title: Full Day Kindergarten Teacher Major George Welch Elementary School for the Caesar Rodney School District on the Dover Air Force Base in Delaware
"I didn't just learn what I wanted to become at Etown; I learned who I was and what I could do!"
Kimberly was most inspired by her in-classroom observations and experiences while at Etown, she enjoyed working hands-on with students from her very first class. She credits the field placement programs with her level of comfort with all levels of students. She is currently working to obtain her doctorate in Educational Leadership.
PA-Educator.net
PA-Educator.net is an employment website for teachers, administrators, professionals and all other classified candidates looking for positions in a school setting within Pennsylvania that is hosted and owned by the Allegheny Intermediate Unit.
This clearinghouse is free to applicants and simplifies the application process by enabling users to complete either the standard Pennsylvania teacher application for certificated positions or a similar application for non-certificated positions online, as well as create an online credential file that participating school districts and intermediate units can access when vacancies exist. Applicants can also apply electronically for any position a participating member posts on the website.
For tips,guidelines and instructions on how to complete your application for PA-Educator.net, please click here.