Sophomore Year Experience (SYE)
Elizabethtown created the SYE to tackle the sense of drift—or "sophomore slump"1—reported by sophomores nationwide. The SYE is designed to ease the transition from the structured programs of the first year to the more independent programs, like internships and research experiences, associated with the junior and senior years.
There are only a handful of colleges and universities that have a Sophomore Experience Program, and none does as good of a job as Elizabethtown does at integrating the First-Year Experience Program and the Sophomore Experience Program.
1 Sophomore Slump
soph•o•more slump - Noun
a feeling of being caught between directions and not knowing which path to choose
Download the Compass - Sophomore Year Academic Advising Handbook
Goals of the Sophomore Experience
Traditions and Communal Experiences
Provide ritual experiences and traditions to mark the beginning and end of the sophomore year, and to highlight to sophomores the significance of the sophomore year in their academic, professional, and vocational development.
Integrate CORE learning with Majors/Minors
Promote curricular pathways that integrate majors and minors with the students' Core curriculum, and in particular the Signature Learning Experiences of the Real World Learning program.
Explore Vocation and Life Purpose
To help each student determine his or her distinct path in terms of career goals, life aspirations, and the practical steps (such as engaging in undergraduate research, internships, and study abroad) that will render those objectives achievable. 
Sophomore Events:
Mentoring Programs:
Blue Jay Vics are seniors who are available to mentor sophomores. Keeping with the Blue Jay theme, when birds fly in a V formation they take turns leading the flock as the lead bird. The British Royal Air Force flies in the same V formation and the lead plane, or lead bird, or in our case lead Blue Jays are called "Vics".
Blue Jay Vics mentor sophomores as they discern a major, a minor, or a concentration in a major, and in selecting from among the five Signature Learning Experiences required for graduation.  If you're interested in studying abroad, for example, then you will be paired with a student who has studied abroad so you can learn more about it from a student perspective.
Reflections from recent mentees: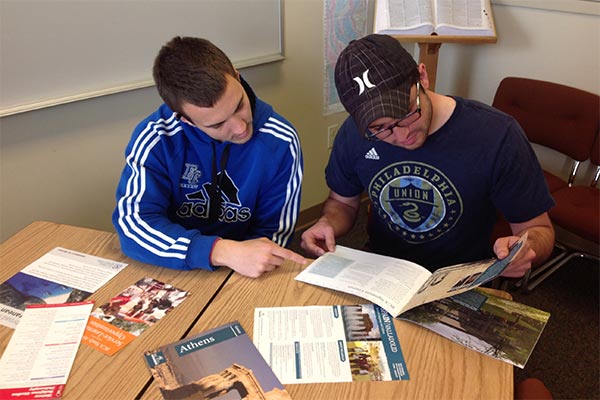 Purposeful Life Pathways mentors will encourage students to understand the importance of reflection on vocation and purposeful life work for intentional decision-making during their Elizabethtown career and beyond.