Opening the door to opportunity
Taking an internship will allow you to immerse yourself in a professional setting in your field of study and pursue your career interests in a meaningful way. They will help you to expand your professional skill set and put your talents to use among professionals who are already working in your field of study. While the classroom will give you the crucial information necessary for your field, there are many things about the workplace that in-class learning will not teach you. It is helpful for you to gain this understanding of the field you are entering, as internships can often be what helps you decide which direction you want their education to take.
Internships can offer you the specific knowledge and experience you need for the workplace. By working alongside professionals, you'll learn job-specific information and trade secrets to help prepare you for the workplace. In addition to the skills you'll learn, you'll also make networking connections that will help you when you're looking for a job. Employers value internships and real-world experience, and having these experiences on your resume may help set you apart from other candidates interviewing for your same position. By networking and making connections prior to searching for a job, you'll make your name familiar to possible employers and expand job opportunities made available to you.
Success After Graduation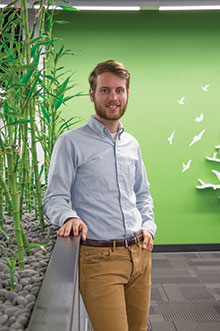 Tyler Kunkle '14
KBA North America - International Business (IB) and German Major
"You need experience. It makes a huge difference. [Having multiple internships] allowed me to stay competitive—enough people have ONE internship."
AP credits and language proficiency paid off for International business (IB) and German major Tyler Kunkle; a strong high school record gave way to a roomier college schedule, one that allowed him to study abroad for an entire academic year and take on a remarkable number of internships—and he's not stopping upon graduation. 
Kunkle '14 is spending the summer in Dallas, Texas, in the logistics division of KBA North America—a division of global, German-based KBA Group, the second largest press manufacturer in the world. Through its participation with the College's IB Advisory Board, KBA has a strong history of providing internship and career opportunities to Elizabethtown students and alumni. Kunkle took note of the German connection: He not only studied in Germany his junior year, but he's also returning there as a Fulbright Scholar this fall of 2014. 
He interned twice at Lancaster-based Clark Company and Associates: in the spring of and summer after his sophomore year and again in his senior year, this time in the logistics department at its WEBstaurant store division. At IB Day—when members of the advisory board meet with students—Kunkle attended a session he hadn't planned on. Afterward, an executive approached him, speaking in German. Turns out, the man grew up in Bavaria, owns Gateway Logistics Services in York, Pa., and needed an intern. Kunkle, already dedicated to Clark, didn't want to pass up an opportunity, so he put his blossoming logistical skills to use and found a way to fit both into his schedule. 
Several factors led to Kunkle's success. He spoke the same language—German in the case of Gateway and, in another, industry jargon. He said knowing what "ERP" meant spoke volumes in his KBA interview (which to the rest of us means Enterprise Resource Planning). Student Senate provided him with a great answer to a question about the most responsibility he had in college: He managed a $55k account, allocating funds to student clubs. The attention to detail and poise demanded by his professors and mentors prepared him for rigorous interviews. For example, Kunkle explained, Dr. Hossein Varamini "is always pushing us to do presentations and talk to executives. It forces you to be comfortable with these conversations." He learned it doesn't matter if you're in a suit and tie or in sweatpants on a phone interview—pauses and "ums" can come through. 
With each internship experience Tyler presented himself as a more knowledgeable and valuable professional at his next place of work. In fact, companies don't exactly want Kunkle to leave. One Clark executive told Kunkle to call when he returns from his Fulbright appointment...."'You do good work. We're interested in where you're going in the future.'"  
Success After Graduation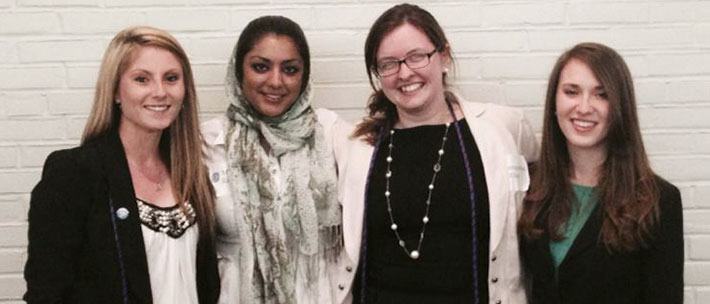 English Majors
...interned with the Tobacco Enforcement Section (TES) of the State of Pennsylvania's Office of the Attorney General
"We've been thrilled with Elizabethtown College students. They ask very good questions, and their work has been phenomenal."

-- SHARON R. ROGERS
When she looks to her left, Madeline Rassmussen '14 has a view of the state capitol building and the Susquehanna River. When she looks ahead, she sees law school in her future. 
The senior English major is interning with the Tobacco Enforcement Section (TES) of the State of Pennsylvania's Office of the Attorney General. Among her duties, Rasmussen, pictured far right, manages documents, analyzes data, helps count and track evidence and prepares presentations for trial. She said that the relationships she's formed in the AG's office are "irreplaceable." Among them: Sharon K. Rogers, deputy attorney general in the TES.
Rogers made a "cold call" to Dr. Kyle C. Kopko, director of the College's pre-law advising program and legal studies major. That connection led to seven (and counting) Elizabethtown interns in her office. She and her close-knit team are so thrilled with the initiative and work ethic displayed by Etown interns that it's almost a given you'll find one at the downtown, Harrisburg, offices each semester, summers included. 
With more than 800 employees and access to hundreds of lawyers from all backgrounds, Rogers said the AG's office is fertile training ground for a future attorney. Rassmussen was in the office when she received her first law school acceptance; Rogers and the rest of the TES team were jumping around, hugging and congratulating her, proud to be a part of her success as Rasmussen begins at Hofstra University School of Law in the fall of 2014. 
Internships can also help you to understand the pace and work flow of the field you choose to go into, so you'll know what to expect when you're working as a full employee. We will help connect you to possible internship opportunities and aid you in pursuing out-of-classroom experience in your field of study. Academic advisors are dedicated to helping their students receive the best education they can, and play an important role in helping connect students with internships that both interest them and fit into their academic schedules.
A great example of an internship opportunity offered is the Capitol Internship Program offered to students in the Politics, Philosophy, and Legal Studies department. Every year, students get the opportunity to work in the Office of the Attorney General. This experience has been described as "irreplaceable" by the work students do in class.
In the Communications major, students are offered internships that involve writing and creating the media that is released by well-known companies and news sources.
Whether across campus, the country, or the globe, our internship program opens the door to opportunity for our students.