Your First-Year Experience
In your first year at Elizabethtown College, you will embark on a common learning experience with others in your incoming class. The First-Year Experience (FYE) has three components: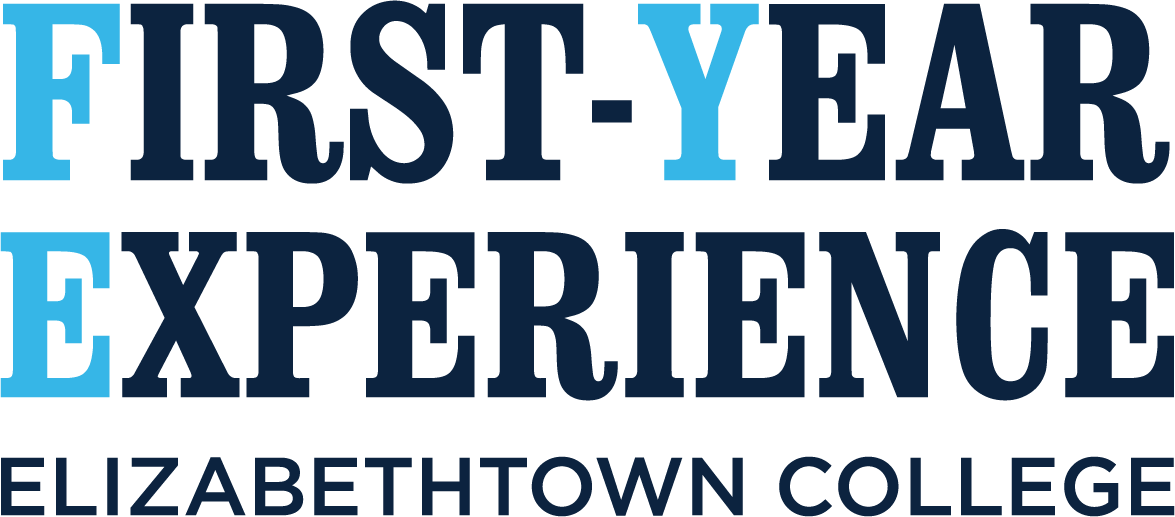 1. First-Year Seminar
This interdisciplinary educational experience develops skills of critical thinking and writing and broadens definitions of learning. The course is a serious academic one, and it is topical in nature, meaning that each seminar has its own emphasis. Our faculty members teach seminars on subjects of passionate interest to them, but no seminar is grounded in a particular major. 
Students in each seminar benefit from the support of a peer mentor—a sophomore, junior, or senior who works with the faculty to facilitate the transition from high school to college. Over the course of the semester, peer mentors lead Roundtables devoted to navigation of campus electronic resources, discernment of Strengths, utilization of course registration software, and preparation for oral presentations. Peer mentors thereby provide curricular and co-curricular foundations upon which students can rely both in the first year and beyond.
Each seminar also includes out-of-class learning experiences, which will expose stuents to educational opportunities and cultural events on campus and, in many cases, beyond Elizabethtown as well. In recent years, students have attended plays, lectures, art exhibits, and film screenings. Some instructors have taken their students to museums in Philadelphia and Washington and even hiked the Appalachian Trail. The possibilities are endless!
As part of your orientation paperwork, you will select your top ten seminars from a list of approximately thirty courses. Most students who submit on time receive one of their top five choices! Each seminar is capped at sixteen students, allowing you to develop close relationships with your instructor and your peers.
Each year first-year students or their instructors may nominate a research project for the Anna Carper Excellence in Library Research Award. The award is intended to recognize that the library is a "laboratory for scholarship" from the first year of college study onward and to identify those first-year students who have demonstrated exemplary integrative skills in using library resources in application to several different types of research projects. It's supported by an endowment funded by the Carper family and named after Anna M. Carper '41 who served as the head librarian of the college from 1960 to 1986.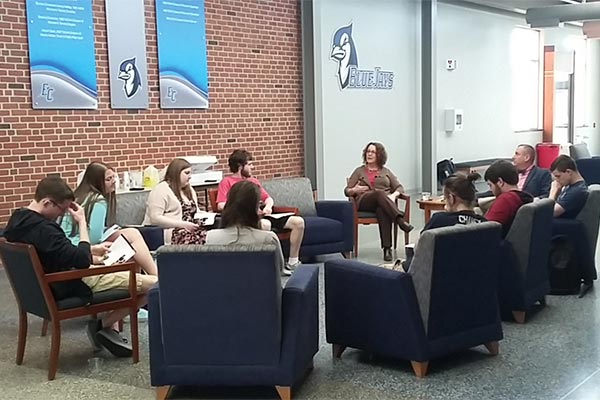 Professor Rankin, Professor Benowitz, and their advisees
The second component of the First-Year Experience is advising. Your seminar instructor will be your official advisor for the year. Once you declare a major, you will be paired with a faculty mentor in your discipline.
To officially "mark" the transition from your first-year advisor to your major advisor, the college hosts an Advising Connections event in March. Advisors meet their new advisees at this time to officially welcome them to the department. After greeting advisees in assigned rooms, advisors and advisees proceed to one of nine central locations to enjoy punch and cookies!
who attended the Advising Connections event thought that it helped them connect with their advisor.
3. First-Year Honor Society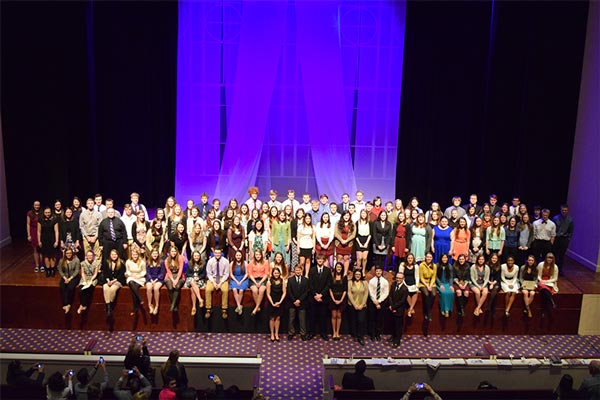 ALD Initiation
Alpha Lambda Delta is a national honor society for students who have maintained a 3.5 or higher GPA and are in the top 20% of the class during their first semester of their first year.  
Our chapter has had a strong recent history, winning national recognition several years in a row for our recruitment and initiation rate. Three of our recent members have won prestigious and competitive national scholarships through national ALD. Our chapter has organized events such as dances and community service projects. Recently we have participated as a group in service events such as Into the Streets and Pride Day.
Becoming a member of ALD gives you a lifetime National membership and makes you eligible to win distinguished scholarships and awards!
For more information, contact Dr. Justin Badgerow.
Events
August 18 11:am-11:45 am, 5:30 p.m., KAV
Academic Program Welcome Session
The Welcome Sessions provide an excellent opportunity for first year students to get to know faculty members, as well as other students, in academic programs of interest. 
September 13, 11 a.m. - Noon
Exploration Station
An interactive session hosted by the Center for Student Success in collaboration with the Career Development Center to explore majors, career fields, pathways, and more!
---
September 27, 11 a.m. - Noon
Study Abroad Fair
---
October 11, 11 a.m. - 12:15 p.m.
Academic Program Advising Day   |  Majors/Minors Fair
March 2024, TBA
Academic Program Advising Connections
Representatives from academic programs hold advising sessions and provide all first-year students with recommendations on spring courses. The information students receive during these sessions will be very helpful during advising meetings with FYS instructors later in the semester. Attendance is mandatory for all first-year students. 
Students who are exploring multiple possibilities, have not decided on a major program, and/or are considering a minor program are invited to join the session for Deciding Students, which will be led by experts on our Academic Advising team, in order to get some advice on course registration