Win Prizes!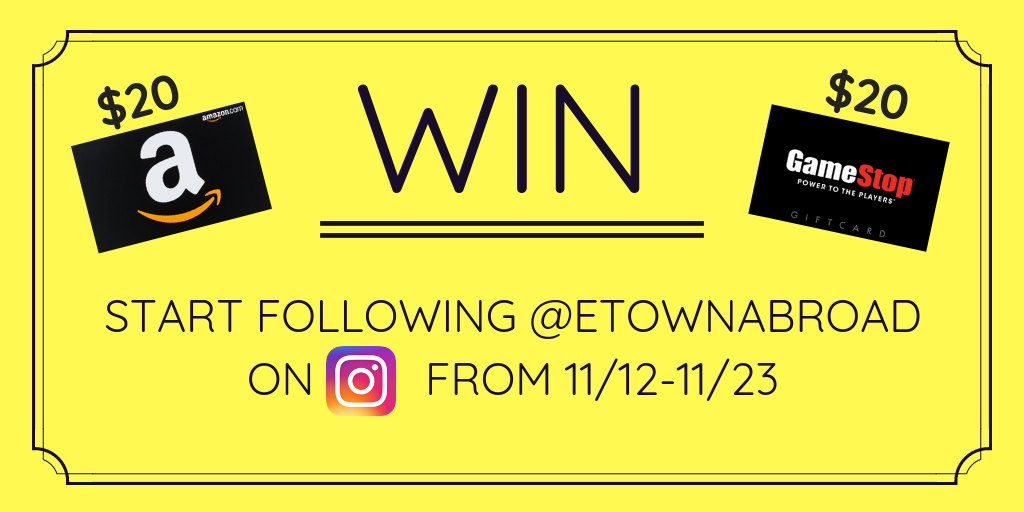 The Study Abroad Office is currently running an Instagram contest. If you begin to follow our Instagram account, @etownabroad, between Monday, November 12, 2018 and Friday, November 23, 2018, you'll be entered for a FREE chance to win one $20 Amazon gift card or one $20 GameStop gift card. You can read the full terms and conditions for the award here. 
Welcome!
The Study Abroad Office provides guidance and support to students in all majors who want to study abroad on a semester, year, summer, winter, or faculty-led program.
By living in a culture fundamentally different from your own, you are exposed to new ways of thinking and challenge your preconceived notions of "normal." While abroad, our students have the opportunity to take classes at a local university, intern at businesses within the community, and/or volunteer at various regional organizations.
Our alumni have continuously cited that studying abroad served as a catalyst for change and inspiration in their lives, both personally and professionally.
Student Stories
The Study Abroad Office encourages you to learn more about study abroad by chatting with recent study abroad students and learning about their experiences through our various social media platforms.
E-town has approved study abroad programs in 30 countries, including 42 different cities.
Explore the world with us on Instagram