Meet The Study Abroad Staff
Megan Bell '14
Study Abroad & International Students Advisor
bellm@etown.edu | 717-361-1347 | Nicarry Hall 117
Megan Bell '14 serves as Elizabethtown College students' primary contact for study abroad. She encourages all students to explore the opportunities available through winter, spring break, May-term, summer, semester and year-long study abroad programs. Megan is happy to meet with any student, one-on-one to discuss their specific interests in studying abroad, as well as address any questions or concerns. Through campus events, advising sessions and social media, Megan wants students to know that everyone, regardless of their major, athletic schedule, extracurriculars or finances, can go abroad.
Additionally, she can relate to students from her own time on campus. Megan graduated from Elizabethtown College with a bachelor's degree in corporate communications and a minor in professional writing. During her four years at Etown, Megan swam on the College's swim team. She previously served as the team's Assistant Coach for two seasons. As a student, she studied abroad in Cheltenham, England during her junior year. While abroad, she traveled throughout England as well as to the Czech Republic, Greece, Ireland, Italy and The Netherlands. Since then, she's had the opportunity to visit Ecuador, Mexico and Canada. At Etown, Megan also serves as the International Students Advisor. 
If you have questions about Etown's Study Abroad Office, please reach out to Megan.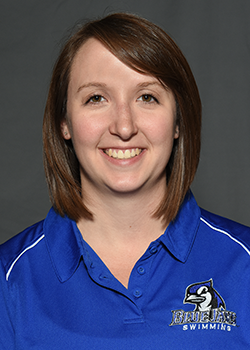 Dr. Shannon Haley-Mize
Interim Director, Center for Global Understanding and Peacemaking
Associate Professor of Education 
mizes@etown.edu | 717-361-3702 | Nicarry Hall 144
Dr. Shannon Haley-Mize completed doctoral study in special education with an emphasis in emotional and behavioral disorders at The University of Southern Mississippi in Hattiesburg and has been involved in the study of peace education for several years. As part of this work, she co-teaches a course on peace education that includes a short-term study abroad trip to Belfast and partnered with a local school to start the PeaceJam afterschool program for middle school students. This program involves an inclusive group of middle school students in studying the Nobel Peace laureates, issues around identity development and conflict resolution, and design of a community service project. Past experience in the education field includes work with students in a psychiatric day and inpatient treatment setting, federal grant administration, and service-learning program development. Her research interests include new literacy studies, technology integration in P-16 education; social justice, teacher education and conflict resolution. She has shared her work on these topics at a variety of conferences and scholarly publications.
If you are an Elizabethtown College faculty member, considering leading a short-term study abroad program, please contact Dr. Haley-Mize for more details.
Kay Wolf
Administrative Assistant, Young Center for Anabaptist and Pietist Studies
wolfk@etown.edu | 717-361- 4747 
In Kay's role, she also supports the Center for Global Understanding and Peacemaking, including the Study Abroad Office. She supports the Study Abroad Office by aiding in event planning, brainstorming new ways to reach students, and streamlining processes.
Meet the 2020-21 Study Abroad Outreach Coordinator
Samantha Seely '21
Study Abroad Outreach Coordinator
BCA Study Abroad Marburg, Germany - 2018-19 Academic Year
seelys@etown.edu
Nicarry Hall 118
Hello, my name is Samantha Seely and I'm a junior Mass Communications and German double major, and I studied abroad in Vienna, Austria, and Marburg, Germany for a full year in 2018-2019! Studying abroad was an incredible experience, and it's an opportunity I hope many mores students can take advantage of! Through my time in Germany, I improved not just my language skills, but my general life skills, as well. Feel free to reach out to me if you have any questions! Whether they're about what a language immersion program is like, what it's like to be abroad for a year, what foods to try when you're abroad, or something else, I'd love to chat!