Academics
You will learn a lot in the classroom, no doubt about it. But that's not the only place you'll gain the skills that today's employers desire such as critical thinking, communication, writing, leadership, creative problem solving and teamwork. Etown's strong core curriculum includes a first-year seminar to prepare you for the years ahead, and real-world learning and travel opportunities supplement your area of study.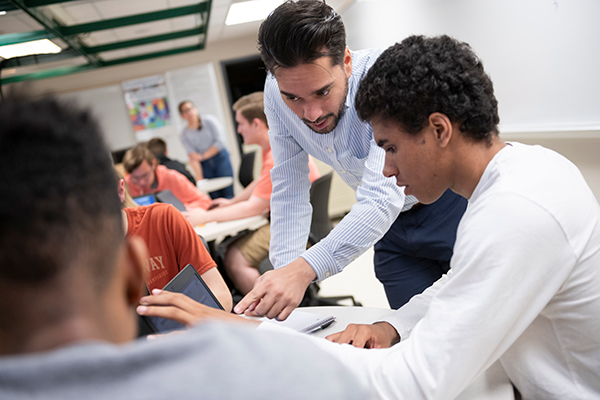 Guaranteed Signature Learning Experiences
Signature Learning Experiences are real-world educational opportunities that challenge you to think beyond the books, go behind the scenes and travel across borders. We call them "signature" experiences because, from student to student, they are as different as you are, and they are what make the Elizabethtown experience different from other colleges.
Education as unique as your own signature. At Elizabethtown College, we don't just challenge you to create and pursue learning opportunities outside of the classroom—we guarantee it. You will have the chance to participate in at least two of our five Signature Learning Experiences.
Internship, Practicum or Field Placement
Immerse yourself in a professional setting in your field of study and career interests. Put your talents and skill sets to use alongside working professionals.
Supervised Research
Investigate, test and study your big questions under the supervision of a faculty mentor.
Capstone Course, Project or Development Portfolio
Integrate, apply and show off what you've learned through a project, publication, exhibit, performance or showcase.
Cross-Cultural Experience
Experience the power of culture shock. Spend a semester living and learning in a different culture either abroad or in the United States.
Community-Based Learning
Engage in service projects in communities locally and beyond. Live out the College's 'Educate for Service' motto.