The Bowers Center for Sports, Fitness and Well-Being
The Bowers Center
The Bowers Center for Sports, Fitness and Well-Being serves as a dynamic campus hub for health and well-being at Elizabethtown College.
Our state-of-the-art facility provides purposeful programming that inspires, educates, and empowers students and the campus community to cultivate healthy and active lifestyles, as well as supporting the College's expanding athletics program.
Within The Bowers Center for Sports, Fitness and Well-Being is the Office of Campus Recreation and Well-Being (RecWell). RecWell manages the extracurricular events and programming on campus, focusing on the holistic health of our campus community. 
The Bowers Center features include:
Cardio, Strength & Fitness Areas
Group Fitness Rooms
Classroom
Human Performance Lab
Athletic Training Area
Six Athletic Locker Rooms
Indoor Track
Three Multi-use Courts
Fresh Nest
Demonstration Kitchen
Relaxation Room
Lounges with Fire Places
Outdoor Fire Pit
Outdoor Courts/Activity Areas
The Fresh Nest is located on the first level of The Bowers Center and offers the Etown community with healthy food options from meal replacement smoothies to Ramen!
Facility Hours:
Modified Fall Break Schedule:
Wednesday, October 4 - Building closing early at 9 PM
Thursday, October 5 - 11 AM - 2 PM
Friday, October 6 - 11 AM - 2 PM
Saturday, October 7 - 10 AM - 5 PM
Sunday, October 8 - 10 AM - 3 PM
Fall 2023 Hours of Operation:
Building:
Monday - Thursday: 6 AM - 11 PM
Monday - Friday: 6 AM - 9 PM
Fresh Nest Hours:
Starting August 21
Monday - Friday: 3 PM - 8 PM



Facility Features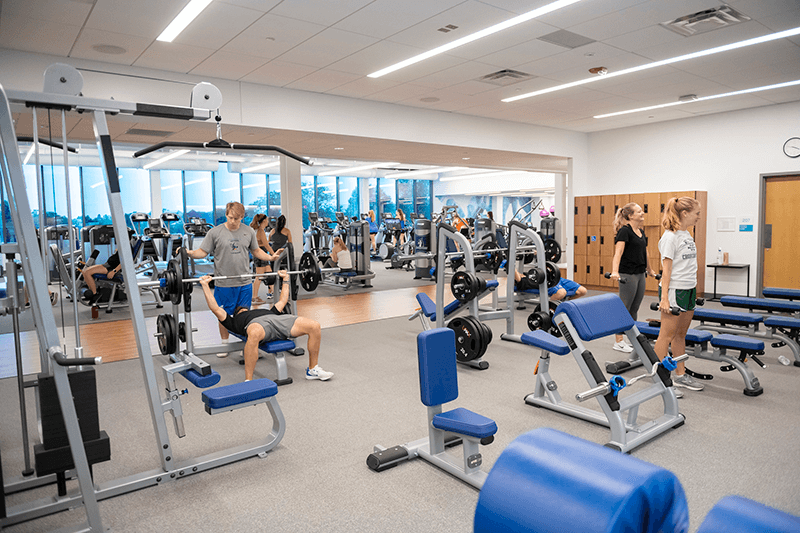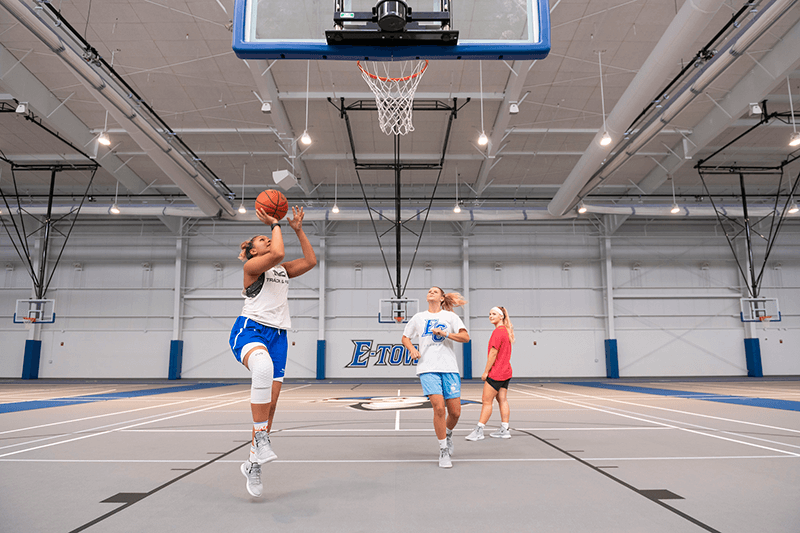 Square footage of The Bowers Center:
81,900 sq. ft.
Cardio Equipment:
52
Strength Equipment:
38
The state-of-the-art demonstration kitchen provides the opportunity to prepare food for a live audience.
Each piece of cardio equipment in The Bowers Center is equipped with its own television screen. Our campus community is able to stream Netflix, Hulu or even Spotify on these screens. There's so much space for the community to enjoy, and it's all in one centralized location that will benefit everyone. The Bowers Center is a one-stop shop for every area of wellness. The college community will be able to manage their workouts and take care of their nutrition and mental and emotional health. LEED Silver Certification
Elizabethtown College's Bowers Center for Sports, Fitness, and Well-Being is a LEED Silver Certified project. LEED (Leadership in Energy and Environmental Design), developed by the U.S. Green Building Council (USGBC), is the most widely used green building rating system in the world and an international symbol of excellence. Elizabethtown College achieved its LEED certification for implementing practical and measurable strategies and solutions in areas including sustainable site development, water savings, energy efficiency, materials selection, and indoor environmental quality.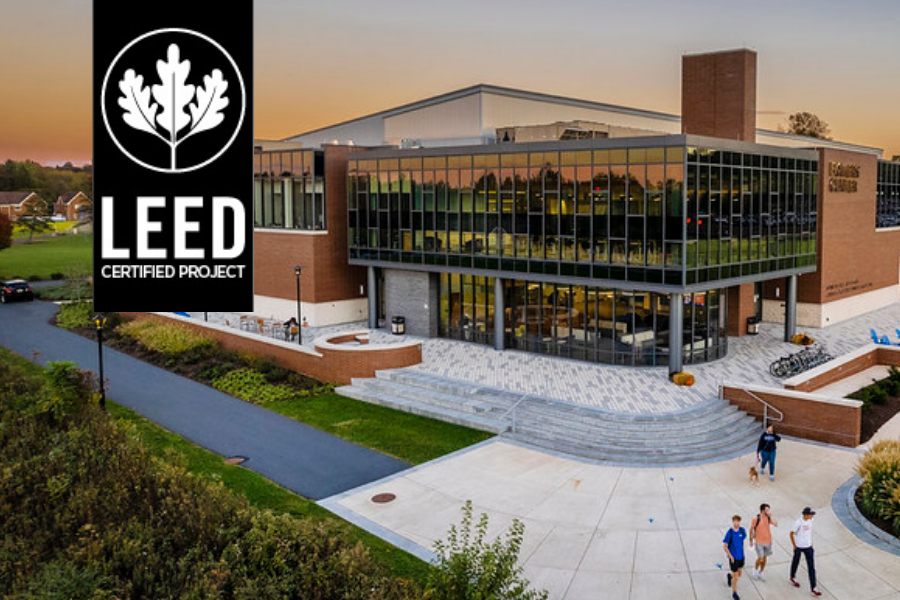 Mission Statement
The Office of Campus Recreation and Well-Being provides purposeful programming and a state-of-the-art facility that inspires, educates and empowers students and the campus community to develop their strengths and cultivate healthy and active lifestyles.
Values
Service, Respect, Diversity and Inclusion, Leadership, Customer Service, Healthy Lifestyle, Responsibility
Vision Statement
To enrich the mind, body, and spirit of our campus community.
Diversity and Inclusion Statement
Our office is committed to fostering mutual respect between all individuals. We are dedicated to providing and supporting diverse and inclusive programming, services, and facilities to all individuals regardless of race, ethnicity, religion, spirituality, gender, gender identity/expression, age, sexual orientation, ability, socioeconomic status, or national origin. We will make every effort to be accessible to all abilities. If you need special accommodations for facilities, activities and/or programs, please contact our office or the Office of Disability Services.
Visitors Policy
Access to The Bowers Center for Sports, Fitness and Well-Being is limited to Elizabethtown College students, employees, Family Rec Pass users and Affiliate Members with a valid Rec ID.

However, there may be times that visitors need or request access to the space. All non-Elizabethtown College members must sign the Guest Book located at the entrance Welcome Desk. The reason for the visit must be verbalized to the student staff before signing the Guest Book.

Visitors must be accompanied by either an Etown employee, student ambassador, or Bowers student staff member. They are not to wander around the building unaccompanied. Contractors, suppliers, or vendors that are performing work in the building must obtain a "Visitor/Guest" card from the Campus Safety Office located on the corner of Mt. Joy Street and Arch Street. They are only permitted on the premises to complete their assigned job duties.

Anyone who delivers orders, mail or packages that is not affiliated with Elizabethtown College should remain at the Welcome Desk. The Fitness Center Attendant at the Welcome Desk will notify the employee who expects the delivery. Larger deliveries need to be coordinated with the Director of The Bowers Center prior to drop off.

All guests are to comply with Bowers Center safety rules, regulations and policies while in the building.

Common areas on the first floor such as the Lower Lobby, Fresh Nest and restrooms are open to visitors (particularly those coming to an Athletic event on an adjacent field). Visitors are not permitted on the second floor unless for a specific event or guided tour.

Unauthorized visitors or disruptive visitors will be asked to leave and may also be reported to Campus Safety.

The Visitor's Policy is in effect during normal business hours. Special events that are being held in The Bowers Center will operate on different policies.
To view all building policies, visit the Fitness Center page.

Please contact Whitney Crull, the Director of The Bowers Center, at crullw@etown.edu for further information or questions.