The Bowers Center for Sports, Fitness and Well-Being
Personal Training
Personal Training is a brand new service offered through the Office of Campus Recreation and Well-Being and is available for purchase to all students, faculty, staff, current Affiliate and Family Rec Pass Members with a valid Etown ID. Whether you are just starting your fitness journey, or are looking to change up your fitness routine, our RecWell Personal Trainers are committed to serving you. Let our nationally Certified Personal Trainers guide you through a program specifically designed and tailored to help you achieve your goals. Our Personal Trainers will provide quality education, direction, and motivation to the Etown Campus Community through safe, fun, and effective training habits.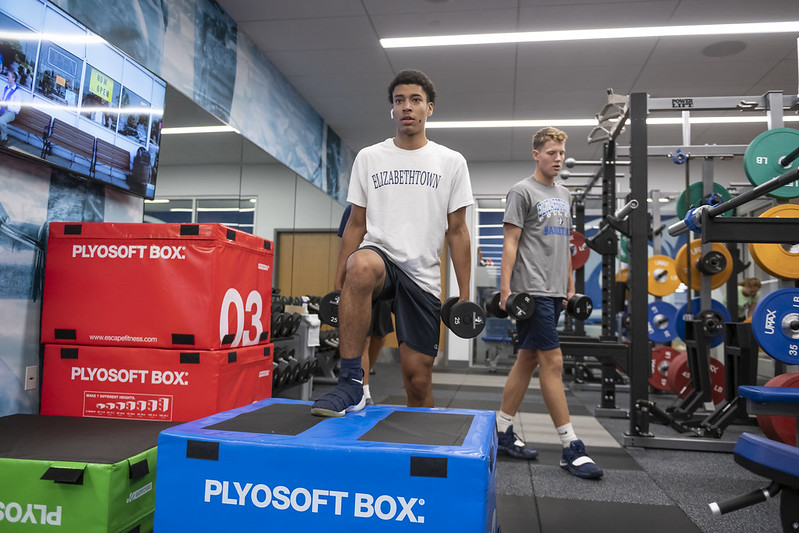 Why Hire a Personal Trainer?
Education: You will receive the latest information about current recommendations for cardiovascular, resistance and flexibility training according to the American College of Sports Medicine. A personal trainer can provide expert advice on programs ranging from weight loss to improved sports performance.
Motivation: A personal trainer can help you stay motivated by setting attainable goals and holding you accountable to reach these goals. You'll be challenged, encouraged and empowered!
Avoid Injury: A personal trainer can ensure you are performing exercises correctly and efficiently in a program tailored to your specific needs and goals.
Fun: A personal trainer adds variety to your exercise program, keeping your workouts fun, interesting and effective.
Plans & Sessions
Standard Sessions
½ hour sessions with one of our certified personal trainers will turn your workouts into the most complete and time-effective exercise you can have. Here we focus on a full 30-minute workout made specifically for your goals and fitness level. During the first session we will go over warm-ups and cool-downs that can be performed prior to and after the session so the entire session can be dedicated to your workout.
1 Session: $20
4 Sessions: $80
8 Sessions: $150 (10% savings per session)
12 Sessions: $220 (15% savings per session)
24 Sessions: $400 (20% savings per session)
Premium Sessions
One-hour long session with a certified personal trainer will give you a full workout experience. An intensive 50-minute workout with a warm-up and cool-down will leave you feeling like every muscle has been worked, and get you on the journey to reaching your health and fitness goals!
1 Session: $40
4 Sessions: $160
8 Sessions: $280 (10% savings per session)
12 Sessions: $400 (15% savings per session)
24 Sessions: $775 (20% savings per session)
Blue Jay Baseline
This package is designed for those wanting to make the most of their time in the gym, enhance performance, and get the results they desire. Each participant will meet with a Certified Personal Trainer to discuss goals as well as perform a baseline fitness test (session 1). Next, the trainer will design and review a personalized 4-week exercise prescription to fit all of the client''s goals (session 2). Then the client will meet with our Assistant Director of Health Promotion to discuss a nutrition plan (session 3). After the 4-week period, the trainer and client will meet again for a follow-up session to assess progress and satisfaction from the client as well as discuss the next steps in health and fitness (session 4).
Policies
Cancellation Policy:
If a client wishes to cancel an appointment, they must contact their trainer directly at least 24 hours prior to their appointment. Failure to do so will result in a lost session and will not be refunded.
Late Policy:
Trainers are required to wait 15 minutes for registered clients. If after 15 minutes the client has not contacted the trainer directly or through a staff member of RecWell, the trainer may choose to reschedule the appointment, but is not required to do so. Sessions that begin late due to the late arrival of a registered client will end at the originally scheduled time.
Expiration Policy
All services must be completed within one (1) calendar year of the service purchase.
Refund Policy
Clients wishing to obtain a refund must request so in person or send a request to personaltraining@etown.edu. Full refunds are considered only during the first seven (7) days of membership. Thereafter, applications for refunds will be considered for the following reasons, provided proof is also submitted: medical or departure/withdrawal from Elizabethtown College. Refunds will be prorated if services have begun in the first 7 days (consultation/assessment, sessions, etc.).
Any questions or concerns, please contact personaltraining@etown.edu.
Registration Process
Wellness Consultation
The first step toward personal training is to obtain a complimentary wellness consultation. Here you can meet with a certified trainer to discuss items related to your wellness, set goals, perform optional health/fitness testing, and more. This step helps the trainer fully understand your needs prior to the first training session. To request a wellness consultation, fill out this form. Following the request, a member of the staff will contact you to schedule your consultation.
Payment
Payments can be made via credit card or account charge and can be done so at the Bowers Center for Sports, Fitness and Well-Being (RecStop) following your initial consultation and desire to continue with our Personal Training program.
Student Employment Positions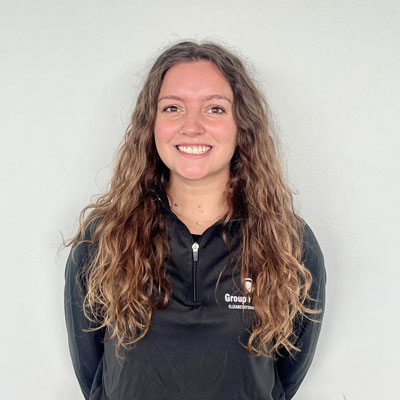 Madi Nowatnick
Student Personal Trainer
Hi, I'm Madi! I am from Northern New Jersey. I graduated with a health science major and am currently in the master's Occupational Therapy program and have a minor in Family Business and Entrepreneurship. I am a Certified Personal Trainer through ACE. I enjoy anything active; hiking, bouldering, boxing and obviously lifting. I am also a huge fan of coffee shops and reading. I am working towards owning and running my own OT practice in Colorado as well as a gym. I want to help clients overcome their fear of the gym and that weights are not as scary as they may seem (trust me I have been there, I understand). My goal is to motivate and empower clients in and outside of the gym.  Lifting has personally changed my mindset and life for the better and I want others to experience that as well.