Department of Education Mission
The mission of the Education Department at Elizabethtown College is to provide its students with the knowledge and skills necessary to become thoughtful and responsible teachers who, informed by scholarship and research, are prepared to meet the social, intellectual, and professional challenges of today's culturally diverse and inclusive pre-K to 12 classrooms. We believe that our purpose is best achieved through adherence to the Pennsylvania Department of Education standards for teacher certification, and through modeling research-based practices of effective instruction and assessment within a relationship-centered climate that supports academic excellence.
Our goal is to prepare highly competent, knowledgeable educators in early childhood, elementary/middle, secondary, music, Spanish, and special education. Essential components of this preparation are early and frequent field experiences in urban, rural, and suburban settings supervised by certified professionals, and ongoing self-evaluation of knowledge and skill growth through development of a professional portfolio. The capstone assessment is a semester-long student teaching placement that promotes the practical application of theories, and best practices learned in program coursework.
Integral to our programs is the department's signature attribute of social justice, exhibited through a curricular focus upon advocacy for equity, civic engagement, global citizenship, and international/comparative perspectives. Education faculty members are experts in these fields, conducting, presenting, and publishing their own research, and facilitating opportunities for undergraduate scholarship.
Request Information About Education at Etown
From the Department of Education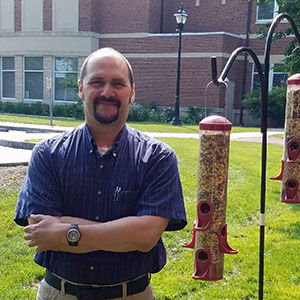 Peter Licona chosen as Pennsylvania STEM ambassador
Inaugural group aims to lobby for quality programming for all
STEM (Science, Technology, Engineering and Mathematics) is a fairly recent approach to education that integrates school subjects that are often taught in isolation from one another. One critique of STEM education is that some groups of students are excluded from this type of educational approach. Helping to reset that focus on these groups—females and racial, ethnic and linguistic minorities—are STEM ambassadors like Peter Licona, an assistant professor in education. This inaugural cohort of 35 ambassadors, organized through the Pennsylvania Statewide Afterschool Youth Development Network, are STEM education stakeholders—district administrators, high school principals, college professors and scientists. Along with Licona, they will serve at least one year to advance policy goals through outreach, education, targeted relationships with policymakers and by building a coalition of local and regional support.
"Some of these groups are generally invisible; part of our charge is to diversify the STEM pipeline."
From the Department of Education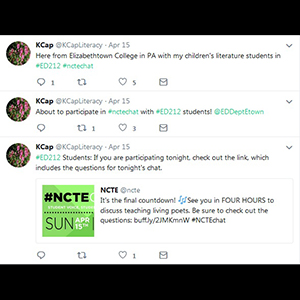 Using Twitter as a resource for the classroom
Associate Professor of Education, PK-12 New Literacies Kathryn Caprino utilizes social media to share relevant articles with students and to engage her students in professional development.
Kathryn Caprino, associate professor of education, PK-12 New Literacies, utilizes social media to share relevant articles with students and to engage them in professional development. By using the hashtag #ED212 for her Children/Adolescent Literature class, Caprino's education students can make posts and communicate with one another online. As part of professional engagement opportunity assignments, students participate in Twitter chats hosted by the National Council of Teachers of English. Focused on a predetermined subject (e.g., The Canon of our Community and Student Voice, Student Advocacy), these chats allow students and educators to comment and chat with one another. Caprino said it helps students know they're not alone and that there are teachers who use Twitter in their classrooms and as a form of professional development. Caprino's students also share teaching resources with each other via Twitter.
"I think, sometimes, we think we have to come up with everything on our own, and I think places like Twitter help us realize that…if we see something really great, we can adapt it."
From the Department of Education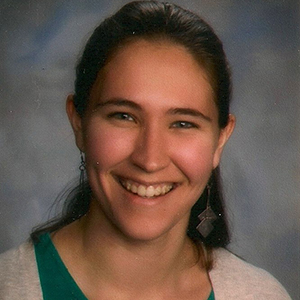 Teaching in India on Fulbright English Teaching Assistantship
Inspired to apply for grant by success of peers
Gillian Engelbrecht '18, a Stamps Scholar and social studies education major at Elizabethtown College, has her eyes on becoming a teacher. This spring, she earned a Fulbright English Teaching Assistantship (ETA), which gives participants the opportunity to teach English in another country. In addition to the overall experience, she said, the ETA will help broaden her teaching abilities, in general, no matter where she lands. Two Elizabethtown Stamps Scholars with similar experience have earned Fulbright ETAs before her. Knowing this gave Engelbrecht inspiration to stay focused on the application process.
"I think that the experiences of teaching in a different educational system will give me a new insight into our educational system and offer me new teaching strategies and techniques."
From the Department of Education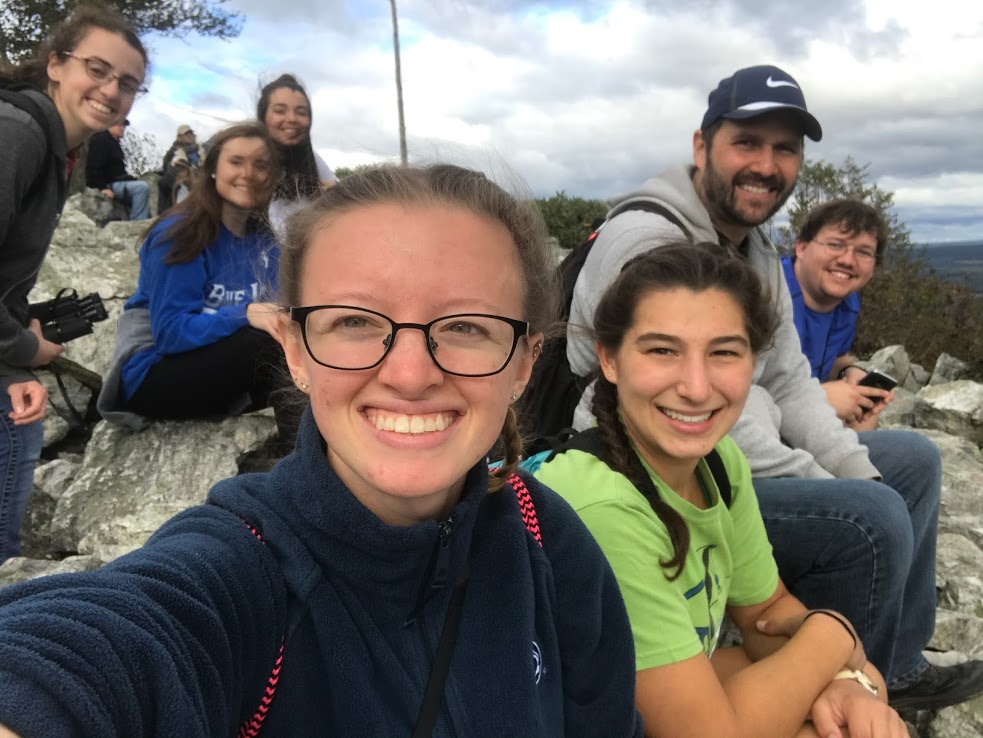 Sharing the wonders of Hawk Mountain Sanctuary with NSTA students
Peter Licona, assistant professor in education, uses nature to teach
Peter Licona took students from the Elizabethtown College chapter of the National Science Teachers Association to Hawk Mountain Sanctuary in Kempton, Pennsylvania, for a nature outing this past fall. The area is known for its scenic views and flora and fauna and is a migratory path for birds of prey. Taking the trip was the professor's way of showing students that nature can be used as a classroom. The nature-based outing is slated to become a recurring activity.
"The act of being outside is important…getting out of the digital world and getting back to the natural one."
Student Learning Outcomes
The Education Department requires that every student demonstrate the following:
A thorough knowledge of the content and pedagogical skills in planning, preparation, and assessment.
An ability to establish and maintain a purposeful and equitable environment for learning.
An ability to deliver instruction that engages students in learning by using a variety of instructional strategies, including technology.
Qualities and dispositions that characterize a professional person in aspects that occur in and beyond the classroom/building.
An awareness of, and adherence to, the professional, ethical, and legal responsibilities of being a certified teacher.
An ongoing commitment to lifelong learning and professional development through field-related clubs, conferences, and organizations.
Teaching and advocacy for principles of social justice and civic competence.
College of Distinction Recognition
Elizabethtown College has been recognized for its honorable commitment to helping undergraduate students learn, grow, and succeed by Colleges of Distinction, a unique guide for college-bound students. Specifically, Etown's Education program has received specialized recognition for its excellence in multidisciplinary education, non-education specialization, dedicated advising and counseling, high-impact practices, and industry connections.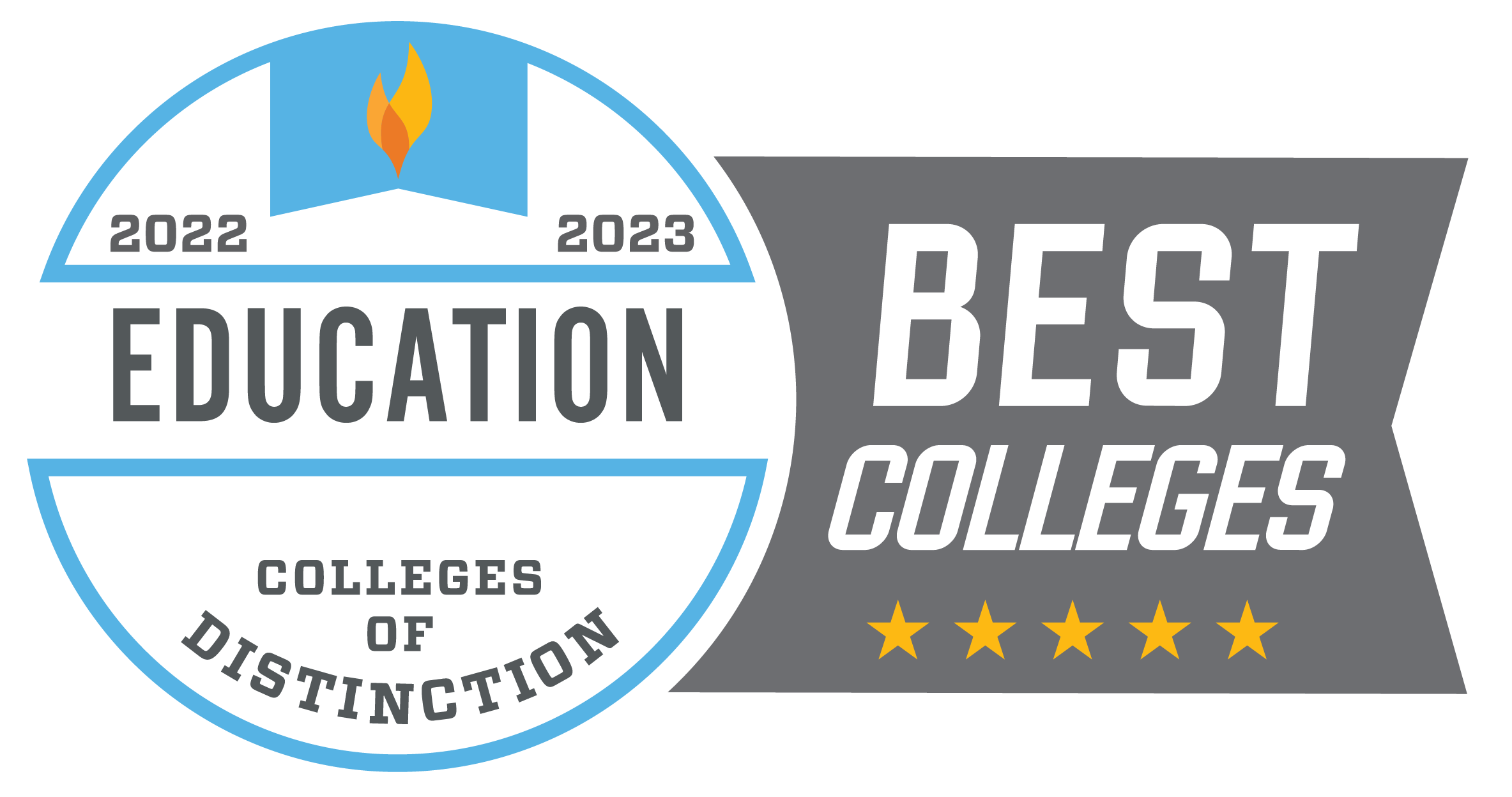 Follow Us On Social!