Engineer for Society
Elizabethtown College's Engineering program is designed to prepare students for a technical career in the workforce or for graduate school. We strongly believe in producing well-rounded generalist engineers who understand the mechanical and electrical systems of a design and how those systems interact with the environment and with industry. We challenge our students, pushing them to become innovators of the future. They receive personal attention from our faculty and gain hands-on experience in design and fabrication laboratories.
Etown's Engineering program is accredited by the Engineering Accreditation Commission of ABET (http://www.abet.org). This accreditation ensures that we meet global standards for properly instructing our engineering students and allows our students to work worldwide. By completing our program, students will have met the educational requirements necessary to qualify to take the Fundamentals of Engineering exam and work towards obtaining their PE license. Etown's School of Engineering and Computer Science has been honored by the American Society for Engineering Education's (ASEE) Diversity Recognition Program. ASEE's bronze category is the highest level issued to institutions during the 2021-22 submission cycle and recognizes the School among the nation's leaders in inclusive excellence.
Over 96% of our engineering and physics graduates are in graduate school or full-time employment within one year of graduation.
Engineering Concentrations
Engineering students are encouraged to take upper-level coursework in a specific area of interest by specializing in one of our concentrations, which include: Mechanical Engineering, Electrical Engineering, Environmental Engineering, Biomedical Engineering, Civil Engineering, Computer Engineering, Industrial and Systems Engineering and Mechatronics.
Mechanical Engineering
Your work as a mechanical engineer will leave lasting impacts on society. Mechanical engineers are responsible for the reliability and safety of mechanical systems and manufacturing operations. They also find the safest and most efficient solutions to the transportation and energy challenges facing modern society.

Our Mechanical Engineering Concentration provides you with theoretical knowledge and hands-on application of engineering skills. We'll use real-world problems to challenge your creative-thinking abilities. Through our curriculum, you will explore manufacturing processes, building materials, and the principles of energy, force, and motion.

Mechanical engineers contribute to advances in cutting-edge materials, designs, and processes that work to make society safer and more productive. You'll help the engineering field move forward by developing an automated process to speed up tedious tasks and finding ways to reduce energy use. Mechanical engineers play important roles in exciting technological advances such as driverless cars, drones, and energy generation. After completing your Mechanical Engineering Concentration, you'll be prepared to enter careers in energy systems, design, manufacturing, robotics, materials testing, and power. The national median annual wage estimate for a mechanical engineer, according to the U.S. Bureau of Labor Statistics, is $95,300.
Electrical Engineering
As a society, we rely on the work of electrical engineers to provide us with the technologies we use every day, from the electricity we use to power our homes and businesses to GPS navigation and Wi-Fi. The application of the work of electrical engineers impacts a wide variety of fields, from healthcare and meteorology to aerospace and national defense.

You'll take courses, such as electronics, electromagnetism, physics of semiconductor devices, fiber optics, and communication systems, which examine the theory and application of electricity and magnetism. You will apply these concepts to projects involving solar energy generation, wireless communication, and autonomous vehicles. Learning these skills will help you better understand how to create stronger, faster, and more complex subsystems. Your coursework will focus on the many ways that electrical systems and devices impact the world around us.

Electrical engineering can prepare you for a variety of careers in circuit design, electronics, telecommunications, signal processing, and control systems. According to the U.S. Bureau of Labor Statistics, the national median annual wage estimate for an electrical engineer is $100,420.
Environmental Engineering
A passion for the environment and the desire to create innovative solutions is the hallmark of the Environmental Engineering Concentration. As an environmental engineering student, you will focus on improving, protecting, and maintaining human and environmental health.

Through our courses, you'll complete projects that challenge you to think creatively and holistically while approaching environmental problems. After completing our Environmental Engineering Concentration, you will be prepared for careers in green infrastructure, water and wastewater treatment, solid waste management, and environmental compliance.

After you become an environmental engineer, your efforts will concentrate on reducing our human footprint and preventing future ecological disasters. According to the U.S. Bureau of Labor Statistics, the national median annual wage estimate for an environmental engineer is $96,820.
Biomedical Engineering
Society relies on biomedical engineers to solve modern healthcare issues. You'll be responsible for finding long-term solutions to medical conditions while ensuring that patients remain safe throughout their treatment. You may come up with more efficient surgical procedures, create advanced prosthetics and help members of your community to enjoy a better quality of life.

Through our courses, you'll understand biological systems such as balance and motor control through the lens of engineering, the challenges of the human body, and getting approval for medical devices. After completing your degree, you'll be prepared for biomedical engineering jobs in the medical device industry. With this concentration, you'll take general engineering classes and specialize your education through biomedical engineering courses. These specialized courses will help you to understand the mechanics behind human movement and the materials commonly used in the body so that you can design devices to improve the lives of patients with medical conditions. Our Biomedical Engineering Concentration incorporates course projects and hands-on applications that challenge you to design solutions to real-world problems.

Biomedical engineers have an exciting opportunity to use their interdisciplinary knowledge to incorporate new technology in solving medical problems. After completing our Biomedical Engineering Concentration, you'll have the ability to pursue a variety of jobs in biomedical engineering, medical engineering, and clinical engineering. In these careers, you could develop instrumentation and design and test new biomedical devices for surgical and clinical applications. The national median annual wage estimate for a biomedical engineer, according to the U.S. Bureau of Labor Statistics, is $97,410.
Civil Engineering
Civil engineers serve the public by designing safe, reliable, and efficient structures and transportation systems essential to the safety and vitality of communities. Civil engineers consider pressing issues such as structural safety, environmental health, transportation efficiency, and water quality and devise sustainable solutions that address the needs of the present as well as the future.

Our courses teach you essential skills in materials, structural analysis, design, and sustainability. You'll learn how to assess challenges and design infrastructure to meet society's needs. This concentration prepares you for a career in structural design, construction, green infrastructure, and transportation.

Civil engineering allows you to tangibly see the results of your work. As a civil engineer, you'll build public infrastructure including roadways, buildings, bridges, and dams. You'll find innovative and sustainable ways to design landfills and water management facilities. Along this career path, you might be assisting with the many different components that make up a city. Whichever route you choose, you'll be able to see your efforts come to life as they go from plans to construction. There are many categories of civil engineering jobs you can pursue after graduation. You can choose civil engineering jobs in various areas, including structural engineering, architectural engineering, water resource engineering, transportation, and traffic construction. The national median annual wage estimate for a civil engineer, according to the U.S. Bureau of Labor Statistics, is $88,050.
Computer Engineering
The Computer Engineering Concentration is an in-demand area of study that emphasizes the interplay between software and hardware. You'll take advanced computer science courses including systems programming, operating systems, and software engineering alongside hardware courses including digital design and embedded systems, and parallel processing. This degree will prepare you for various careers including hardware development and testing, or as a highly sought-after software engineer.

According to the U.S. Bureau of Labor Statistics, the national median annual wage estimate for a computer engineer is $128,170.
Industrial and Systems Engineering
Industrial systems engineers impact the world by improving work processes in various settings, from manufacturing plants to business and health operations. They make operations more efficient through various methods while maintaining a safe work environment for employees. Industrial engineers also optimize business practices by increasing speed, limiting costs, and improving management practices. You will learn to utilize financial management systems, measure improvement and encourage organizational change.

Our students apply their learning through real-world projects. As you learn industrial engineering concepts, you can practice your skills through hands-on learning experiences. You'll investigate relevant, real-world issues, participate in simulation games, and complete semester-long projects. You also may choose to complete projects with one of our student organizations.

The flexibility of our Industrial and Systems Engineering Concentration will give you plenty of career options. Systems engineers can choose from various careers across many industries while industrial engineers typically work for manufacturing, insurance, and government organizations. According to the U.S. Bureau of Labor Statistics, the national median annual wage estimate for an industrial and systems engineer is $95,300.
Mechatronics
The Mechatronics Concentration is a cutting-edge, interdisciplinary area of study that integrates electrical, mechanical, and computer engineering to design, build and operate smart machines with precision. You'll learn about robotics applications and other electromechanical systems, including the hardware and software that make them work. Through your coursework, as you learn about green robotics, electronics, control systems, mechanics and vibrations, and digital design, you'll get insight into both the theory and practice of how to design and build exciting new technologies such as autonomous vehicles, alternative power generation systems, and robotic medical systems. Learning these skills will help you create versatile, innovative, and powerful systems that will continue to shape our world in the 21st century.

You will be able to tailor your future career best to fit your interests throughout your time at Etown. We prepare our students to work in many different industries including transportation, robotic manufacturing processes, green energy generation, agriculture, and telecommunications.

Using the skills developed throughout this program, you will be prepared to work on various tasks such as designing robotic and smart technology equipment, developing and building prototypes, installing and testing new equipment, and managing robotics systems of all sizes.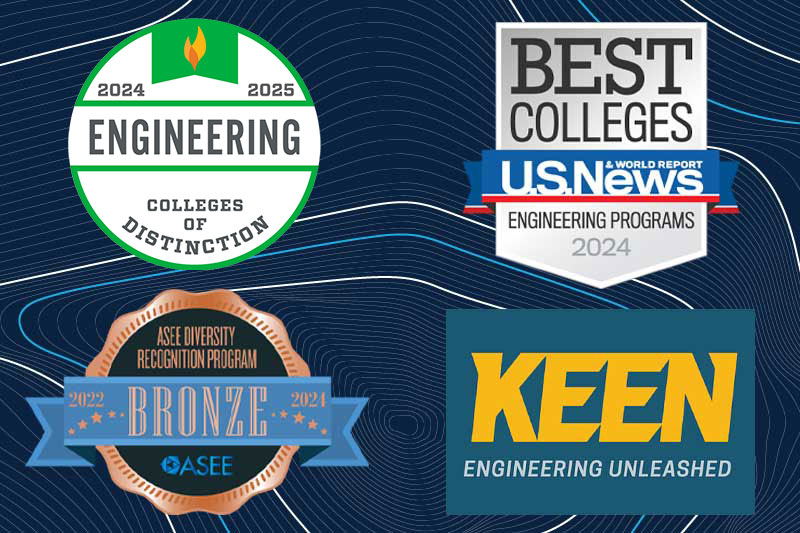 Recognized Excellence
Etown's Engineering program is recognized for excellence in multidisciplinary education, collaborative work, practical experience, facilities investment, advising, high-impact practices, and industry connections by U.S. News & World Report, Colleges of Distinction and the American Society for Engineering Education's (ASEE) Diversity Recognition Program. We are also part of KEEN, the Kern Engineering Entrepreneurial Network, a community that fosters an entrepreneurial mindset among undergraduate engineering students.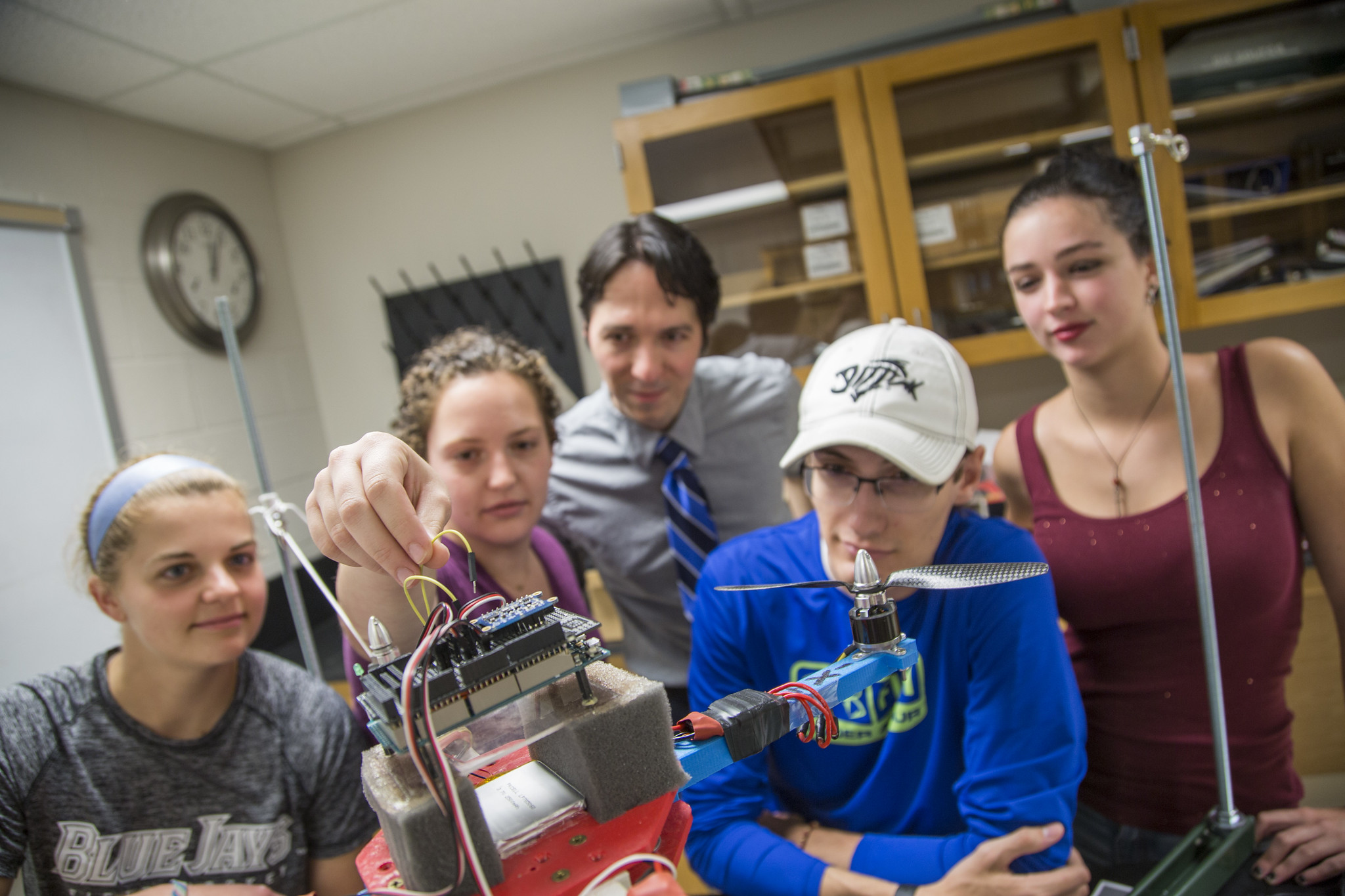 Mastery-based learning & Project-Based Curriculum
Etown's Engineering program incorporates a unique mastery-based learning approach where students have multiple opportunities to demonstrate all that they have learned before moving on to the next course. Our students not only learn to apply advanced principles of math, science, and engineering, but also how to apply those principles to creatively solve real-world problems through a project-based curriculum. In this curriculum, students work on a series of projects that are designed to challenge them and reinforce their understanding of the concepts they have learned.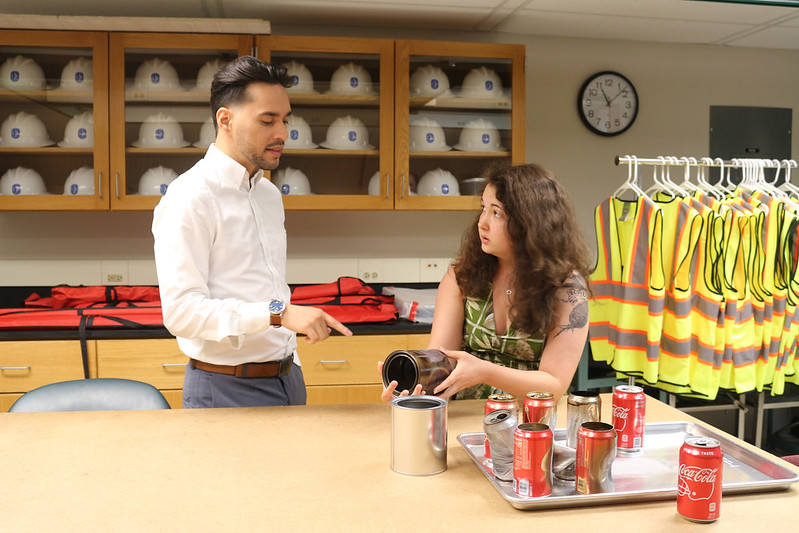 Putting You on a Path to Success
Going into their senior year, 78% of the Class of 2023 had at least one internship or research experience, while going into their junior year, 71% of the Class of 2024 had at least one. These are numbers that surpass the national average, ensuring our graduates are ahead of the game. We also employ a full-time Industry Liaison dedicated to our Engineering and Computer Science students. She is available for 1:1 consultation and teaches a professional development seminar that all students take their sophomore year. She also hosts Meet and Greets at least once a semester, with local companies.
Related Minors
Architectural Studies Minor
The interdisciplinary minor in Architectural Studies provides a general introduction to careers in architecture. The curriculum includes architectural design, sustainability, engineering principles, and the history of the built environment. Students learn to design original buildings for real-world contexts with client and community involvement. They research, document, and render their original designs and present and defend them in critiques. Stewardship of natural resources, innovations in sustainability, LEED standards, and certification are emphasized in courses and projects. Prior knowledge of physics and advanced mathematics is not required.
Technical Design Minor
Students in the Technical Design minor will learn to solve complex real-world problems on multidisciplinary teams. Students will take classes in both Physics and Engineering that focus on solving problems that can be explored and solved using Engineering and Physics principles.
Go Beyond the Classroom
We encourage our students to learn and grow beyond their classroom experiences. Our students participate in faculty-supervised research, as well as community engagement opportunities. Finally, we open possibilities by allowing our students to transfer their financial aid to study abroad partner programs, and by not charging tuition during co-op experiences.
Student Clubs & Organizations
Student clubs, such as the Society of Women Engineers (SWE) , the Robotics and Machine Intelligence Club and the Etown chapters of the  American Society of Mechanical Engineers (ASME)  and  Institute of Electrical and Electronic Engineers (IEEE) , give students the opportunity to grow professionally and make further connections to enhance their experience.
Greenway Program
Etown has partnered with the Greenway Institute in Vermont, to launch the Greenway Center for Equity and Sustainability in Engineering. At Greenway, you can learn to use your talents to create a more equitable and sustainable future. You can study a semester away during sophomore year and stay on track for a four-year graduation.

Study Abroad
It's possible to study abroad with an Engineering major at Elizabethtown College! We believe that the opportunity to explore and study other cultures should be available to all students. To ensure this possibility, we've partnered with our on-campus study abroad office to offer programs that fit into the four-year plan for our Engineering majors, for example:
New Zealand – Spend the spring semester of your sophomore year studying at University of Otago in New Zealand – the country's oldest and most prestigious university. Famous for its stunning landscapes, rugby, and preservation of the Māori culture, many of our students have called New Zealand "home" for a semester.
Ireland – Spend the spring semester of your sophomore year in Dublin, Ireland studying at the Dublin City University and exploring castles, historic landmarks, and oceanic cliffs!
The Gambia – Spend two weeks in a Gambian village getting to know members and leaders of the community for a window into life in this developing economy in West Africa. We explore renewable energy projects and social businesses - learn and live our college's mission.
Ecuador – This program in Quito, Ecuador, is a language intensive program, requiring prior Spanish classes. This program is available spring semester of sophomore year and is a great fit for students looking to deepen their foreign language proficiency.
There are also many other Study abroad opportunities offered through our study abroad office and affiliated partners, as well as short-term May or winter term cross-cultural intensive classes.
Community-Based Learning
All Etown engineering students complete at least one real-world project for a community client. We partner on engineering projects with local non-profits, students in developing nations in Africa, and the Center for Civic and Community Engagement. Not only do students see the potential impact of what they are learning in the classroom, but they also practice communicating professionally with a client. Student groups routinely present their design solutions to boards of directors and community groups.
READY TO BECOME A BLUE JAY?