Faculty Development at Elizabethtown College

Nicarry 114; CETL@etown.edu
Tweets by Etown_CETL

Professional Development Committee Members:
Jean Batista Abreu, School of Engineering, Math and Computer Science
Kathryn Caprino, School of Human and Health Professions
Dmitriy Krichevskiy, School of Business
Montserrat Linares Farras, School of Arts and Humanities
Charla Lorenzen, School of Arts and Humanities
Brenda Read-Daily, School of Engineering, Math & Computer Science & Chair of PDC
Deborah Waltermire-Burton, School of Human & Health Professions, PC Rep
Kristi Kneas, Associate Provost for Academic and Faculty Affairs (ex officio)
CETL Lending Library
Wish to recommend an addition to the CETL Lending Library? Send your request to CETL@etown.edu.
Faculty Professional Development Resource Notebook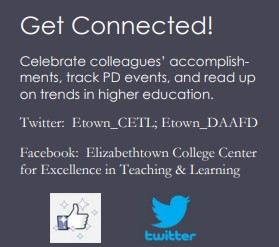 Professional Development & Other Important Events
Date/Time
Name of Event
Location


11/12/20
3:30 pm

Trans and Nonbinary Identities



This faculty session will focus on understanding transgender and nonbinary identities, the identity development process, and supporting trans and nonbinary students.