Martin Luther King Jr. Week Events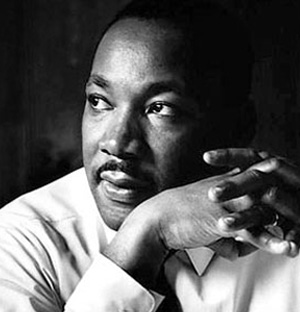 The annual MLK celebration kicks off on Monday, January 16, 2017. Throughout the week, we will explore themes of empowerment, advocacy and peacemaking--elements apparent in King's dream in the quest for equality.
These events are free and open to all Elizabethtown College students, faculty and staff. 
Etown MLK Events 2017
Monday, January 16, 2017
Legacy Event at Mosaic House. 6:30 p.m. Refreshments included.
Tuesday, January 17, 2017
MLK, Jr Speaker: Rev. H. Dean Trulear, Associate Professor of Applied Theology (see bio below) 11 a.m. – 12:15 p.m. Location KAV
Lunch with Dr. Trulear 12:30 p.m. -1:30 p.m. (Lunch is bring your own and location Tower Room)
Diversity Awareness Program: Justin Brown at Steinman 114 (BLR) 8 p.m. – 10 p.m. (students only)
Wednesday, January 18, 2017
King's Dream by Key Arts Production 11a.m. at  KAV--Live performance in song and narration with film footage depicting the historical roots and social implications that led the era of social unrest in America in the sixties.
Thursday, January 19, 2017
Panel Discussion: What Am I Contributing to the Common Good? 7 p.m. Location: Hoover 110

Jonathon Rudy, Peacemaker-in-Residence, Center for Global Understanding and Peacebuilding, Elizabethtown College
Dr. Joyce M. Davis , President/ CEO, World Affairs Council of Harrisburg
Conrad Moore, Roots of Justice
Friday, January 20, 2017
Poetry Slam w/ Rap Session sponsored by NOIR at Mosaic House
Selma (movie) at Mosaic House 7 p.m.
Saturday, January 21, 2017
Susquehanna Museum of Art trip has been cancelled.
Harold Dean Trulear, Ph.D.
Associate Professor of Applied Theology
Howard University School of Divinity
Harold Dean Trulear, Ph.D., has served as Associate Professor of Applied Theology at Howard University School of Divinity since 2003. He currently teaches Prophetic Ministry, Ethics and Politics, Ministry and Criminal Justice, and Church and Community Studies.  Dr. Trulear was named a "Leading with Conviction Fellow" for 2017 by JustLeadership USA, the nation's premier institution for formerly incarcerated community leaders.
He directs a national research and demonstration project called "Healing Communities," mobilizing congregations to support those returning from incarceration through the establishment of family and social support networks. With Charles Lewis and W. Wilson Goode, he is co-editor of the book Ministry with Prisoners and Families: The Way Forward (Judson Press 2011).
His administrative experience includes Dean for First Professional Programs at New York Theological Seminary (1990-96) and Vice President for Faith Based Initiatives at Public/Private Ventures (1998-2001). He also served as pastor of churches in Pennsylvania and New Jersey, and he is currently a pastoral associate at Praise and Glory Tabernacle in Philadelphia.
Dr. Trulear has lectured for university, church and professional organizations across the country, including Fuller Theological Seminary, Rice University, Baylor University, Tuskegee University, Southern University, John Jay College of Criminal Justice, Princeton University, the American Baptist Churches/USA, Eastern Region/American Correctional Chaplains Association, InterVarsity Christian Fellowship, the North American Association of Christians in Social Work and the Campaign for Black Male Achievement.  His current professional associations include the Correctional Ministries and Chaplains Association, Just Leadership USA and Community Corrections for Youth.
A Phi Beta Kappa graduate of Morehouse College (1975), he completed his Ph.D. with distinction at Drew University (1983). Dr. Trulear is the author of over 100 articles, book chapters, essays and published sermons. His important monographs include "Faith Based Initiatives with High Risk Youth," "The African American Church and Welfare Reform," and "George Kelsey: Unsung Hero."
Through his research and activism he has been named a Fellow at the Center for Public Justice in Washington, DC, and served as a consultant to the Faith and Families portfolio of the Annie E. Casey Foundation. In 2014, Dr. Trulear was named as one of "14 Faith Leaders to Watch" by the Center for American Progress. From 2013-16 he served as a member of the Executive Session on Community Corrections at the Kennedy School of Government at Harvard University.