Martin Luther King Jr. Week 2019:
Social Justice through Civic Engagement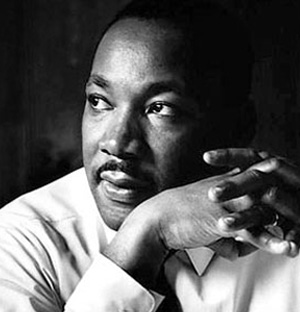 The annual celebration of Martin Luther King Jr. will begin Saturday, January 19th, 2019. This year we will be featuring events that will involve students, faculty, and staff in celebrating the legacy of Martin Luther King Jr. and how that legacy continues to inspire people today.
Events
 Saturday, January 19th 
Women's March on Washington
Together with CGUP, join us as we attend the 3rd annual Women's March on Washington. Attendees will have the opportunity to come together the night before to make protest posters and meet the other folks also going to Washington. Following the March, students will have the opportunity to debrief their experience and talk about how they want to stay involved. Sign up via JayWeb by January 13th.
Monday, January 21st
Student Leadership Summit: The Power to Change - 10 am to 5 pm - Gibble Auditorium
 A Legacy of Voices - 5:30 pm to 7 pm - KAV
Dinner program featuring reflection on MLK by students, faculty and staff. Dinner will be followed by a short candlelight march from the KAV to the President's Peace Garden. Please sign up by filling out this form.
Tuesday, January 22nd
We the Resistance - 6 pm to 7 pm - High Library, Winter's Alcove
       Talk Back Tuesday - 7 pm to 8 pm - Mosaic House
Join us as we discuss how MLK's words and actions have inspired advocates who are still fighting for equality today.
Wednesday, January 23rd

 Designing and Teaching for Inclusion with Guest Lecturer Dr. Kevin Gannon - 11 am to 12:15 pm - Gibble Auditorium
What does it mean to create "inclusive learning spaces"? What exactly is involved in "teaching inclusively"? How do we ensure that we have an equitable approach to teaching and learning? This interactive session will introduce both the research basis for, and practical applications of, Inclusive Pedagogy. By examining the ways in which power and motivation work in the college classroom, we'll consider approaches to both overall course design and in-class pedagogies that can help us reach all of our students.

Handling Difficult Discussions with Guest Lecturer Dr. Kevin Gannon - 3:30 pm to 5 pm - Susquehanna Room - Faculty Only 
Class discussions are one of the most important ways in which we foster active learning with our students. But what happens when discussions go off the rails, or a student says something that offends the rest of the class--or an actual argument breaks out? How do we handle difficult situations while ensuring that the classroom climate remains positive for all of our students? This interactive workshop will explore strategies to design and conduct effective discussions (especially over controversial or sensitive topics), as well as offer practical tips on what to do when difficult situations arise.
13th Documentary and Talk Back Discussion led by the Tattooed Professor, Dr. Kevin Gannon - 7 pm to 9 pm - Gibble Auditorium
Following the film, Professor Gannon will facilitate a talk back session for students and the wider community to ask questions regarding the 13th amendment and to discuss current issues relating to mass incarceration.
Thursday, January 24th
Finding Your Voice - 4 pm to 5 pm - Hoover 110
Workshop for students looking to get more involved in advocacy on campus, in the community, and beyond. Facilitated by Stephanie Diaz and Joel Janisewski, this session will focus on finding a cause you are passionate about and how you can make a difference.
  Fake Fireplace - 7:30 pm to 9:30 pm - High Library, Winter's Alcove
Join us for hot tea, chocolate and discussion about what it takes to build a movement, as well as how we claim heroes as whole people.   
All Month
Picturing Moral Courage - The Rescuers Exhibit - High Library
Created by PROOF: Media for Social Justice, The Rescuers is an exhibition of photographs and extraordinary stories from the Holocaust, and the genocides that occurred in Bosnia-Herzegovina, Rwanda, and Cambodia. In each of these violent narratives, there are remarkable stories of ordinary heroes – farmers, taxi drivers, nuns, mothers and fathers – who risked their lives to save members of targeted groups. These rescuers are emblems of hope.
The Rescuers exhibit includes 21 portraits and personal accounts of survivors and those who rescued them. The goal of the exhibit is to raise awareness and promote tolerance, coexistence, and personal commitment to fight injustice.
MLK Week 2019 is presented by the Office of Diversity, Inclusion and Title IX, the MLK Committee and the Dean for Academic Affairs and Faculty Development.