Martin Luther King Jr. Legacy Luncheon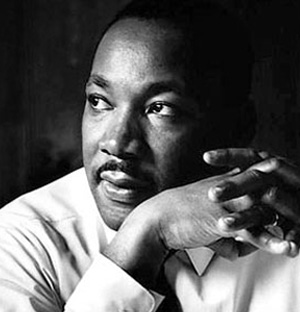 The annual MLK celebration will be held on Monday, Jan. 18, 2016 starting at 11 a.m. and ending at 1:30 p.m. in the KAV. Join us to reflect on the work of Dr. Martin Luther King Jr. and celebrate his lasting legacy during the MLK Legacy Luncheon.
The luncheon will begin with the traditional Six Voices Celebrating Dr. King in 60 minutes program where six people will have 10 minutes each to read and reflect upon a selected work of Dr. King's. Lunch will be served at noon followed by an open panel discussion on the impact of Dr. King's philosophies.
This event is free and open to all Elizabethtown College students, faculty and staff. RSVP required and space is limited to approximately 150 guests.
RSVP Deadline is noon, Friday, Jan. 15, 2016. For more information, please contact Brandon Jackson at jacksonbj@etown.edu or 717-361-1983.
E-town MLK Day Events 2016
MLK Day of Service
8 a.m. to 2 p.m. – Meeting location determined at registration.

In honor of Dr. King's commitment to others, various community service opportunities will be available Jan. 18 through the Center for Community and Civic Engagement. For more information about volunteering, contact Sharon Sherick at 717-361-4765 or shericks@etown.edu.




R.A.P Discussion "Say it to my face"
7 to 8 p.m. – Blue Bean

This R.A.P. (Respecting All Perspectives) discussion invites E-town community members to discuss current events and campus climate. The session will be led by the NOiR-Student Diversity Union.










Registration Form