Alumni Association Volunteer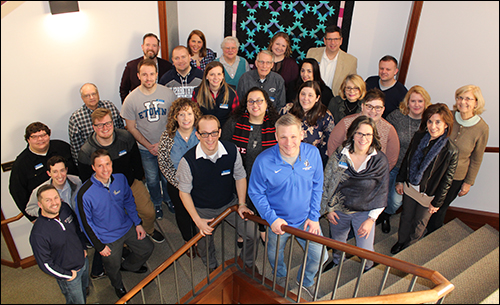 Have you ever wondered how the Elizabethtown College Alumni Association (ECAA) is led and alumni communications and publications are developed, or what goes into planning those fun and creative on-campus and regional alumni get-togethers? Look no further than the Alumni Association Volunteer (AAV) branch!
AAV membership provides opportunities to make a positive impact within the ECAA and on Elizabethtown College's campus through:
Alumni Council (the ECAA leadership group) membership
Alumni Chapter involvement
Alumni communications and publications assistance
Regional Alumni Representative program membership
On-campus event volunteering
Class reunion event planning
Affinity group event planning
If you love Etown and are interested in helping others reconnect with fellow graduates, current students, faculty/staff and the College in general, the AAV program is for you!
LEARN MORE! Contact the Office of Alumni Relations toll free at 800-877-2604 or via e-mail at alumni@etown.edu.