Career Development Volunteer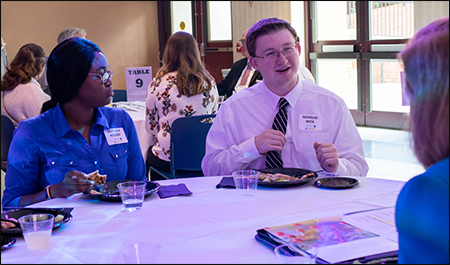 Whether you are a well-established professional or just starting out on your career path, there are ways that you can be involved in helping current students and alumni with their career development. That is what the Career Development Volunteer (CDV) branch is all about! Both your area(s) and level of involvement are up to you and can assist CDV efforts by:
Joining  EtownConnect , a unique networking tool that provides opportunities to current Elizabethtown College students in seeking assistance from Blue Jay Alumni and friends.

Providing workshops or participating in panel discussions on career-related topics
Attending and participating in networking events with students
Conducting mock interviews with and/or reviewing resumes of students preparing for a job or internship search
Accepting requests for an informational interview about your job/career field
Providing a job shadow experience by hosting a student at your worksite
Assisting a student in exploring internship or employment opportunities within your organization


These are just a few of the many opportunities available to mentor current students and alumni as they seek meaningful, fulfilling careers. By joining the CSV, you can help to enhance programs and services that serve both of these important constituencies!
LEARN MORE! Contact the Career Development Center at 717-361-1206 or via e-mail at careerdevelopmentcenter@etown.edu.