Students are required to participate in projects as part of their curriculum, and often initiate or extend required projects with club initiatives. Projects are often highlighted during our annual symposiums as part of scholarship day -- an all-day campus-wide event of student research that may even include Freshman engineering competition. Recently, much of our student research and curriculum has become focused on sustainability; and our entire college has been moving towards more sustainability. This has even become one of our President's Strategic Plan initiatives.
Biomedical Vibrating Therapy Vest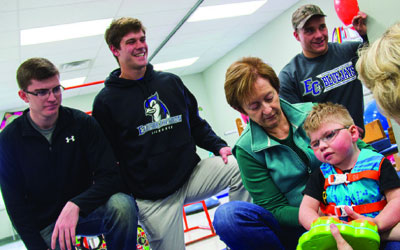 Why it matters: By targeting muscles at a specific biological frequency, toddler Teddy can sit up and smile at his mother for the first time.
In partnership with occupational and physical therapists, mechanical and electrical engineering students developed a vest for toddlers such as Teddy, suffering from weak muscle conditions including cerebral palsy. The vest includes a movable custom vibration component that allows therapists to pinpoint a specific muscle group. By stimulating muscles in the back, the vest encourages Teddy to develop an upright posture, allowing him to engage with the world around him.
At Elizabethtown College, partnerships with occupational therapy and faculty with biomedical expertise enable you to apply engineering knowledge to biomedical problems.
Lift Platform for Central Pennsylvania Food Bank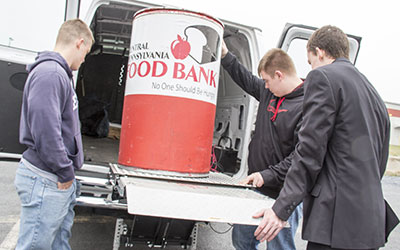 Why it matters: Volunteers for the Central PA Food Bank load full barrels of donated items easily into their transport vans.
A local real-world client inspired a group of mechanical engineers to design and fabricate a lift platform using their knowledge of structures, material strength, and electronics. Before the mechanized platform, volunteers had to unload the donation barrel item-by-item, place the empty barrel in the van, and reload. Our engineering students were able to give time and energy back to the volunteers who ensure that families in Central Pennsylvania get the nutrition they need.
At Elizabethtown College, students apply their engineering expertise to local problems with real-world clients, and make a difference in their communities.
Appropriate Technologies for Developing Nations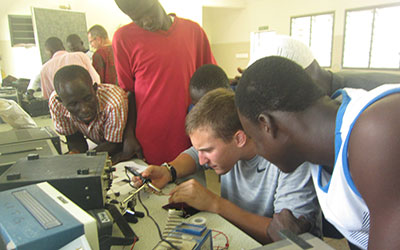 Why it matters: Solar cell phone chargers keep people in the developing world connected, while providing a viable business opportunity for local residents.
Over the past 6 years, successive teams of engineering and international business students have developed the technology and business plan for a sustainable business in The Gambia. The business has been built on the not-for-profit social business model designed to alleviate the effects of poverty in this developing country through affordable technologies centered on sustainable energy systems, including a low cost photovoltaic phone charger. The work has included a number of short-term study-abroad site visits to West Africa. Other participating students have spent a full semester studying at UTG.
At Elizabethtown College, students partner with international business and political science students, as well as engineering students in The Gambia, to develop technology-focused social businesses around the world.
Autonomous Robotic Pace Car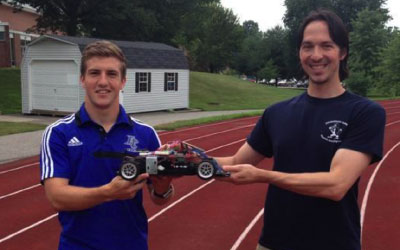 Why it matters: Advanced engineering projects combine students' technological expertise with innovative ideas from extracurricular activities.
By combining concepts from electrical, mechanical, and computer engineering, a team of students designed an autonomous pace car to for athletic training. The pace car enables runners to select from various workout styles and paces to fit their training needs. Students working on this project also expanded the project during summer undergraduate research, and published papers and presented at regional and national conferences. This notable undergraduate research distinction helped earn one student admission to many top-tier Ph.D. programs around the nation.
At Elizabethtown College, top faculty mentor students to achieve graduate-level engineering work that launches them into their own graduate school careers.
Environmental Rainwater Collection and Filtration Barrel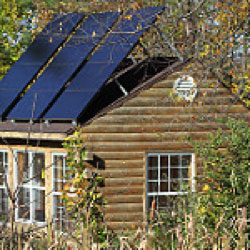 Why it matters: Designing a rainwater collection and filtration device conserves while providing clean, drinkable water.
Teams of environmental, mechanical, and electrical engineering students worked with architecture and technical design minors to design and fabricate a rainwater collection and filtration system. Students used the campus Solar Cabin as a research and prototype platform. After successful implementation, the barrel is being considered for use on a tiny house built by another Elizabethtown College student.
At Elizabethtown College, students work across disciplines with faculty engaged in environmental engineering, ecology, environmental ethics, and architecture to impact the planet with technical solutions.
Lighthouse Vocational Process Improvement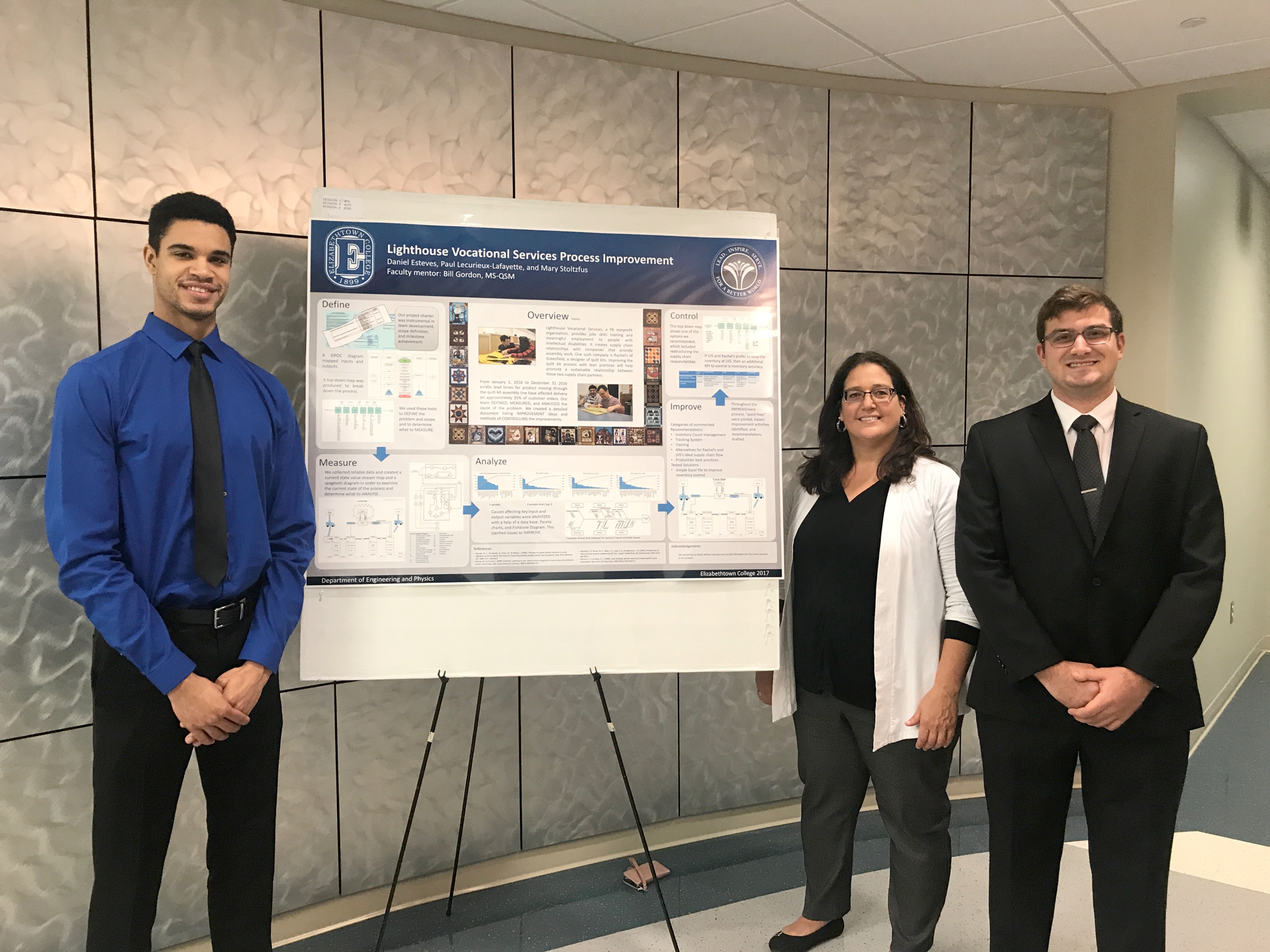 Why it matters: Improving a 20 year old process promotes sustainable job training for adults with developmental disabilities.
With the goal of selecting a socially impactful senior project, a diverse group of Industrial Engineering students challenged themselves to find a non-profit organization for a process improvement analysis. Lighthouse Vocational Services and its supply chain partner, Rachel's of Greenfield agreed to the offer. With guidance from Lighthouse leadership, the team analyzed the process that assembles quilt kits, a product sold worldwide on Amazon and through select distributors. Applying the Lean Six-sigma DMAIC problem solving methodology in a manufacturing environment, the students successfully delivered specific improvement recommendations, facilitated creative problem solving with the supply chain partners, and developed an Excel-based tool for order and inventory management, complete with a tutorial, to assist in controlling the improvements.
At Elizabethtown College, students demonstrate the commitment of "Educating for Service" by applying their engineering knowledge and skills to solve local problems with real-world clients, so those organizations can continue to educate and employ persons in an under-served segment of society.