Major in Mathematics
Students who study Mathematics at Elizabethtown College become analytical and creative problem solvers. Etown's Mathematics program study theoretical and applied problems related to big data interpretation, statistical analysis, and more.
Etown offers a wide variety of opportunities to customize your educational experience. A foundation in mathematics prepares you for a multitude of different career paths or graduate and professional schools in fields like architecture, engineering, business, law, medicine, pharmacy, and more. 
Mathematics Concentrations
All concentrations emphasize the importance of analytical and creative problem solving skills. Our alumni have shared that employers value such skills above all others. Mathematics majors who do not select a concentration create their own combinations of mathematics electives according to their own interests and career plans. This allows students to tailor the degree to specific topical interests within the field. The following concentrations are available to our students within this major:
Pure Mathematics
Focuses on the theoretical side of mathematics. Students who concentrate in pure mathematics are prepared for graduate school in mathematics or a related field.

In recent years, our graduates have gone on to pursue masters and PhD degrees in math, operations research, statistics, economics, and computer science at institutions such as Lehigh University, Johns Hopkins University, Southern Illinois University, University of North Carolina, Wake Forest University, University of Nevada at Las Vegas, University of Delaware, University of Maryland at College Park, and North Carolina State University.
Applied Mathematics
Prepares students for careers using math to help solve problems in other fields, such as engineering, physics, statistics, economics, or finance. Our graduates have gone on to work for a variety of prestigious companies including Amazon, Google, Goldman Sachs, the U.S. Department of Defense, and many other well-known companies and agencies.
Customize Your Education
The Mathematical Sciences program at Etown offers a wide variety of opportunities to customize your educational experience. A foundation in mathematics prepares you for a multitude of different career paths, designed according to your interests. Our department will meet your needs every step of the way, no matter where in the world your plans take you.
Research with faculty
Qualified students can take on new academic challenges by working on research with faculty mentors on campus. Student research projects allow students to explore topics of interest to them more deeply, while figuring out how to find answers to new questions. Research projects are available to all qualified Department of Mathematics students, regardless of major.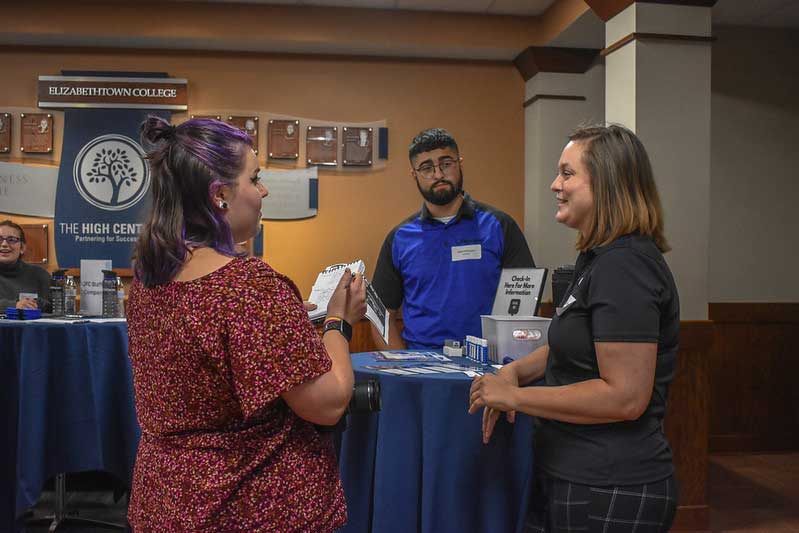 Internship Opportunities
There are numerous opportunities for internships and experiential learning for our students. Our students also participate in Research Experience for Undergraduates (REU) at various universities. REU students do research with faculty while earning a stipend and living expenses.
Mathematics Minor
Interested in mathematics but looking to complete a different major? Take a minor in mathematics! You'll build a solid foundation in advanced mathematics such as calculus and linear algebra, and have the flexibility to customize the minor to your specific interests.
Department Life
Life in the Department of Mathematical Sciences is characterized by a spirit of helpful cooperation. It is quite common to see small groups of students studying together in the Math Commons area, or in the "Math Hideaway," a special study room dedicated to student use. Faculty office doors are always open, inviting students to come in and ask questions or talk about mathematical matters.
Students in the Department of Mathematical Sciences are involved in numerous activities, both on and off campus. In the department, we have a math club and a chapter of Pi Mu Epsilon, the national math honor society, and our upper class students also serve as tutors in our tutoring center to help other students who need help with their math classes. In addition, many of our students spend a semester studying abroad or take part in short term trips abroad.
Mathematics Club
The mission of Mathematics Club is to provide a forum to exchange ideas and information in the field of Mathematics. The club encourages activities and field trips, sponsors speakers, and investigates a broad view of current ideas and research in mathematics and employment opportunities.
Pi Mu Epsilon
Pi Mu Epsilon, the mathematics honor society, is a national organization whose purpose is the promotion of scholarly activity in mathematics among students in academic institutions, and among the staffs of qualified non-academic institutions. This honor society is open to students attaining high academic achievement in mathematics.
Student Tutoring
The faculty specially choose top mathematics students to serve as tutors for the department. We offer drop-in tutoring five nights a week for students taking most 100- or 200-level mathematics classes. Tutoring is obviously beneficial for those being tutored, but it also helps the tutors by reinforcing course material and teaching them how to exercise care and patience when explaining complicated ideas to other people. Such explanatory ability is a valuable professional skill for anyone called upon to deal with the public or work collaboratively, such as teachers and actuaries.
Study Abroad Opportunities
Embrace the world as your classroom! We encourage all of our majors to consider a study abroad experience during their time at Etown. Whether for a semester or for a May term class, we believe that the world is an exciting classroom. Although the programs in our department are intensive, there is certainly room for students to spend time abroad with proper planning. We carefully advise our students who are interested in studying abroad to plan their academic careers to accommodate a semester abroad within their four-year course of study.
READY TO BECOME A BLUE JAY?