Film. Produce. Succeed.
Majoring in Digital Media Production opens up opportunities for students interested in shooting or editing video, directing, producing, or working behind-the-scenes on a TV production. This major also provides students with skills in audio production, writing and broadcasting. Media professionals are seeking talented employees who can tell stories to their audience. This major will give students a valuable skillset to compete in this type of environment.
Script writing, video editing, and video and audio production are a few of the many skills that digital media production students will develop. With a strong emphasis on writing for the media, graduates from this program will be equipped with the specialized skills and a creative intelligence for a career in the media industry.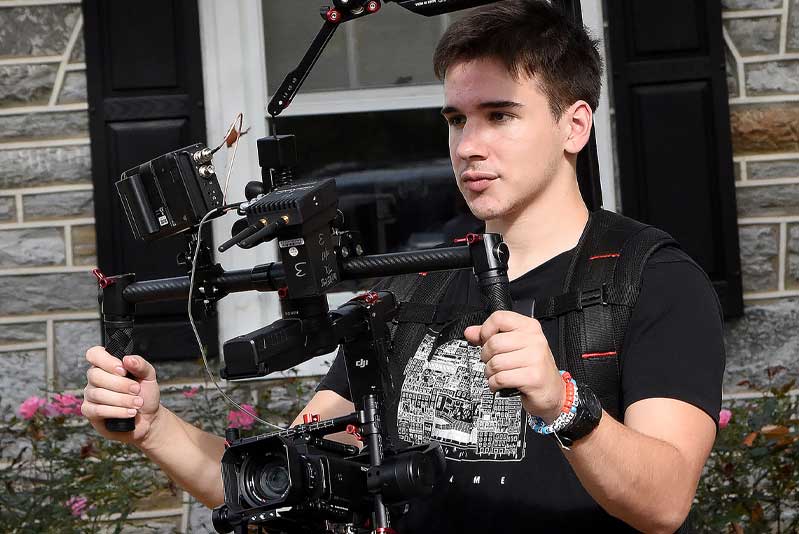 What can I do with a degree in Digital Media Production?
The experiences that Etown offers, combined with our areas of study, supply our students with the ability to pursue countless careers in the field of communications. Recent Digital Media Production graduates serve in a variety of fields, with careers including:
Editor, WGAL TV 8 (NBC affiliate)
Multimedia Journalist, Lancaster Online
Media Director, Pennsylvania Manufacturers Association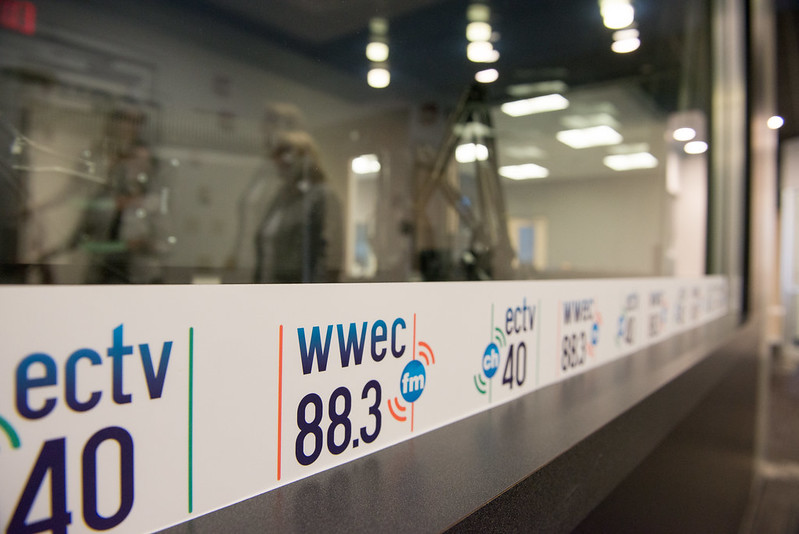 Engage in Active Learning
To strengthen their skills, many of our students become involved in one or more of our student-run organizations focused on radio, tv, and reporting. All of these opportunities are available to our students from their very first day on campus, and give our students the ability to explore whichever media they have the most interest in.
Run your own weekly radio show
Direct a livestream video production
Write for the College's newspaper, the Etownian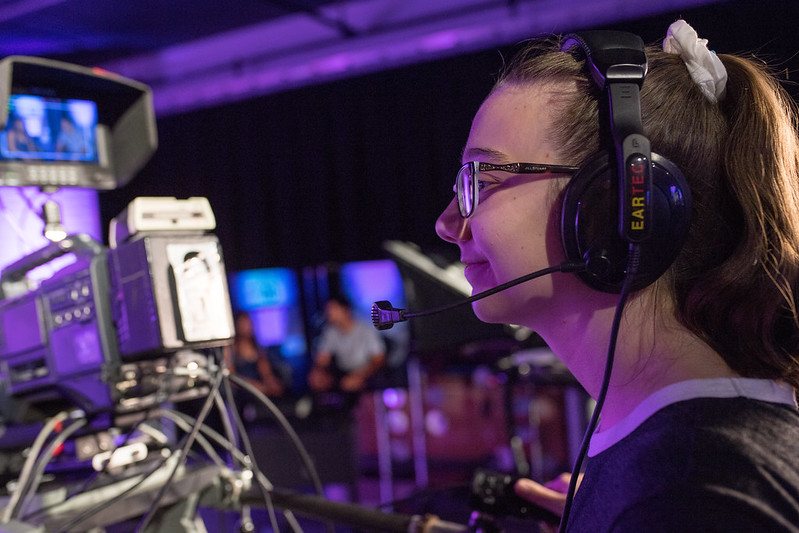 Senior Capstone project
All Digital Media Production students complete a slef-designed senior capstone project, which provides them with the opportunity to work directly in their field of interest. You'll demonstrate the skills you've learned and gain real-world experience while working with a client in the local community. Capstone portfolios also provide you with an impressive way to show off your experience to future employers in the field that you are passionate about.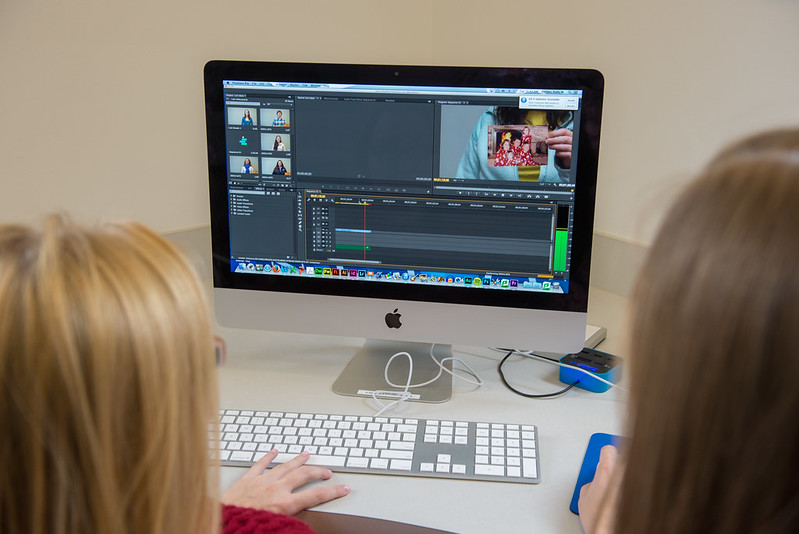 An evolving curriculum
Students take classes in audio and video applications and techniques, and also explore video production techniques and the television industry.
Write and produce audio and video projects
Learn the television skills needed to get behind the scenes
Resources available to explore more advanced topics like animation, voiceover production, and motion-graphics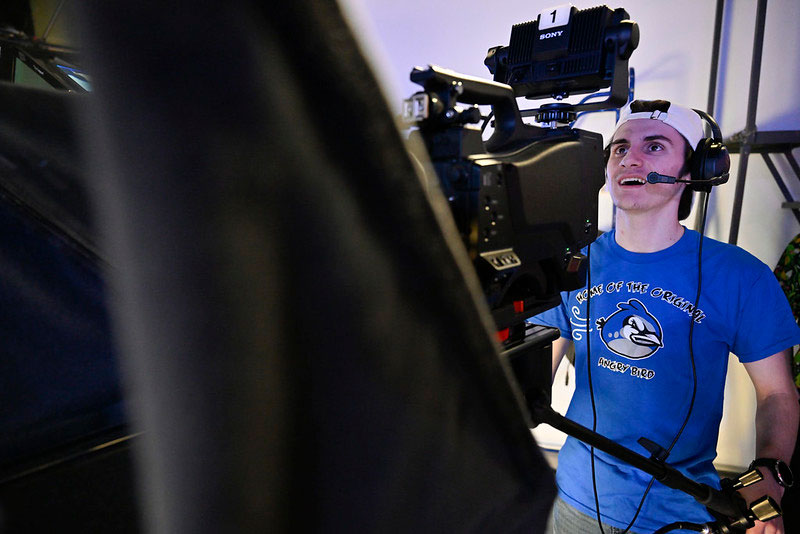 Communications Minor
A Communications minor is offered to students majoring in other programs. This minor explores written, spoken, and visual communications. Elements which translate to nearly every field.
The curriculum is complemented by our student organizations, the Etownian, ECTV-40, WWEC, and the Jay Firm. These give students the chance to explore multiple forms of media.
Student Groups and Facilities
Elizabethtown College is home to several student-run and community-based campus media outlets. Participation in these media allows you to gain hands-on, practical experience from day one. Campus media at Elizabethtown College includes a combination of traditional broadcast and print media, as well as a public relations agency and collaborative news coverage of the community.
The Etownian
The Etownian is Elizabethtown College's weekly newspaper. The full-color newspaper is produced completely by student writers and editors--from a variety of majors--and is distributed weekly when classes are in session. The Etownian covers news, feature stories, movie reviews, sports and various interest pieces as determined by the Etownian staff. The Etownian is distributed to the campus community and local subscribers. The newspaper's offices are located on the second floor of the Steinman Center. The Etownian also offers a digital version of the newspaper and interactive elements here.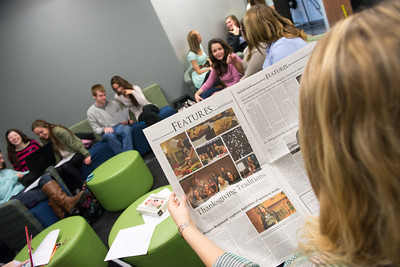 ECTV-40
ECTV-40 is our video production student group. Students will work as part of a video production team to create programming, distributed on our 24-hour cable-access news channel, but also to produce video content for our YouTube channel. ECTV gives students the ability to put the video production skills that they learn in class into practice, and get a broader picture of what certain career paths might look like. Do you want to become a Content Creator or a Freelance Video Producer? ECTV gives you the chance to get behind the camera, in front of the camera, or in the control room of a working broadcast production studio. This will give you the experience and the tools to explore various fields of video production.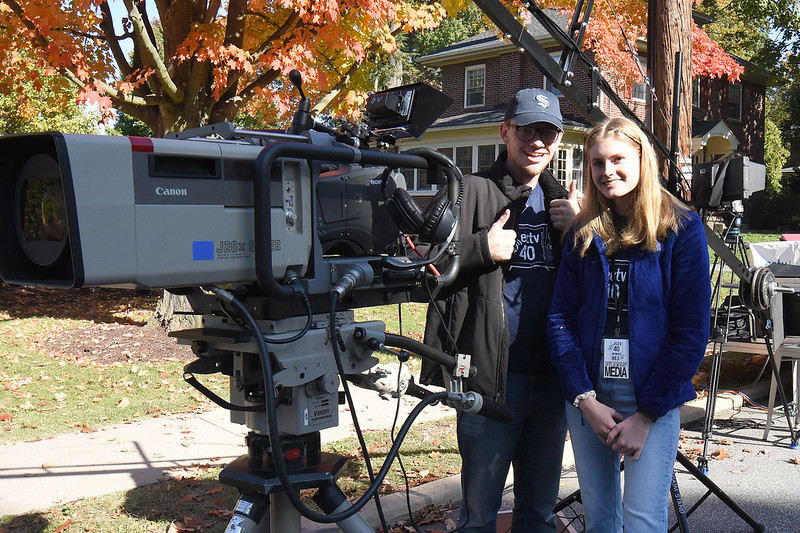 WWEC 88.3 FM
Located on the dial at 88.3 FM, and streaming on TuneIn. WWEC-FM is a student-managed radio station affiliated with the Department of Communications. The radio station gives students the ability to practice both their audio production skills, and gives them the ability to produce a portfolio of radio performances. We host students of all majors, and even some community members as campus DJ's. Our DJ's are given the opportunity to host a show at the same time every week. WWEC features student-designed programming, and students have taken advantage of this to produce various radio shows of differing topics. The FCC-licensed, radio station can be heard across a seven-mile radius from the College – and around the world through TuneIn.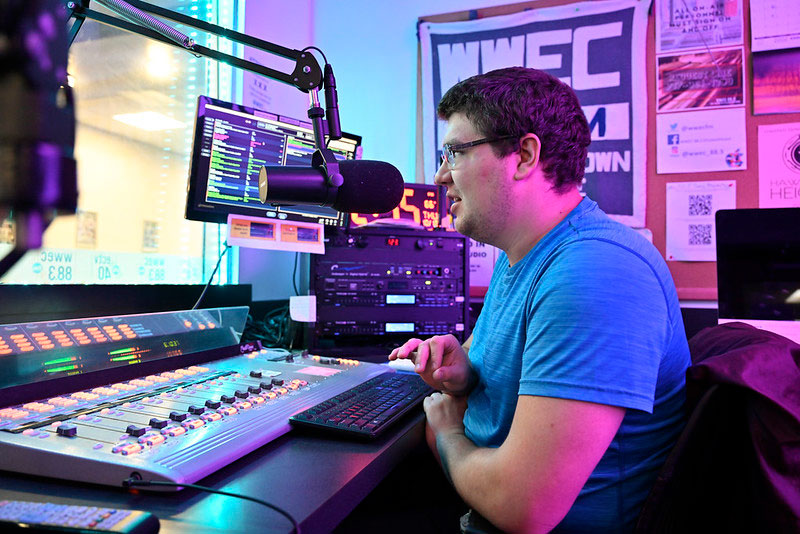 Jay Firm
The Jay Firm is our in-house, student-run communications agency. The mission of The Jay Firm is to provide public relations students with an opportunity to independently practice public relations and marketing communications for clients outside of the classroom. The firm is currently modeled as a voluntary learning laboratory where students work pro bono for clients to expand the skills that they have learned in class. The Jay Firm also gives students in other disciplines, the necessary background to explore Marketing.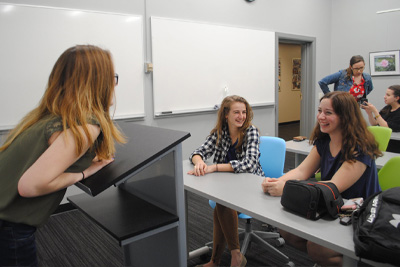 READY TO BECOME A BLUE JAY?