The Department of Communications offers a Bachelor of Arts in Communications with two concentrations: public relations and mass communications. All communications students take core classes to develop key skills necessary in corporate environments and media newsrooms and production houses. From graphic design and public speaking, to writing for all types of media and learning theory that frames human communication, you'll gain skill sets that will prepare you for success after graduation. As a senior you will produce a project for a client in the community to showcase your communications knowledge and skills.
Each student compiles a portfolio of work samples from class assignments and professional work. The professional samples are culled from internships and membership in student media and organizations such as JayFirm, the student-run public relations organization. This portfolio is a valuable tool students use as they interview for communications jobs.
Our knowledgeable and engaging professors, who all have professional experience working in the areas in which they teach, are willing to help you in and out of the classroom to help maximize your experience at Elizabethtown College.
Student Work
From the Department of Communications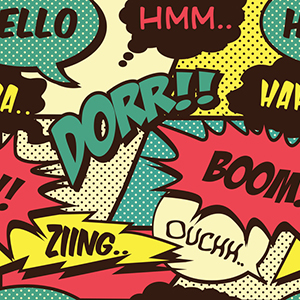 Using the familiar to teach the unfamiliar
Katherine Hughes employs pop culture to drive research.
Assistant Professor of Communications Katherine Hughes helps close the gap between learners and visual techniques by introducing pop culture in her communications class. Hughes uses single letters from popular products to show students the power of branding—they often can identify a brand by only one letter! Due to recognition of high-profile logos, students are more likely to connect to currently practiced graphic design techniques.
From the Department of Communications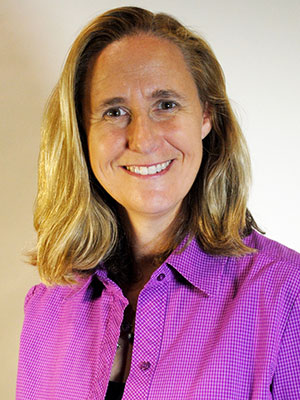 Kirsten Johnson researches perceived credibility
Collected research data shows how news is viewed.
Kirsten Johnson, professor of communications in the Elizabethtown College Department of Communications, coauthored "News Stories on the Facebook Platform: Millennials' Perceived Credibility of Online News Sponsored by News and Non-News Companies," which she presented this fall at the Pennsylvania Communication Association conference in Pittsburgh, Pennsylvania. In her research, Johnson found that millennials don't take into account the source of the information when making judgments about credibility. With this data, she can better understand how her students are assessing online credibility. "What makes something appear to be credible to people…I really think that's fascinating."
From the Department of Communications
Megan (Leppo) Bell '14
Study Abroad Advisor
Megan (Leppo) Bell '14 graduated from Elizabethtown College with a degree in communications in 2014. Her own travels to Czech Republic, Ecuador, Greece, Ireland, Italy, Mexico, The Netherlands and England brought her back to E-town as a study abroad advisor, talking with students about study abroad opportunities, financial aid, health and safety in 29 countries and 45 cities. She also helps students reacclimatize when they return to the United States and Elizabethtown after being immersed in a unique culture. "I want to make study abroad more present, an opportunity from the beginning. I want to give students a new perspective, get them outside their bubble, meet people different from them."
From the Department of Communications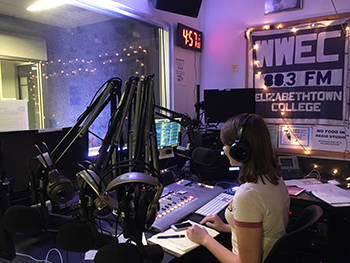 WWEC-88.3 --
The Sound of Elizabethtown
Established in 1963, the College's state-of-the-art radio station doubles as a student lab.
In the early 1960s, Chester Rose '63 and Dave Martin wanted to create a radio program to help keep students on campus during weekends. After making promises about types of music and ensuring that there was enough student interest, WWEC, The Voice of E-town College, was born. Since then many things have changed, including the station I.D. -- WWEC-88.3 The Sound of Elizabethtown -- but the objectives have not: to inform, educate and entertain. What started in a closet is now home to a switchboard, recording equipment, two computers and turntables for vinyl records, and the space doubles as a fully functioning lab where students put into practice what they have learned in the classroom--public speaking, organization and problem-solving skills. "Mistakes are okay, we embrace them and learn from them." ~ Colin Helb, faculty advisor.
Life After E-town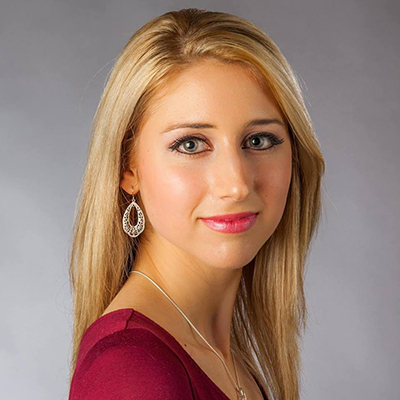 Irene Snyder '17
Multimedia Journalist at Lancaster Online (LNP)
By her first year at Elizabethtown College, Irene Snyder was involved with ECTV40 and WWEC 88.3, the College's television and radio stations. As a junior, the mass communications and sociology/ anthropology grad was already working part time as a multimedia journalist for Lancaster Online. Now full-time, Snyder credits presentations at the College's Scholarship and Creative Arts Days (SCAD) and at several conferences for preparing her for public speaking and interviewing, and, she said, her sociology coursework enables her to consider individual backgrounds and beliefs when interviewing. "Since high school, I knew I wanted to be a journalist. (At Elizabethtown) I was encouraged to pursue multiple internships at local television news stations."
Hear from our Alumni:
"When I started at Elizabethtown, there was no limit to what I could do; I was never discouraged from doing something...and I think that was a good opportunity for me to realize all of the opportunities out there for me."
"There are several things that I learned at E-town that I apply daily: writing skills, the ability to take an idea and create something tangible, but the thing that stands out is being able to present well to clients."
Real-world Experiences are everywhere: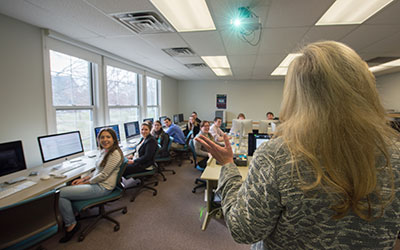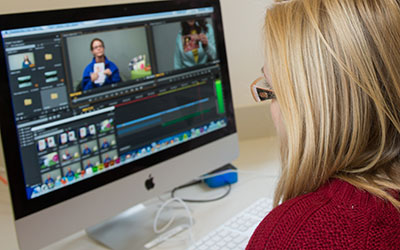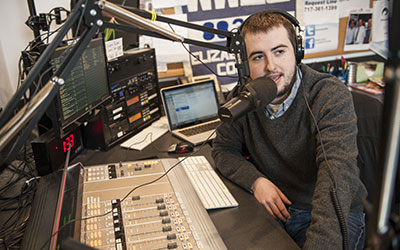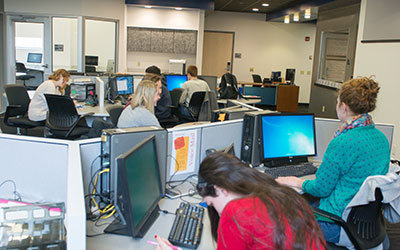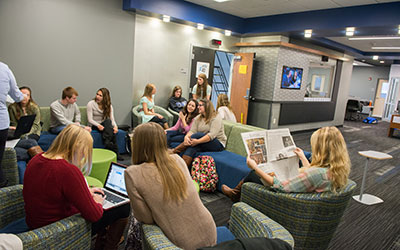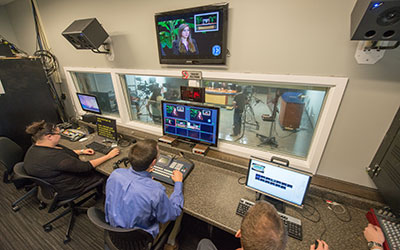 With recently renovated facilities, you'll be able to practice the skills and theories you are learning in a practical hands-on environment. Opportunities to gain real-world experience are everywhere at Elizabethtown College:
Host and produce your own weekly radio show at WWEC 88.3 FM, the College's radio station.
Fulfill a client's requirements through strategic communications plans with the Jay Firm, the student-run public relations organization.
Report on community events as a news reporter with ECTV Channel 40 in the studio or on the road in the mobile production unit.
Write and report stories for the College's award-winning newspaper, The Etownian.
Serve as an intern with a local company or nonprofit organization.